The UK represents the fifth largest car market in the world, so we are pretty lucky to have a wide variety of global manufacturers intent on selling their latest and greatest cars on our modest little island. However, thanks to our specific tastes and adherence to right-hand drive, there are some performance cars out there that are kept off our shores and shopping lists. Many of these cars are no great loss to UK car fans, but a few at least have the capacity to peak our interest. 
The United States is an obvious hot spot for performance cars that are not on sale in the UK. US efforts in the field are often equipped with vast petrol engines that seem like a fantastic idea until you have to fill them with fuel at UK prices. Many are also more at home in the wide-open spaces of the US than they are on rough, contorting UK tarmac where European-sourced machines often have an upper hand.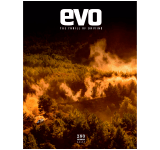 Subscribe to evo magazine
Subscribe today to have every issue of evo delivered straight to you. You'll SAVE 39% on the shop price, and get evo for its original cover price for a whole year!
> Click here for our list of the best Aussie cars 
Although there is plenty of interesting metal from across the pond to look over, the US is by no means the only source of fast cars we don't get the chance to buy. Japan and Australia also harbour some pretty tasty options, without the bugbear of the steering wheel being on the wrong side.
So in the interest of globalisation and satisfying our forbidden lust for the fast and exotic, here are some of the most interesting and cool performance cars we don't get in the UK…
The best fast cars you can't buy in the UK
Cadillac CTS-V
Price: $85,990 (£64,556)Where is it sold? North AmericaCould it ever come to the UK? Unlikely
Cadillac might seem an odd place to start for evo, but stay with us here. Keen to shake off its Floridian image, Cadillac has had its crosshairs aimed at the likes of BMW for a while now, and the latest CTS-V is the most extreme and dynamically sorted model it has built yet.
At its core, the CTS-V is a large saloon powered by a supercharged 6.2-litre V8 engine with a slightly staggering 631bhp. Rivalling a BMW M5 in size and price, the V8 is a derivative of the LS4 engine used in the Camaro ZL1.
> Click here for our drive of the Cadillac CT6 - Amercia's flagship saloon
This is no traditional drag-strip hot rod though, as Cadillac has paid close attention to the chassis, fitting it with GM's latest generation MagneRide suspension, massive six-piston Brembo brakes and a completely bespoke set up that Cadillac says is ready for track action right from the factory.
Fitment of Michelin Pilot Super Sport tyres and an electronically controlled limited-slip differential only heightens the intensity of the CTS-V's overall package.   
Granted the Cadillac CTS-V is quite different to the rest of the American brand's model range, but the V nomenclature is not reserved just for this halo model, as we will see later.
Toyota Mark X 350RDS GR Sport
Price: ¥3,809,160 (£25,850)Where is it sold? JapanCould it ever come to the UK? Unlikely 
To many, the GT86 coupe was an unexpected revival of Toyota's driver focused past, but little did Europe know that sharp-handling Toyotas had never been absent from Japan. The Mark X might look like nothing more than a sporty Camry, but it is in fact an unique and very rear-wheel drive entity.
When in 350 RDS trim, the Mark X utilises a 324bhp 3.5-litre naturally aspirated V6 engine hooked up to a six-speed manual gearbox. On sale since 2009, the Mark X is not a new car, one look at the interior will tell you that, but its relatively low 1560kg kerb weight and stiffened, sharpened chassis meant that the Mark X's popularity with the Japanese public and tuning scene remains strong.
> Click here for our review of the GT86
Earlier in the model's life cycle, Toyota's tuning partner Modellista even supercharged the 3.5-litre V6 engine to create the Mark X +M Super Charger. This limited-build model produced 355bhp, but was only available with a six-speed automatic gearbox.
For now though, the Mark X remains in Toyota Japan's model range amongst the hybrids and kei cars as a throwback to simpler times. Are we missing out on a hidden driving gem? If the impressive polish of the GT86 is anything to go by, we just might be.
HSV GTS-R W1
Price: AUD$169,990 (£100,670)Where is it sold? AustraliaCould it ever come to the UK? Unlikely
We have heard it before but the death of Australian muscle cars really does seem to be nigh this time. The Holden factory in Adelaide is closing for good and the cars currently in production will be the last in the line of power-packed Aussie-built performance cars.
As a final throw of the dice, Vauxhall will be bringing over 15 rebadged VXR8 GTS-R's to the UK, each with 587bhp and wider, more aggressive bodywork. But if you thought that Holden Special Vehicles, manufacturer of the VXR8 in Australia, was kind enough to send over 15 of its best and brightest you would be mistaken, because there is another. Called the HSV GTS-R W1 in Australia, this model may look similar to our GTS-R but under the bonnet lies something even more extreme.
> Click here for our review of the VXR8 GTS
Rather than utilising the LSA supercharged V8 as used in our GTS-R, the W1 is the only four-door saloon in GM's entire global inventory that features the rabid, hand-built, supercharged LS9 V8. With a slightly crazy 637bhp, the W1's engine is the very same that powered the previous generation Corvette ZR1.
In order to fit it in, HSV's engineers had to completely redesign the wide, but relatively short engine bay to allow for the dry sump oil system. Engineers also designed an entirely new intake system at huge effort and expense. It isn't just the engine that has been upgraded though, as the W1 is also the only four-door saloon car in the world fitted with Pirelli P Zero Trofeo R tyres as standard, and yes they are the very ones that are optional on a McLaren P1. Suddenly the VXR8 GTS-R looks a little meek doesn't it?