Subaru WRX STI S208
Price: ¥TBCWhere is it sold? JapanCould it ever come to the UK? Unlikely
We have seen so many special edition WRX STI's over the car's long history, but the S20-series of hardcore stripped out versions have always been out of reach for buyers outside Japan.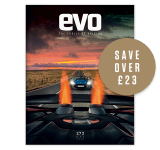 Subscribe to evo magazine
Subscribe today to have every issue of evo delivered straight to you. You'll SAVE 39% on the shop price, and get evo for its original cover price for a whole year!
Initially built to homologate the STI road cars for use in international rally competition, the S208 follows on from its predecessors by not only removing weight from the already lithe STI package, but also including an uprated engine and aggressive aero.
Like previous S20 models, the S208 features Subaru's smaller, but harder hitting and revving 2-litre turbocharged flat-four engine. Subaru is being coy on the specifics, but does mention that the new S208 will have bigger figures than the previous S207, which had 318bhp.
The really interesting thing here though is Subaru's propensity to use the smaller and older 2-litre engine that is not available in markets outside of Japan. Much like many older JDM-specific cars, the S208 needs to be worked in order to liberate its full potential, regardless of whether the power unit is turbocharged or not. 
This higher rev ceiling is not for the sake of performance per say, but is a response to the Japanese market's enigmatic preference for engines that are a little more highly strung. That Subaru has been able to liberate this sort of character from a turbocharged engine is in itself reason enough to look longingly at the S208. Don't be fooled by its apparently subtle differences from the model we receive here.
Limited to 450 units, the S208 will be a rare sight even on Japanese roads and is to be launched in full at the upcoming Tokyo motor show.  
Chevrolet Camaro ZL1 1LE
Price: $71,295 (£53,521)Where is it sold? North AmericaCould it ever come to the UK? Possibly 
The Chevrolet Camaro is hardly an unknown quantity in the UK, but Chevrolet has been deadly serious about removing the excellent (and also forbidden to buyers over here) Ford Shelby Mustang GT350R from the pony car throne. The result of its efforts is the ZL1, here in its most interesting 1LE trim. This version has the rabid 640bhp LT4 V8 engine seen in the Cadillac CTS-V above, only with an extra 10bhp and over 100kg less weight to shift around.
This may look like another typical display of the American preference for power over handling, but Chevrolet has gone to considerable effort to engineer real talent into the flagship Camaro.
> Click here for more ob the Camaro ZL1 1LE
The current generation Camaro might not look very different to its predecessor, but it has moved from the previous car's Theta platform (the one engineered by Holden for the Commodore and found under the W1 above) to the all-new Alpha platform that underpins a variety of Cadillac models. The new platform is not only smaller than it was, but considerably lighter, going some way to explaining the substantial weight loss over its predecessor.
This would infer that the powerplant wouldn't need much of an upgrade, but that didn't stop Chevrolet developing the new supercharged LT4 6.2-litre V8 engine for it. Available with either six-speed manual or ten-speed GM/Ford developed automatic transmissions, the ZL1 has the numbers to ensure it is a proper weapon.
The aforementioned 1LE pack doesn't add anything in the way of power, but it does fit larger and stickier tyres, an aggressive aero pack and adjustable dampers and springs to further hone the handling. The Camaro's brash design may not be particularly well suited to European tastes, but drop one on a racetrack and few domestic petrolheads would say no.  
BMW M550i/M550d xdrive
Price: €84,300/€85,000 (£75,112/£75,736)Where is it sold? Continental EuropeCould it ever come to the UK? Yes! Bring it over
BMW's latest G30 5-series has been the recipient of fairly good press since its launch earlier in the year and the M5 is only just around the corner, but if 600bhp+ seems excessive, continental Europe offers something a little more enticing than the 540i.
Falling under BMW's M Performance nomenclature, the M550i is offered in Europe as a step down from the M5. It's a 455bhp V8 twin-turbo option with all-wheel drive and a subtley upgraded body. When the M550i hit the headlines, it did not go unnoticed that it actually beat the old M5 in terms of acceleration, although this is mostly to do with the all-wheel drive system.
> Click here for more on the BMW M550d
BMW also offers the M550d for those after speed and frugality, replacing the petrol powered V8 engine for a newly developed quad (yes quad) turbo straight-six engine with 394bhp and a staggering 560lb ft. At not far away from two tonnes, the M550i and M550d achieve 0-62mph times of 4.0 and 4.4 seconds respectively and that is mighty impressive.
Although the notion of a super saloon is not a new thing, the new M5 and rivals like the Mercedes-AMG E 63 S and Audi RS6 are hardly any more subtle than their supercar counterparts in this day and age. The M550's M Sport-like body and relative subtlety gives these German hot rods an extra cloak of invisibility for those interested in that sort of thing.
BMW has yet to release Touring versions of either model, but de-badge one of those and you'd have a family estate to give everything this side of a McLaren 720S a scare away from the lights, especially in the wet. 
Honda S660
Price: ¥1,980,000 (£13,300)Where is it sold? JapanCould it ever come to the UK? Yes! Bring it over
Honda's forthcoming S2000 replacement seems like it has been years in the making now, but did you know Honda already sells a two-seat roadster in Japan? It's called the S660, and aside from having less than half the swept capacity of the S2000, it is the sweetest little roadster from the brand since the Honda Beat of the 90s. 
Centred on a mid-mounted 660cc turbocharged three-cylinder engine, the S660 satisfies the Kei car requirements in Japan, hence the tiny engine and dimensions. Available with a six-speed manual or CVT auto, the S660 is one of those fascinating miniature supercars that no doubt work perfectly in bustling downtown Kyoto, but might be a little out of its depths on a British back road.
> Click here for our historic review of the Honda S2000
Inside, the S660's petit interior is pared back and almost entirely designed around the driver. Unlike with many JDM cars, Honda fits an integrated stereo (an often purposeful omission thanks to customer's liking for aftermarket systems in Japan) a chunky steering wheel and short stumpy gearstick. 
How the S660 drives is anyone's guess, but with features like staggered tyre sizes and a clever brake-based torque vectoring system it is clear that Honda has been deadly serious about the S660's dynamic capability.