One of the more enduring and endearing features of our long-term Zed was that, no matter what other cars it was in the company of, it never felt like the short straw. If everyone else in the office shot off in Ferraris or Porsches, you never felt hard done by to 'just' have the keys to the Nissan - it had more than a touch of the mini-exotic about it. Even on a circuit, surrounded by trackday specials, the Zed's blend of the soulful and the capable ensured no hard feelings; quite the opposite, in fact.
The car's appearance - not to mention its performance - on both evo Road & Track Car 2005 (issue 081) and evo Car of the Year 2005 (087) gives you some idea of the esteem in which we hold the big-hearted coupe. Sure, it may not have reached the top-step of the podium in either competition, but that didn't stop us feting it as 'a tactile, sensual delight' and 'a sure-fire future classic'.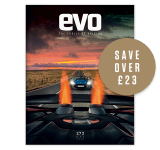 Subscribe to evo magazine
Subscribe today to have every issue of evo delivered straight to you. You'll SAVE 39% on the shop price, and get evo for its original cover price for a whole year!
Recent upgrades to the model have gifted all 350Zs with the same 296bhp motor as our one, but at the time we took over the running of the bright yellow GT4 Anniversary model in August 2005, that output represented 20bhp over standard. The extra horses didn't exactly result in a stampede of additional performance, yet their presence did inject the whole car with even greater vivacity.
If the notion that we were going to enjoy life with the Zed from the moment it arrived was hardly a revelation, there were a few early surprises with quality. Admittedly, our car came to us following several months of hard labour on the Nissan press fleet, so we could forgive it a few scuffs here and there, but not so easy to ignore was a fuel filler flap that seemed to have bypassed the part of its construction process where it's moulded to match the contours of the car, and the remote release button for said flap that had fallen out of its mounting slot in the lower section of the facia. Still, at least we were able to press-fit the latter item back into location; the cracking leather on the outer edge of the driver's seat side-bolsters after only 6000 miles was somewhat more concerning.
Many thanks to everyone who wrote in with their experiences of Zed ownership, though it has to be said that the main recurring themes of your letters on what to look out for didn't manifest themselves on our Zed. Several owners reported what they described as excessive stone-chipping on the nose of their cars; it wasn't an issue for us. Nor did we have any problems with dodgy electric window motors or leaking struts for the rear hatch. But we do have to agree that trying to check the oil with a dipstick the shape of a watch-spring is a nightmare.
Fortunately our Zed was parsimonious in its oil consumption, so frequent checks weren't required. Its thirst for fuel was also restrained - it returned an average of just over 26mpg during its time at evo, although our ham-footed staff photographer, Andy Morgan, did manage to drag one tankful down below the 20mpg mark. I wish we could give you an idea about tyre life - an important factor in a rear-drive car so keen to go sideways - but we fitted new rear boots ahead of time to give the Zed the best possible chance on eCOTY.
Punch 'quintessential sports coupe' into a search engine in a few years' time and heading the list of results will probably be the Nissan 350Z. It has brutish charm, magnetic looks, big-bore performance and a chassis that's both lively and supremely friendly. It's also easy to live with as your daily driver and feels - seat bolsters aside - as though it'll go on forever. And Anniversary models like ours don't seem to depreciate much, either - no wonder Nissan wanted our Zed back again.
Running Costs
| | |
| --- | --- |
| Date acquired | August 2005 |
| Total mileage | 9785 |
| Duration of test | 6 months |
| Average MPG | 26.1mpg |
| Servicing costs | £0 |
| Consumables | £403.80 (rear tyres) |
| Price new | £29,500 |
| Trade in value | £25,500 |
| Depreciation | £4000 |