Were it not for a hardy few remaining manufacturers, the concept of the traditional coupe would be dead - in Europe, at least.
Only the premium manufacturers offer proper coupes these days - think 4-series, A5, C-class coupe - while a hardy few mainstream brands continue to offer more performance-orientated models, like the Toyota GT86 and Subaru BRZ, the Nissan 370Z, and the Ford Mustang. For the average customer though, crossovers have taken their place - and the roads are a less attractive place for it.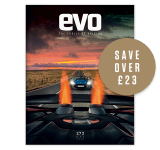 Subscribe to evo magazine
Subscribe today to have every issue of evo delivered straight to you. You'll SAVE 39% on the shop price, and get evo for its original cover price for a whole year!
> Ford Puma - review, history, prices and specs
Back in the 1990s you could barely move for stylish mainstream two-doors. In no particular order, the average magazine group test could have included Far-Eastern offerings in the form of the Toyota Celica, Honda Prelude, Mitsubishi FTO, Nissan 200SX and Hyundai Coupe, Ford's Probe and then Cougar, the Vauxhall Calibra and later Astra Coupe, BMW's stalward 3-series, and even coupes from Rover and Volvo.
And if you wanted Italian beauty, there were three options: The Alfa Romeo GTV, Fiat Coupe, and Peugeot 406 Coupe. Italian? Call it a collaboration, as Peugeot's repmobile-based coupe was penned, like the GTV, by Pininfarina.
It arrived slightly before evo's time, but our predecessors at Performance Car became familiar with it, and today Peugeot's beautiful coupe is emerging from the other side of its depreciation curve. Here's why it's still appealing two decades on.
Peugeot 406 Coupe in detail
Even in its mid-nineties twilight the Peugeot 405 was winning plaudits for its ride and handling, so the 406, which arrived in the UK in early 1996, had plenty to live up to.
Early reviews suggested the Mondeo and Primera rival had hit the mark - and it frequently ranked alongside those two cars in particular for its blend of ride and handling, falling head and shoulders above others in the class. Quality had taken a step up too, while the 406 was offered with a range of four-cylinder petrol and diesel engines and a range-topping 2.9-litre V6, shared with Citroen and Renault.
That bode well for the 406 Coupe that arrived in 1997. While identifiable as a member of the 406 family, the new Coupe was altogether more stylish than its four-door counterpart. Not surprising really, given its Pininfarina provenance: the 406 Coupe was both designed and built by Pininfarina in Italy, and had originally been a styling proposal for Fiat - which eventually went with the in-house design composed by Chris Bangle for its own sporty two-door Fiat Coupe.
Peugeot initially chose the 406 saloon's 2-litre, four-cylinder petrol (with a modest 138bhp) and the 2.9-litre "ESL" V6 - co-developed between PSA and Renault to replace the ancient PRV unit - which produced a healthier 194bhp in its first form. This engine was quickly declared the pick of the range, for its mellifluous if muted engine note, because it suited the character of the car, and because it featured a few choice tweaks over the 2-litre version to wake up the chassis.
Tuning for the Coupe was slightly different to the saloon anyway. It used the same layout, comprising MacPherson struts at the front and a multi-link rear (with coil springs all round), but with 0.6in and 1.4in wider tracks front and rear and a half-inch drop in ride height. The classy six-spoke alloy wheels sound tiny by today's standards - they were 16 inches in diameter - but suited the Coupe's shape and had 215-section tyres for suitable levels of grip.
V6 models got variable-assistance steering over their 2-litre counterparts, while electronic two-stage dampers were an option. While not badged as such, the shapely seats were made by Recaro and the brakes by Brembo.
2-litre models were given less favourable reviews than the V6 on launch - the four-pot was never a particularly enthralling power unit - and later in the car's life it ended up being replaced by a 2.2-litre petrol. A 2.2-litre HDI-badged turbodiesel was also offered, being on-trend for the 90s and early 2000s but seeming less appealing today, both in light of ever more stringent regulations on diesels and the simple appeal of running a car for fun rather than day-to-day commuting.
And while today's prices are on the way up, you're still getting plenty for your money. Back in 1997 the basic 2-litre Coupe cost £20,360, with the V6 at £23,900 and the range-topping V6 SE costing £26,720. That latter figure would be an eyebrow-raising £46,000 today, so the low four-figure sums you'd pay today - and not for long, surely - look tempting indeed.
| | | | |
| --- | --- | --- | --- |
| | V6 | 2.0 | 2.2 HDI |
| Engine | 2946cc, V6 | 1997cc, 4cyl | 2179cc, 4cyl |
| Max power (bhp @ rpm) | 194 @ 5500 | 138 @ 6000 | 136 @ 4000 |
| Max torque (lb ft @ rpm) | 197 @ 4000 | 140 @ 4100 | 173 @ 2000 |
| Weight | 1458kg | 1350kg | 1410kg |
| Power-to-weight | 127bhp/ton | 102bhp/ton | 96bhp/ton |
| 0-62mph | 7.9sec | 10.5sec | 10.6sec |
| Top speed | 146mph | 127mph | 129mph |
What we said
Performance Car, first drive (June 1997)
'As you might guess from those power and torque outputs, the V6 is a gutsy little number. A mere stroke of the throttle pedal is all that's required to send the Coupe rushing forward from even the lowest engine speeds and its mid-range eagerness makes it a formidable, yet easy-going, performer in most everyday situations.
'Your pace across country is greatly aided by the all-round excellence of the chassis. Over-light power steering tarnishes the shine slightly, but otherwise it's the perfect picture of finely balanced composure. Provided you stay within the (high) limits of its roadholding, its movements are graceful and hugely satisfying to the keen driver.'
Performance Car, full road test (August 1997), John Barker
'On the open road, the V6 is gutsy and keen, hauling well from low revs, hitting its stride in the mid-range and powering to the red line with a confident air. Response is crisp whatever the revs and while it's not as tuneful as an Alfa V6 (it's not alone there) it's appealingly gruff when extended and stronger than you think.
'Yet the 406 could be even more desirable. By Peugeot's very high standards, the Coupe's ride and handling are quite ordinary; it's easily unsettled and surprisingly short of feel and fluidity. Perhaps the optional electronic damping makes the difference.'
What to pay
Excellent: £3000Good: £2000Average: £1500Project: £800