Porsche 964 RS
Richard Meaden treats his 964 to some balming-based TLC before putting it away for the winter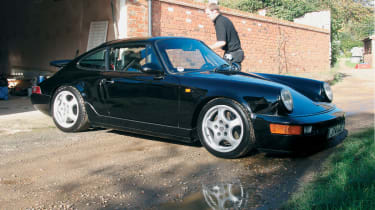 My local council saw fit to grit the roads the other night, an act which I've always said I'd take as my cue to reluctantly put the 964 away for the winter. As luck would have it, just a day or so later old friend Richard Tipper, the elbow grease behind vehicle detailing masters Perfection (07860 336825), called me to see if he could come up and work his magic on the RS's black bodywork before it went into hibernation. Generously, I agreed.Now, I like keeping my car clean – I've even treated it to a wash and wax on a couple of Sunday afternoons – so I didn't think it looked too shabby. But as Richard set to work, something extraordinary began to happen to the paintwork.
After a jet-wash containing a paint cleaner to remove stubborn dirt, traffic film and, a little depressingly, my lovingly applied wax, he began to spray a clear, watery liquid over the paint while gently and methodically rubbing what appeared to be a Mars Bar-sized block of Blu Tac over each panel.It looks bizarre, but this 'clay balming' process is amazingly effective at lifting all the contaminants that have become engrained in the paint. Tar, tree sap, age-old dead flies, even overspray are all magically drawn out of the paint and into the clay as though by magnetism.
Balming complete, Richard then polished the paint using a hand glaze, removing the swirl marks that curse dark colours and bringing the 964's paintwork alive. To illustrate how effective the clay balming is, Richard balmed and polished half of one panel, leaving the other half washed but otherwise untreated. The difference was like running your hand over your chin before and after a shave. Amazing.
Thinking he'd finished, I nudged him in the direction of the filthy Mustang – 'Well, while you're here, Rich…' – but he'd not done with the Porsche yet. The final stage of the colour revitalisation process is another buffing session, this time using a carnuba wax, which deepens and protects the shine created by the earlier stages (and made my musty old garage smell like the cosmetics counter at John Lewis).
The result is an absurdly clean Porsche. In bright sunlight it looks wet, the inky black paint displaying a positively satanic shine. Up close I'm amazed to see that most of the fine scratches accumulated over the last decade and a half have been swept away. Trouble is, even if I did want to take the RS out for a spin, the thought of getting it dirty is too traumatic to contemplate. Until the spring then…
Find used Porsche 964's for sale on the Classic and Performance Car site here.
Running Costs
| | |
| --- | --- |
| Date acquired | July 2006 |
| Total mileage | 59,718 |
| Costs this month | £0 |
| Mileage this month | 1,225 |
| MPG this month | 23.2mpg |