Porsche Cayenne buying guide
You can now pick up an example of the Porsche Cayenne performance SUV for under £10,000. Buying guide essentials here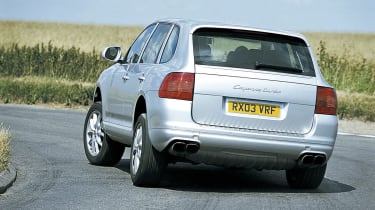 The Porsche Cayenne first rumbled and muscled into view back in 2002. The four-wheel-driving, V8-pulsating, SUV-redefining model might have brought Porsche-flavoured thrills and spills to all the family, and over the sort of terrain hitherto trekked by Porsches only on African rally-raids, but it was not what the purists thought a Porsche should be.
Search all Porsche Cayennes for sale on evo.co.uk
How could anyone mix that facial graphic with notions of Range Rover, BMW X5 or Mercedes M-class rivalry? How dare they? Well, the US market, and the emerging ones of Russia and especially China, are how. Rich customers there wanted fast 4x4s and they wanted a Porsche badge. Porsche could hardly not make the Cayenne. Consider how strong the model is now - and how long the waiting list for its baby brother, the new Porsche Macan, already is - and its development has surely been more than vindicated.
It has proved hugely lucrative for the company, its profits ensuring that the manufacture of 'proper' Porsches remains viable. And you can't deny that there's a certain appeal to a hefty SUV with, if it's an original Turbo as featured here, 444bhp from its twin-turbo, 4.5-litre V8, a 165mph top speed and the ability to reach 62mph from rest in 5.5 seconds. Especially when it has proper off-road ability, complete with long-travel suspension and a low-ratio gear set. A non-turbo Cayenne S arrived at that 2002 launch, too, with the same engine capacity but a gentler 335bhp (good for 150mph and a 7.0sec 0-60 time). A Cayenne V6 soon followed, with a 3.2-litre, 246bhp VW/Audi engine. At the opposite extreme, the Turbo S of 2006 offered a rousing 513bhp.
In 2007 the range got a minor facelift with larger, direct-injection engines, the addition of a turbodiesel and the launch of the Cayenne GTS. On simple steel springs and with a manual gearbox, this was the most petrolhead-pleasing Cayenne of all, but it's also rare in this basic form. There was also a revised model in 2010, with a slightly longer wheelbase, a new nose, less weight and a hybrid option. This guide, however, concentrates on the pre-2007 cars, some examples of which are now dropping below a five-figure asking price. Prices are currently as low as £7000, in fact...
One early-Cayenne must-have is air suspension, which is standard on the Turbo. The S and V6 models with steel springs have a harsh, unyielding ride, a deficiency remedied by the 2007 revamp. The air suspension also adjusts its height as required, lowering itself at speed and raising itself when it senses troubled terrain. But even an air-sprung Cayenne in Comfort mode is still a taut, responsive machine able to perform agility feats previously undreamed of in an SUV, helped by a nominally rearward torque split. In essence the Cayenne feels a little like a 928 GTS, only taller and more sophisticated.
These early Cayennes are not paragons of reliability, though, and age doesn't help. Here, too, they are like a modern 928, especially in their electrical gremlins. Porsche specialist JZ Machtech goes so far as to recommend buyers avoid a pre-2007 Cayenne S entirely, thanks to a tendency beyond around 70,000 miles towards disintegrating Lokasil cylinder coatings and consequent catastrophic engine failure. A new engine from Porsche, once fitted, will - at around £18,000 - cost more than the car is worth.
In fact, JZ Machtech has given up selling all early Cayennes because they cause too much grief when customers bring them back for the inevitable faults to be fixed. Typically you'll find early Cayennes at 4x4 specialists rather than Porsche specialists, where the vibe is as different as the customers. So avoid the S and either opt for a sensible V6 (quite slow and little more economical than the S) or go for broke, brace yourself for a regular 14mpg and find a Turbo from £15,000. It's bonkers, but there's nothing else quite like it.
Search all Porsche Cayennes for sale on evo.co.uk
Some impressive numbers...
Consider some figures. Stuttgart's top-of-the-range Turbo S came with a supercar-rivalling 512bhp and 531lb ft of torque, up from 450bhp and 457lb ft in the standard Cayenne Turbo thanks to a comprehensively improved intercooling system and a 0.2 bar increase in boost pressure. The swell in power and torque is sufficient to propel the 2355kg machine to 62mph in 5.2sec, 100mph in 11.9sec (some 2.6sec faster than the Turbo) and on to a top speed of 167mph. Mighty stuff.
Extra Info
James Barclay - James, a serial 911 owner, bought a Cayenne S new in 2003 as the family car. He kept it for two-and-a-half years and 50,000 miles, so avoided the V8's ticking-time-bomb zone, but there was much else to keep the supplying dealer busy.
'The sat-nav failed within 24 hours of delivery, and we had three new units in all. Then there was the tailgate. Initially the opening glass part refused to shut, then the whole tailgate refused to lock, so the lock had to be replaced.
'And then a front air suspension unit collapsed. Porsche GB eventually paid £900 of the £1800 repair cost – even though we'd paid £1000 for a third-year guarantee. So we got rid of it.
'I think we were doing some of the development on Porsche's behalf. This was a much more complex car than previous Porsches, though I suspect that if I'd bought another it would have been fine.
'I did like the idea of a sporty 4x4, and by Porsche standards it wasn't desperately expensive. My wife still hankers after the power it had, although it was so big she used to find herself apologising to other people in car parks for the amount of space it occupied!'