The Skoda Karoq might not seem like it has much of a place on the evo website, normally a haven for driving thrills and a celebration of some of the most hardcore supercars. As a small SUV with nothing more potent available under the bonnet than a 2-litre diesel, we can certainly understand why you might be dismayed to see it here.
But that disregards the Karoq's predecessor completely, because nine years ago Skoda released the rather brilliant Yeti. It might have been a quirky-looking, tall-riding, van-shaped creation, but its robust chassis made it feel undefeatable no matter how awful the road surface, yet there was masses of enthusiasm and spirit when you aimed it at a corner. It may not have had hot hatch-rivalling levels of excitement, even with its most powerful 1.8-litre turbocharged engine, but it was just as involving and as satisfying to pedal along at pace. The Yeti was a truly wonderful surprise to anyone who drove one.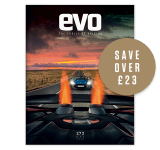 Subscribe to evo magazine
Subscribe today to have every issue of evo delivered straight to you. You'll SAVE 39% on the shop price, and get evo for its original cover price for a whole year!
> Find out why the Skoda Yet is so special
The new Karoq has a lot to live up to, then. Sadly, its more conventional-SUV looks are matched by more conventional-SUV driving dynamics. It's respectable, definitely. Very composed, undoubtedly. There's a solidity and precision to its controls that are enjoyable, certainly. Yet its grip-over-fun chassis set-up means it isn't as magical as the old car, the Karoq feels numb by comparison.
That's not to say it's without merit though, and the new Karoq remains one of the better cars in this class both as an ownership proposition and dynamically. It's certainly a decent basis for the rumoured Karoq vRS, which should bring back a little of the spark missing from the regular model - though for matching practicality with entertainment, Skoda's own Octavia vRS estate remains our pick at the Karoq's price point.
Skoda Karoq in detail
Performance and 0-60 time – Depending on which engine is fitted to the Karoq its 0-62mph acceleration time ranges from a tepid 10.9sec to an adequate 8.4sec. 
Engine and gearbox – The Karoq's selection of engines isn't especially exiting; they're all turbocharged, but you do get a choice of three- or four-cylinder motors and either petrol or diesel.
Ride and handling – Satisfying controls and sufficient grip make the Karoq sufficiently pleasing to drive, but it's never particularly exciting no matter how hard you try.
MPG and running costs – With official combined miles per gallon figures that don't drop below 50mpg, no matter what engine is fitted to it, the Karoq has the potential to be very cheap to fill.
Interior and tech – Solid and tough-feeling, with plenty of thoughtful touches to make any task you'd usually undertake in a car just that little bit easier.
Design – It's small and compact, and it looks it. It's particularly handsome on chunky 19-inch wheels, too. It's not excessively heavy either, though 4x4 models are a bit porky.
Prices, specs and rivals
The Skoda Karoq is available from £20,880 for the 1.0 TSI SE, but it can be specced up to over £36,000 if you opt for the 2-litre diesel engine with four-wheel drive and almost every option available. Most models are front-wheel drive, and you'll need to spend £25,820 to get into the most affordable 4x4 model, fitted with the 2.0 TDI engine and SE trim.
If you're not in the slightest bit excited by the Karoq, none of its immediate rivals are going to get your juices flowing either. The SEAT Ateca is its closest competition; not only is it based on the exact same platform as the Karoq, it's also available with all the same engines. However, in what seems like a mistake on behalf of the Volkswagen Group, the cooler Latin SEAT with its sportier, sexier image is cheaper than the budget Czech Skoda as it's available from £18,675. At its peak Ateca pricing rises above and beyond the £33,000 mark.
> Read our review of the SEAT Ateca
The Volkswagen Tiguan, like the Ateca, shares the same basic platform as the Karoq, but the VW's wheelbase is 39mm longer than its two not-so-distant siblings. Because of its extra space and more premium badge, the Tiguan is a little more expensive, too, starting at £23,485.
Away from the VW Group inter-family feud, the Karoq's other rivals are the Kuga from Ford, the Qashqai from Nissan and the Kadjar from Renault. If you find all of those too dull, you could opt for the challenging styling of the Toyota C-HR - the only one of the bunch to offer a hybrid powertrain in lieu of diesel power.
But in actual fact, the real thorns in the Karoq's side – as well as in the flanks of all of its other SUV rivals, as far as we're concerned – are conventional hatchbacks or small estates. Not only is a regular Ford Focus, Volkswagen Golf, Skoda Octavia or SEAT Leon just as practical (or more if you opt for the estate versions) they're better to drive thanks in part to their much lower centre of gravity. They're also much cheaper as a rule, so you could either save yourself some money or spend the extra cash on the more exciting performance versions, the ST, GTI, vRS or Cupra, respectively.