The Mk7 Volkswagen Golf GTI isn't long for this world. Before the year is out the Mk8 Golf will have arrived, heralding the arrival of a new GTI further down the line.
As a send-off, Volkswagen has released the Golf GTI TCR – a Clubsport by another name, designed to draw links to VW's TCR racing car, competing in series all around the world and run in the WTCR series by Sébastien Loeb Racing. While the road car lacks the racer's wide arches and significant power boost, you do get an eye-catching graphics package and the old Clubsport's impressive engine and dynamics. If you missed out last time then, should the TCR be on your radar this time around?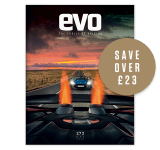 Subscribe to evo magazine
Subscribe today to have every issue of evo delivered straight to you. You'll SAVE 39% on the shop price, and get evo for its original cover price for a whole year!
Engine, performance and 0-60 time
Yep, it's another appearance of VW's ubiquitous EA888 four-cylinder turbocharged petrol engine, with power and torque figures befitting a car that needs to demonstrate a clear advantage over the conventional GTI but can't step on the Golf R's toes – even if the chassis is capable of it.
Power climbs from the GTI Performance's 242bhp at 5000-6200rpm to 286bhp at 5400-6400rpm, while torque is now 280lb ft between 1800 and 5300rpm, compared to 273lb ft from 1600 to 4300rpm. This is sent to the front wheels alone through an electronically controlled locking diff, and via the sole gearbox option of a seven-speed DSG – another link to that racer, which uses either a production DSG or a full race sequential gearbox.
The upshot is a 0-62mph time of 5.6sec, and a limited 155mph top speed. Customers can have the car derestricted, but slightly pointlessly, since the maximum increases by just 7mph.
Technical details
Available in three- and five-door forms, the TCR gets a graphics package aping that of VW's official racing colours and last year's GTI TCR Concept from Wörthersee, along with a front splitter, rear diffuser element and a spoiler atop the tailgate. Wheels are 18 inches as standard, but a pair of 19-inch designs is available as part of a Performance package, sitting 20mm lower and removing the top speed restrictor. Opt for the 'Pretoria' wheel design and you also get a set of Cup 2 tyres.
Brake discs and pads are also upgraded on the TCR compared to the regular GTI Performance, and the extra cooling demands of the more powerful engine mean the TCR nabs the Golf R's pair of extra radiators, which sit behind the front bumper.
What's it like to drive?
We've been somewhat spoiled by hot hatches over the last few years, and the Golf TCR enters an arena populated by cars as diverse as the Peugeot 308 GTi, Hyundai i30 N and the Honda Civic Type R.
Dynamically at least, it's a challenge to which the TCR has little trouble rising. Like its Clubsport predecessor the TCR builds impressively upon the standard car, the sharper focus of its underpinnings resulting in a hatch that allows you to deconstruct a twisting road with precision and no shortage of speed.
It's a well balanced car, the TCR, not just in terms of the way grip seems to be shared between the two axles, but in the relationship between the major controls. The steering is a particular highlight. It doesn't fidget with true road feel but it gets close, giving you a clear picture of what's happening at ground level and always backed up by a faithful response at the front axle and a convincing increase in weight as you push harder.
Grip isn't limitless, but drive smoothly – something the TCR encourages with its fluid responses – and you can string together a sequence of bends with real flair. Mid-corner bumps, surface changes and changes in camber are telegraphed, but don't upset the chassis, and nor does whatever power you choose to send through the front axle. Neither is it an edgy car – allowing you to get away with small mistakes but never feeling inert – while the undoubtedly firm ride never strays into the realms of discomfort.
There's strong torque from low revs, but power really starts to build in a notable surge between 2500 and 3000rpm and continues to the red line – though the delivery is so linear there's no great incentive to chase the higher numbers on the dial. You get extra punch low down in Sport mode, but the throttle feels most natural in Normal and you lose nothing in terms of outright performance.
With the DSG 'box you don't quite get the same interaction you might with a manual, but there's no doubting its effectiveness. Changes are generally swift and smooth, with occasional delays when calling upon a higher gear if the 'box is expecting you to choose a lower ratio.
On track it's impressive too. Portimão could so easily cook a car's brakes or show weakness in grip and balance, but our Cup 2-shod car felt rapid and composed, and would no doubt feel even better on the narrower, tighter circuits we enjoy in the UK. The diff felt particularly effective on track, allowing you to jump on the power surprisingly early without the front end washing wide.
So it's perfect then? Well, not quite. If there's one thing that proliferation of rivals has shown us, it's that there's more to a great hot hatch than pure competence. The TCR has no real USP, lacking the crushing ability of a Civic Type R or the pure fun factor of an i30 N. Ironically, by naming the latest GTI after its racing cousin, VW has served to draw attention to just how much extra potential could have been unleashed.
Price and rivals
Volkswagen hasn't yet confirmed pricing for the GTI TCR, but expect it to be closer to the £33,085 Golf R (with matching DSG) than it is the regular GTI Performance, which comes in at £30,240 (both in three-door form). You may consider both in-house rivals to the TCR, particularly the R, which isn't as sharp as the newcomer but does offer slightly more power and the tractive benefits of all-wheel drive.
And while many will shy away from cross-shopping new with used, predicted TCR money also puts you in the same ballpark as pre-owned examples of one of the best Golfs ever – the Clubsport S. More powerful and even more serious than the TCR, it's closer to what we'd have expected from a car inspired by a racing programme, with proper bucket seats, and rear seats replaced by a stiff chassis brace and netting…
Elsewhere there's the aforementioned Hyundai i30 N (£28,760 in Performance form) which is more boisterous and exciting than the Golf, if perhaps not as desirable or rich in pedigree, while our favourite hot hatch remains the remarkable Honda Civic Type R, £31,525 in entry-level trim. Its body addenda might look tasteless even next to the TCR's sticker pack, but is abilities are currently unmatched in the class.