Technology has become the main battleground in the luxury saloon market, and Audi has made sure its new A8 is well armed indeed.
Beyond the bits you can see – like the new, if still subdued design language, with its matrix LED headlights, OLED rear light strip and subtle blisters over each wheelarch, and the fresh new cabin with a high-quality and ultra-tasteful feel, the A8's aluminium skin is virtually stretching to accommodate the new autonomous functions, active suspension, mild hybrid tech and a new touchscreen-based cockpit.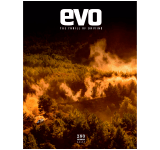 Subscribe to evo magazine
Subscribe today to have every issue of evo delivered straight to you. You'll SAVE 39% on the shop price, and get evo for its original cover price for a whole year!
Even so, the bar in this class has been set very high by the recently-refreshed Mercedes-Benz S-class. How does Ingolstadt's saloon compare?
Engine, transmission and 0-60 time
UK buyers will have a choice of two engines initially. Both are 3-litre V6s, one powered by diesel and the other by petrol. Under Audi's recently-announced naming convention the diesel is known as the A8 50 TDI and the petrol the A8 55 TFSI.
The 50 TDI (we'll have to get used to this eventually…) develops 282bhp and 443lb ft of torque, while the 55 TFSI makes 335bhp but can't quite match the diesel's twist with a 369lb ft maximum.
Both are relatively brisk though, with the 50 TDI reaching 62mph in 5.9sec from rest and the petrol taking three tenths off that, while both hit a 155mph top speed. Long wheelbase variants barely differ – the diesel is just as quick, while the petrol loses only a tenth, covering 0-62mph in 5.7sec. Both are frugal too, this time unchanged regardless of wheelbase – 50.4mpg for the TDI, 37.7mpg for the TFSI. Worth noting, however, that equivalent BMW 7-series and Mercedes-Benz S-class models are even more parsimonious – you get up to 56.5mpg from a BMW 730d xDrive.
> Click here for BMW 7-series review
The sole gearbox option is an eight-speed Tiptronic, which lends an unfazed feel to both drivetrains. It can be a little slow to kick-down in Comfort mode, but that's what the standard gearchange paddles are for – and for those wishing to travel with a little less comfort, Dynamic mode sharpens throttle response and the behaviour of the gearbox.
Driving quickly both engines remain relatively hushed, the petrol especially, which could almost be producing its noises from another car entirely. Neither struggles to haul the A8 up to speed and feel fairly effortless unless you're asking absolutely everything of the drivetrain. In the UK, inevitably, the diesel makes a little more sense, but the silken petrol does feel slightly more luxurious.
Technical highlights
Brace yourself, because this may take a while. At the heart of the A8 is a new structure comprising not just aluminium as before, but also high-strength steels, carbonfibre, and magnesium. The aim has been to improve strength and torsional rigidity (up 24 per cent), but also reduce weight. Well, to mitigate weight increases from a more opulent cabin and an increase in technological features, anyway – the new A8 is up to 95kg heavier than before, and despite the clever chassis, heavier than the equivalent BMW 7-series and Mercedes-Benz S-class.
Next, there's the autonomous technology. Due to roll out through 2018, Audi claims the new A8 is the first car to meet SAE's standards for level 3 autonomy, where monitoring of the driving environment, and steering and acceleration/deceleration duties are conditionally autonomous, but the car still needs a driver to intervene in certain conditions. In the A8, this manifests itself as a system Audi calls "traffic jam pilot", which can control the car completely up to 37mph on dual-carriageways and multi-lane motorways, as well as remote parking and garage parking functions – for which the driver can control the car from outside.
Then there's the "mild hybrid" technology, using a 48 volt electrical system and a belt-driven starter-alternator. This can turn the engine off while on the move for engine-off coasting, as well as recovering energy under deceleration. The effects are relatively minimal, however – Audi claims improvements of around 0.7 litres (0.15 gallons) every 62 miles.
It goes on: certain models feature fully active suspension, which not only monitors the road ahead for undulations and adjusts the suspension accordingly, but on models equipped with Audi's pre-sense 360 system, can also prepare for a side collision by raising the body a full 80mm within half a second, focusing impact energy into the strong sills rather than through the doors.
Still with us? We've not even got to the interior yet, with its Virtual Cockpit instruments (something we've seen before) and a pair of touchscreens on the centre console not unlike those of the Range Rover Velar. These feature haptic feedback to let you know you're pressing a particular virtual button, and respond to smartphone-style pinching and swiping movements. They're used to control most commonly-used interior functions, such as navigation, audio and heating/ventilation – as well as allowing you to write on the lower screen to find your destination. It's very well resolved indeed – responsive, intuitive, and most importantly, virtually free of distractions.
What's it like to drive?
The driving experience is almost secondary to everything else the A8 offers, but the natural pace of development means the new car offers a useful improvement of the basics compared to its predecessor.
So the ride is a little better – something we'll be able to confirm for sure when we get a drive on UK roads – if still firmer than Mercedes' S-class models. Body control is good too, and when combined with another of the A8's technical features, all-wheel steering, gives the A8 a surprisingly agile feel. As with similar systems, it can turn the rear wheels up to five degrees in the opposite direction from the front wheels at low speeds to improve agility and tight manoeuvring (cutting a metre from the old car's 12.4m turning circle), and in the same direction (by up to two degrees) at higher speeds for stability.
The way the A8 darts through hairpins and around roundabouts and tighter corners in particular is impressive thanks to that system, and in certain conditions it doesn't feel too different from the much smaller A4 as a result – though you're always conscious of the A8's significant 1945mm width (without mirrors).
And when you're really pressing on, the high kerb weight (from 1975kg – more even than an S-class) also begins to play a part, the chassis needing a little time to compose itself between direction changes. The brakes cope admirably however – we didn't experience any fade from the firm, if initially soft pedal, even if the smell became rather pungent.
The rest of the time the A8 is relaxed, serene and comfortable to drive. There's some road noise and a rustle of wind from the mirrors at higher speeds, but the steering feels just right for high-speed stability and low-speed effort, and there's a syrupy slickness to every control that makes being a chauffeur seem like quite an appealing change of career.
Price and rivals
Pricing begins at £69,100 for the A8 50 TDI quattro. The petrol engine lifts this price to £71,000, while long-wheelbase models are £73,095 and £74,995 for the diesel and petrol respectively.
A8 rivals are plentiful, with the BMW 7-series and Mercedes-Benz S-class the most obvious for any head-to-head comparison. All three feature a staggering amount of technology; BMW uses a part-CFRP chassis, and you can park it from its (rather large) key, while the S-class features semi-autonomous tech similar to the Audi and a curve-tilting function to aid cornering, to mention just a few highlights.
> Click here for our review of the Mercedes-Benz S-class
All three are deeply impressive to drive too, but we think the Mercedes just edges it in terms of what a luxury car should actually deliver. If there's a demerit for the A8, it's that it doesn't quite hit the heights of comfort and grandeur you get from an S-class, whether you're sitting up front or lounging in the rear. As a driver or as a passenger, the S-class, slightly ostentatious though it might be, does feel a little more special.
And, let's face it – if you have £70k-£80k to spend on a proper drivers' car and want the Audi badge, then a new to nearly-new RS6 (or, if you don't need the space, a late first-generation Audi R8 V10) would do the trick better than the A8.