If anyone is in a position to cash in on the still growing SUV market it's Range Rover. The originators of the luxury off-road niche, Solihull's most successful car manufacturer has built on its reputation to provide a Range Rover product for every need. Or rather, now the Velar is here it feels it is finally fulfilling every SUV need a customer could desire.
Want a small, compact and fashion conscious SUV? You'll want the (ageing) Evoque. Full fat, no compromise I want it all? The Range Rover is for you. And something in the middle? Until the Velar rocked up you would be steered in the direction of a Range Rover Sport (which has recently been updated). But now the Velar is here, that sizable gap between the Evoque and the Sport has been bridged.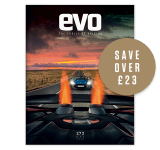 Subscribe to evo magazine
Subscribe today to have every issue of evo delivered straight to you. You'll SAVE 39% on the shop price, and get evo for its original cover price for a whole year!
> Click here for our look at the updated Range Rover Sport
Technical Highlights
The Velar shares much of its architecture not with its bigger brothers further up the family tree, but with its cousins from Jaguar, namely the XE and XF's aluminium platform that has been further adapted from that used for the impressive F-Pace.
This First Edition model is fitted with the 3-litre, supercharged V6 petrol engine producing 375bhp at 6500rpm and 332lb ft of torque at 3500rpm. There's an eight-speed auto gearbox and Land Rover's Terrain Response four-wheel drive system as standard, too.
> Click here for our review of the Porsche Macan Turbo
Our test car came equipped with smaller, no-cost option 21-inch wheels instead of the usual 22s and behind these are standard 350mm and 325mm front and rear brake discs. Being a First Edition it also comes fitted with £1140 worth of configurable air suspension, a system that's an option on other Velar models. There's also an active rear-locking differential, torque vectoring by braking, roll stability control, autonomous emergency braking, cornering brake control, low traction launch control, the electronic steering is speed sensitive and if we'd looked a bit harder we may have found a kitchen sink in the Velar, too.
Engine, performance 0-60mph time
Let's be honest about this, a 3.0-litre supercharged V6 petrol engine isn't going to be on many people's radar when it comes to ordering a Velar, especially those living in Europe. Not until diesels are condemned for good, that is.
However, there are a few who have shares in oil companies who will dismiss a diesel and would never consider an engine with fewer than half a dozen cylinders, so the supercharged donkey it is. And, well, it is a bit of a nag if we're being honest.
> Click here for our review of the Jagaur F-Pace
One of the issues we have with this V6 is that not only does it sound drab and uninspiring, but the performance it turns in falls equally short, too. As the revs pile on there's a noticeable pick up in performance but by then the engine note has put you off reaching for the upper echelons of its performance window. 
Despite the smoothness and responsiveness of the excellent eight-speed transmission, which helps deliver a 0-60mph time of 5.3sec and a 155mph maximum, on the road the Velar is at its best when you're asking the least of its engine. The 21mpg we recorded doesn't help its cause, either.
What's it like to drive?
Range Rover is proud to say the Velar is the most car-orientated vehicle it has built to date. The design, while still bordering on the ostentatious – particularly at the front – has a sleek profile, low ride height (the lowest of any Range Rover) and the neatly tucked and upswept rear gives it a hint of an estate car that's been enlarged on the photocopier by 10 per cent.
But, here we go, from the moment the door handle theatrically glides out to meet you and your hand grabs it the lustre dulls. Hard, cheap feeling plastics should not be your first encounter with a Range Rover, but sadly that's the case here. Tap the vents in the bonnet or on the flanks and they return a tinny, shallow sound. Premium looking? Yes. To touch and feel? Far from it. 
> Click here for our look at the latest generation Porsche Cayenne
The premium feeling does return once inside, with a delightfully functional upmarket interior that's ergonomically sound and with the standard panoramic roof throwing oceans of light over the interior it's a fine place to sit. There's also a new split-screen TFT infotainment set-up with all the buttons relocated to both screens. But run your hand up the side of the transmission tunnel and it will catch between the two material surfaces somewhat blotting the quality copybook.
Enough criticism. To drive the Velar is… oh, actually, this P380 isn't all that either. Giving the Velar the capability to climb Everest has resulted in it carrying a not inconsiderable amount of weight and technology for the sole purpose of allowing the marketing team to tell people it's still a Range Rover. Unfortunately it makes the Velar neither a good car on road and, with its reduced ride height and lack of low range transmission not a particularly inspiring one off it according to our colleagues on Land Rover Monthly. There are other ways Range Rover can inject its DNA into its products without them needing to be capable of driving across a mountain ridge. 
On road there's little precision in the damping and body control, at times leaving you feeling the Velar's body has strapped to an old school iron chassis such is the pitch and roll behaviour and feeling the car is never settled. It also struggles to remain calm from the helm with the steering sniffing out every camber, rut and crown in the road, which means it never settles in your hands even on a motorway. 
> Click here for our passenger ride in the new Cayenne
Push a little harder and the Velar raises its game but unfortunately it struggles to get out of the Championship and gain promotion to the Premier League with the chassis remaining hard to read, unresponsive and undoubtedly more SUV than car. It's all the more frustrating because Jaguar has taken pretty much the same ingredients and created the F-Pace, which does everything the Velar tries and wants to achieve. The badge and the slick interior design will be enough for many to order a Velar, but for us it's the Jaguar and Porsche's Macan that remain our picks, with the Range Rover Sport still our choice from Solihull.
Price and rivals
£85,450, that's how much Range Rover is asking for a Velar P380 First Edition but if you miss out on one you can have an R Dynamic with the same 375bhp supercharged V6 for £72,630. We'd suggest the 3.0-litre turbodiesel at £60,090 as the better option and avoid the four-cylinder engines altogether.
The equivalent petrol-engined F-Pace costs from £53,365, the 3.0-litre diesel from £50,465. Neither is as well equipped as the Velar but they drive so much better we'd sacrifice some bells and whistles for a more settled ride and a much cleaner and refined driving experience.
Head over to Porsche and it'll sell you a Macan Turbo Performance Package for £69,505, a Turbo for £63,981 and the GTS for £58,158; although the German doesn't offer anywhere near the space of the Velar or F-Pace, which pushes you up to the new Cayenne S which starts at £68,330. Then there are the offerings from Mercedes-AMG in the form of the GLC 43 (£49,005) and GLC63 (£68,920) or GLC63S (£75,670), and again the larger GLE, which can still be had with a powerful AMG engine for less than V6 Velar.