If you wanted your current Audi R8 sans roof the only state of tune offered in V10 Spyder guise was a mere 533bhp. We know, shocking. How were we meant to sleep at night?
Audi has been quick to rectify this, and at the 2017 Goodwood Festival of Speed it announced it was to turn the wick up on its V10 and offer its R8 Spyder in Plus spec as it does with the coupe, which means 603bhp and 413lb ft of torque. Now you can sleep easy.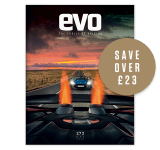 Subscribe to evo magazine
Subscribe today to have every issue of evo delivered straight to you. You'll SAVE 39% on the shop price, and get evo for its original cover price for a whole year!
Engine, transmission and 0-60mph time
5.2-litres, 10-cylinders, seven-speeds, four-wheel drive, 0-62mph in 3.3sec and a top speed of 203mph; the R8 Spyder V10 Plus wants for very little in the numbers department.
Audi's dry-sumped V10 engine in Plus spec is an intoxicating mix of vocal brilliance and violent performance. Large capacity lungs give it the tractable low down driveability so many crave and are accustomed to from today's crop of turbocharged engines, while the 8700rpm redline provides a quite remarkable top end with genuine reach and athleticism.
By today's standards the R8's seven-speed dual-clutch S-tronic transmission may appear to be a ratio or two short compared against some rivals, but it's matched perfectly to the engine's power and torque characteristics, shuffling through the ratios without a hint of interference. Naturally it wants to climb up to the highest ratio as soon as possible in order to meet its faux emission targets, but the combination of its speed and willingness to change gear on its own accord with a sharp immediacy, combined with the V10's traction and low-end grunt means it's rare for you to have to step in and flick a paddle to find the right gear. Which is handy, because they are disappointing in terms of size (too small) and action (too switch like) and hopefully Audi Sport will be putting an order in with cousin Lamborghini to procure the paddles used in the Huracan Performante sooner rather than later.
There's nothing disappointing about the V10 Plus Spyder's performance, however. A near three-second 0-62mph time and a 203mph maximum are serious numbers, especially so when you consider an R8 with no roof weighs 1695kgs (the fabric roof weighs 44kgs). Give it the full potatoes in the first three gears and you'll need more than Mr Loophole to keep you from a stint at her majesty's pleasure. Do the same in the following three gears and you'll want to hope the local constabulary's helicopter hasn't been cleared for take off. For all of Audi's bad behaviour and blatant cheating when it comes to dieselgate you have to stand back and admire this V10 masterpiece: involving, thrilling, intoxicating and as destructive as a fox in a chicken coop, now if only McLaren could find its way to building a naturally aspirated motor…
> Click here for our McLaren 570S Spider review
Currently the R8 Spyder V10 Plus is only available with Audi's quattro four-wheel drive system, we expect a rear-wheel drive example to join to the recently announced R8 RWS to arrive at some point in 2018. As with the R8 V10 Plus coupe, a mechanical limited-slip differential is fitted as standard. 
Technical highlights
Carbonfibre brakes and lightweight forged alloy wheels are standard on the new R8 Spyder V10 Plus, and where the coupe has a fixed rear spoiler the Spyder has a smaller, more discreet carbon lip spoiler. The rear diffuser has also been tweaked to assist in reducing lift and producing as much as 100kg of downforce at maximum speed.
Lightweight bucket seats are also standard in this top line Spyder derivative and if you desire you can also have the car's side blade produced in carbonfibre. Virtual cockpit is standard, those bucket seats can be switched for more comfort orientated chairs and there's a host of colours and trim available, too.
Built on Audi's lightweight aluminium space frame, the R8 Spyder V10 Plus benefits from the construction techniques used in the regular R8 Spyder, which means a combination of aluminium and carbonfibre at its core and the stiffest possible chassis.
Audi's Drive Select system is standard, allowing you to select either pre-determined settings – Comfort, Auto or Dynamic – for the engine, gearbox, suspension, steering, differential and exhaust note or you can pick 'n' mix as you please in Individual mode.
What's it like to drive? 
It's impossible to ignore, so we'll start with the V10. Roof up or down there is no escaping its thunderous soundtrack. Stick with the former and you can drop the small rear screen over your shoulder to allow the noise in while keeping the wind out. And what a noise. It has everything we adore about large capacity, naturally aspirated engines. Revs become addictive, full throttle escapes from junctions and out of corners a must. Get the front wheels hooked up, manage the slightest amount of push and squeeze the throttle as the lock unwinds and you'll be pulling gears quicker than film ceremonies pulling Harvey Weinstein's invitation.
> Click here for our Porsche 911 Turbo review
Being a 603bhp supercar we've taken the liberty of presuming you'll want the engine's throttle response in its sharpest setting, to do so sets the V10 up to be nothing but electrifying in its response to the slightest throttle opening. Yes, you can short shift and surf that torque but you'll be missing out on electric top end that you sense would rev until the valve gear fired itself through the carbon engine cover if it could. Criticisms? The pops, crackles and artillery fire from the exhaust in Dynamic mode are far too much and far too furious. So too the riotous start-up procedure, which won't earn you any favours with the neighbours if you're an early starter. And the seating position, which in our test car with the regular seats and not the racing buckets, was pretty poor. To accommodate the folding roof the rear bulkhead has moved forward, the result being you can't get the seat base far enough back, nor the back of the seat to recline enough. Our long term test R8 Spyder (non-Plus), fitted with optional bucket seats was a far better, if still not perfect combination.
Dynamically there's scant trade off compared to the coupe. On poor UK roads the steering column will rumble in your palms more so than it does in an aluminium-roofed equivalent, and if you catch a poor surface or a lump in the road with the chassis under serious load you'll catch the faintest of wobbles through the body. It's not as rigid as the carbon tub of McLaren's 570S at the limit, but it's much steadier, more controlled and surefooted than AMG's GT C roadster or Ferrari's 488 Spider.
The R8 V10 Plus Spyder has few vices. Its damping manages the ride with clarity, rarely phased unless presented with a damaged surface and flows with precision and reassurance. The carbon ceramic brakes shed serious speed with serious intent, the nose is quick to turn and even with Dynamic steering you can place the R8's nose with precision. Audi still has some work to do with its Dynamic steering set-up, though. While you no longer have to take continuous bites and nibbles through every corner, there remains a remoteness on initial turn in and you feel the messages you're getting back from the front axle are delayed and less than clear as to what's going on. At times you feel you're on top of it all, flowing from turn-in to apex to exit, and then nothing. For a split second the communication channel is closed before immediately reopening. But in that time the smallest amount of doubt has crept in.
Step over the limit and the diff locks up quickly and cleanly and a roll of the wrists will apply the required lock to hold, then allow you to drive through the transition. Out of tighter turns you can work the quattro drivetrain to your advantage and get on the power sooner than you think and drive out of a corner with more throttle much earlier, with the front tyres guiding you out as the rears take all the torque they can and a little bit more while you add some counter steer. For a wide, heavy, four-wheel drive car the R8 V10 Plus Spyder can be unexpectedly agile.
Prices and rivals
At £145,315 the R8 V10 Plus Spyder crashes a very busy party. McLaren's new 570S Spider is the host with its carbon-tub, exquisite steering and a chassis that even Ferrari's 488 Spider from the class above can't match. AMG's GT C roadster is a different take on a two-seater roadster being a more thuggish and perhaps a little more one dimensional but no less exciting, whereas Aston Martin's new DB11 V8 Volante will need to be prepared to get amongst it if it's to challenge this burgeoning sector. And, of course, there's the 911 Turbo S Cabriolet, not our first choice 911 – nor our fourth – but its pace and composure cross-country can never be ignored.
Where once roadsters, spyders and spiders, and Volantes were seen as the poor relation in the drivers' car pecking order they have more than come of age and you'll need to work hard to find one that falls flat on its face and in this esteemed company the R8 Spyder V10 Plus holds its head high.