Audi RS6
An 'exclusive' invite was a potential sale for the dealer. But the dealer didn't see it that way...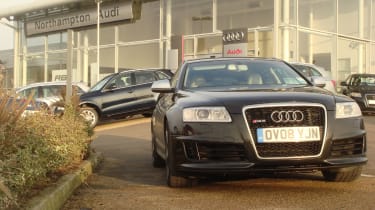 Received an 'exclusive' invitation from Audi Northampton this month – to test drive an RS6 for 24 hours. Sounded fun, so I gave them a ring to take them up on their kind offer. They seemed a little reluctant to book me in, though, especially when they realised I had an RS6 already…
Still, the day arrived, a £5000 deposit was paid and I was led to a 6000-mile RS6, priced at £58,000. It hadn't been prepared and there was no brochure on offer either. Seemed I wasn't a potential customer, I was just a nuisance.
The next day the salesman asked a few more questions, but I was astonished that he didn't take the opportunity to find out what other Audis I might be interested in. I kept dropping hints about the V10 R8, but all to no avail.
I've no idea how Audi sold over 100,000 cars in the UK during 2008 – it's flipping hard work buying one from what I can tell!
Running Costs
| | |
| --- | --- |
| Date acquired | July 2008 |
| Total mileage | 19,230 |
| Costs this month | £0 |
| Mileage this month | 2470 |
| MPG this month | 18.2 |