Audi RS6
Relaxing to drive, effortlessly powerful, but we have found a small chink in the Audi RS6's armour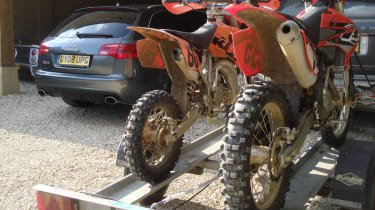 Having a family needing to be bussed around during the school holidays and a long-termer with four doors and a big boot has meant the RS6 has been a vision of perpetual motion recently. At least that's my excuse for the colossal mileage I've managed to cover in the RS6 recently. But it's not just the amount of usable space this pumped-up Audi offers that I like about it – there's the way it delivers on so many other useful fronts too.
One of the more surprising aspects is that it's particularly relaxing to drive over long distances. That may sound strange for such a sporting car, but because the RS6 doesn't wear all of its performance potential on its sleeve you can cover endless miles comfortably and discreetly, yet all the time safe in the knowledge that, at any moment, a ballistic overtake is just a squeeze of the accelerator away.
The cabin works well too, with excellent seats and a real sense of quality to all the fittings. And I'll take Audi's MMI over BMW's iDrive any day of the week – it's so much easier to navigate than BMW's flawed system. Even the digital radio seems to work, which is something I've not encountered in a car before.
No car is perfect though, and that includes the RS6, which, for me, has one fundamental failing that prevents it becoming my sole family car: you can't fit a tow-bar to it. Now, I admit that for most people this wouldn't even be a problem, but I can't believe I'm alone in wanting to fit a tow-hook to my RS6. Yet I've discovered that not only is this not allowed on the RS6, it's not allowed on any of Audi's tasty RS models.
Now, don't panic. I don't have a closet desire to join the throngs of caravanners that block our roads every summer, but I would like to be able to occasionally take my Enduro bikes to an event, or perhaps tow a dingy to the coast. But no. Audi won't allow it.
What's really frustrating is that  you can fit a tow-bar to every other type of Audi, including the S variants, but with all RS versions (including the recently departed RS4 and the previous version of the RS6) Audi believes there is a miniscule risk of the gearbox oil getting too hot if an owner tries to storm an Alpine pass at maximum attack with an overweight caravan attached, during a heat wave. I'd argue that this is such an unlikely event in real life it isn't worth worrying about, but Audi disagrees, and that means that if I were to fit a non-Audi tow-bar to the RS6 to get round the problem, I'd invalidate the warranty. (Interestingly, BMW's M5 can be fitted with a tow-bar without a problem.)
So sadly I will continue to need another car in reserve for those admittedly rare trips when I need to tow a trailer. With the RS6 turning out to be as capable as it is, that's a real shame, particularly as it's not exactly short of pulling power.
Running Costs
| | |
| --- | --- |
| Date acquired | July 2008 |
| Total mileage | 9610 |
| Costs this month | £0 |
| Mileage this month | 2635 |
| MPG this month | 18.3 |