Audi RS6
Our RS6 flashed an LED suggesting a service was due. Very reasonable, as it had 14,500 miles on the clock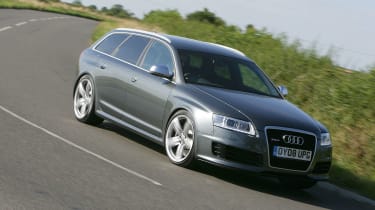 I'm amazed by how far cars can go between services these days. Not that long ago 7500 miles was the norm, but today there are plenty of cars that have intervals of 10,000 miles or more. And that includes our long-term RS6, which finally pinged up a warning saying it fancied having a visit to a service bay just as the odometer pushed past the 14,500 mile mark.
So I booked the car in with Northampton Audi and a week later it was collected from our offices. And after another eight hours it was returned, gleaming, with a bill for £346.31. The paperwork described the service as the '1st Audi Longlife Service', which covered an oil change, new air, oil and cabin-ventilation filters, and a check of all the mechanicals, including the brakes and tyres.
Turns out the squeaky brake pads that I thought might need replacing still have plenty of life left in them, but the dealer did recommend that I should change all four tyres. However, as this would have added another £1313.72 to the bill, I thought I'd get a few more miles out of the original set first.
Overall, though, I thought the cost of the service was pretty reasonable for an £80K, V10-engined car with 572bhp. It won't need another one until 30,000 miles, either, by which time the plugs might need changing. Amazing…
I'm still mightily impressed by the way the big Audi can deliver so much power to the tarmac so easily, no matter what the conditions. The roads may be a greasy, salty mess right now, but the RS6 barely notices. It's so different to any other monster-power car I can think of in this respect, and because this means you can enjoy the Audi's performance more of the time, you tend to use it more as a result. Still, that's no hardship…
Running Costs
| | |
| --- | --- |
| Date acquired | July 2008 |
| Total mileage | 14,870 |
| Costs this month | £346.31 (service) |
| Mileage this month | 1753 |
| MPG this month | 18.3 |