Audi's A4 underwent a considerable transformation at the end of 2016, when under the control of Ulrich Hackenberg the mid-sized saloon and Avant estate model had as much focus put on their dynamics as they did on interior design, technology and quality. The result was a lighter, stiffer, better balanced and more focused chassis that has transformed the regular cars and promises the same with the new S models and the forthcoming RS4.
For the S4 focus also turned to its drivetrain, with the outgoing car's supercharged V6 replaced by a new turbocharged unit and the S Tronic gearbox switched for a Tiptronic unit. The quattro four-wheel drive system was also reconfigured.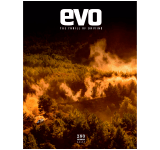 Subscribe to evo magazine
Subscribe today to have every issue of evo delivered straight to you. You'll SAVE 39% on the shop price, and get evo for its original cover price for a whole year!
> Read our review of the previous Audi RS4 here
Unlike Audi's hard core RS models, the S range has always been the under the radar choice, offering more attitude than BMW's M Sport models but without the aggressive overtones of the Mercedes-AMG C43 variants. This new S4 Avant not only has Audi's fast estate honour to upload, but faces tougher competition than ever before.
Engine, gearbox and 0-60mph time
It was inevitable that with today's trend for turbocharged engines the new S4 Avant wasn't going to hang on to its more charismatic supercharged motor for long. The 3-litre turbocharged V6 unit is identical to that found in the S4 saloon, S5 coupe and Sportback, which means a 20bhp increase over the outgoing model to 349bhp and a 44lb ft torque increase to 368lb ft. The latter arrives at 1370rpm and flat-lines until 4500rpm, 900rpm shy of when that peak power arrives, which hangs around for 1000rpm. With its new eight-speed auto it will slip along to 62mph in a claimed 4.9-seconds and troubles its speed limiter at 155mph.
It's not a particularly engaging engine note, but it responds sharply to throttle inputs when the engine map is in dynamic mode (comfort mode is to lethargic for an Audi with an S badge) and as is becoming ever the case with so many of today's turbocharged engines, the crank isn't afraid to spin. Keep the tacho above 4000rpm and the S4's motor will trouble more traditional sports cars.
> Read all our Audi news and reviews here
The eight-speed auto isn't as quick as the S Tronic is replaces, but the ratios are neatly matched to the engine's power and torque delivery, although with so many gears on offer when you are enjoying yourself the steering wheel mounted paddles are your best bet for ultimate response. In auto mode the 'box can be slow to downshift, even in its sport setting, leaving you a gear or two higher than you've anticipated when you want to get back into the throttle.
Technical highlights
Audi's lightweight strategy plays a big part in the S4 Avant's make-up when it comes to the car's technical highlights. Chief amongst these is how fluid and composed the chassis is. There's a deftness to how the new S4 Avant flows across the tarmac, feeling less leaden and one dimensional compared to its predecessor.
The new car is quick to settle on its dampers and the body no longer feels like it's a split second behind the action. Run over a poorly surfaced apex of a corner – an all too common issue in the UK – and rather than a thud from under foot and a steering wheel that wants to make a break for freedom, the S4's chassis remains calm and unflustered, the body dissipating the shock without interrupting your flow.
> Read our review of the Audi S4 saloon here
Running on a 19-inch wheel and with the optional adaptive S Sport suspension with damper control, our test car delivered a fluid ride on a number of poor UK road surfaces. Dynamic mode for the dampers is still too much for the road in terms of ride quality, but left in auto the ride quality's fluidity shows that Audi finally understands that a rock hard ride isn't the answer.
All S4s are equipped with Audi's latest quattro four-wheel drive system, with a 40-60 front to rear torque split in regular driving and capable of delivering up to 75 per cent of the drive to the front axle or 85 per cent to the rear when required.
What's it like to drive?
Impressive. Really impressive. Where S4s of old thumped you down the road with a beady-eyed focus on chasing performance in place of agility, this latest model redresses this and many more issues.
Naturally it does the fast, premium estate car trick of covering serious miles in a blink of an eye without breaking sweat, but it's when you head for a road with fewer straights and more of a challenge that S4 Avant delivers.
Its 45kg penalty over the saloon is noticeable when you start to lean on the extremities of the chassis, removing a layer of adjustability that some may miss and the majority won't notice. But in every other situation the S4 Avant's composure and fluidity shines through.
Our test car wasn't fitted with Audi's variable rate Dynamic Steering, and while this system improves with each new application, the standard set up is still our favoured option. It feels more natural, and what it lacks in feel its consistency of weight allows for a cleaner positioning of the car.
If there's one question mark with the new S4 Avant, it's that just as the new engine forgoes some of the character and personality of supercharged engine, so too the S4 Avant's more polished chassis will feel slightly more rounded and softer edged for some.
Price and rivals
The new S4 Avant costs from £44,415 and it's up against some serious rivals from Stuttgart and the other side of Munich. At £45,515 Mercedes-AMG C43 4Matic is the sharper drive with a clearer focus on performance. Less subtle than the car from Inglostadt, the AMG is perhaps closer in spirit to S4s of old than the current offering from Audi.
BMW's 340i M Sport Touring costs from £42,055 and is the nearest rival until a dedicated M Performance variant is offered. It feels less focused than the other two and while the option of a rear-drive chassis has a large appeal, in this company it feels surprisingly off the pace.
> Mercedes-AMG C43 Estate v BMW 340i Touring