The BMW X4 is a mid-sized, pseudo-SUV/coupe that sits between the X3 and X5 in the marque's rapidly expanding SUV range. It's based on the new X3, and although the previous version was on sale for little more than four years, this model is all-new, taking the X3's impressive spread of capability, but putting it into a 'sportier' package, apparently.
We won't lie. There is an inherent layer of skepticism with SUVs here at evo. As a vast generalisation, they don't drive as well as their saloon or estate counterparts, are more expensive and less efficient, yet offer little extra in terms of practicality. The X4 is intended to bring a more dynamic driving experience to the X3, something typified by BMW benchmarking the Porsche Macan during its development.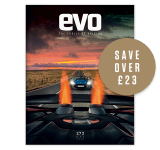 Subscribe to evo magazine
Subscribe today to have every issue of evo delivered straight to you. You'll SAVE 39% on the shop price, and get evo for its original cover price for a whole year!
> Click here for our review of the BMW X3 M40i M Performance 
But the all-new X4 isn't off to a great start as, well, just look at it. It's definitely striking, but the X3's dour styling was never going to be the best starting point from which to create a stylish SUV. From the A-pillar forwards, the X4 is near-identical to the X3, but from there back the roofline dips into a sloped rear end adorned with BMW's latest L-shaped lighting motif. BMW has also widened the X4's rear hips, in hope of creating a more dynamic appearance, but the effect is more tree frog than crouching tiger.
Technical highlights?
The X4 is based on the same all-new platform as the X3 and 5-series, dubbed CLAR. These new underpinnings will spread throughout the BMW range, which goes some way to explaining why the X4 drives with a certain degree of sophistication, for an SUV.
Topping the range for now will be two M Performance models called M40d and M40i. Both are powered by inline-six engines, but feeding from different pumps. A further straight-six 30d sits in the middle of the range, but it's the entry-level four-cylinder 20d that will make up a majority of UK sales.
Non M-Performance models are available in entry-level Sport and M Sport X variants, with the majority of UK cars, if for nothing more than guaranteed resale value, likely to be in M Sport form.
All-wheel drive is standard across the range, with most power sent to the rear wheels, although the car will vary the torque split depending on conditions. On higher-spec M Performance models, BMW has also fitted a locking rear differential, and wheel sizes vary between 18- and 21-inch.
Engine, transmission and 0-60 time
There is a sole petrol available at launch, going under the M40i nomenclature. It's the same 349bhp turbocharged 3-litre straight-six as in the flagship X3 and is punchy, smooth and surprisingly charismatic on the move. It'll reach 62mph in 4.9sec. An entry-level 2-litre turbocharged petrol called xDrive 20i is on the cards for a later inclusion in the UK, but it's the diesels that will make up a majority of sales here.
BMW's ubiquitous 2-litre four-cylinder diesel will make up most of those sales, and is effective enough with its 187bhp, but at motorway speeds can feel a little breathless. It'll reach 62mph in 8.0sec, but in slower traffic is gutsy enough to rarely feel underpowered. The other two diesels are a 256bhp 30d, and top-spec 315bhp M40d, each sharing the same basic 3-litre straight-six diesel and reaching 62mph in 5.8 and 4.9sec respectively. All engines are connected to an eight-speed automatic transmission sourced from ZF, with power sent through an xDrive all-wheel-drive system.
> Click here for our review of the BMW X3
Those M Performance models do an admirable job of bridging the divide between standard BMW and madhouse M models, too, building on the added power with subtle changes to the suspension tuning, adaptive dampers, bigger brakes and an M Sport locking differential on the rear axle. Adaptive dampers are an option on all other models, and depending on your wheel choice, a wise option box to tick.
What's it like to drive?
In a word: good, but it's not by any stretch a sports car. The 20d M Sport we're driving here still feels tall, heavy under foot and never shrinks around you, despite its propensity to send more power to the rear wheels than you expect. Compared to most SUV rivals, it's definitely one of the more impressive to drive this side of a Porsche Macan, but is still hampered by its sheer mass, and how high above the tarmac it is all situated.
Body control is tight and it remains flat when cornering. Push a little harder, though, and the X4's high centre of gravity starts to be felt. Our specific car was on the optional 21-inch wheels (the car in these pictures are 19-inch) and adaptive dampers, and in normal mode the ride is impressively settled, but over sharper intrusions the big wheels and small tyre sidewalls make their presence known.
Select sports mode and the X4's ride deteriorates further, as the suspension needlessly firms up the ride without much of a positive effect on body control. The X4 quickly loses composure, feeling wooden and brittle over bumps. Selecting sport mode also weights up the steering, falling into the increasingly common cliche of confusing weight for feel, but thankfully each of these modes is customisable.
The 20d engine in our test car is an engine that's been familiar throughout the BMW range for a while now. It's numbers, although once class-leading, are now in the middle of the pack, but it's fast enough to rarely feel underpowered at low speeds. What's most impressive is its refinement. Unless you're driving around with the windows down, the engine is almost imperceptible at low rpms, and pretty much silent at motorway speeds.
The gearbox is typically impressive, flawlessly slipping between ratios quickly and imperceptibly. If you so wish to use the paddles behind the steering wheel instead you'll find they are responsive and well placed, but there's little to no reason to change gear yourself thanks to the diesel's mid-range and intuitive gearbox calibration.
Prices and rivals
Prices start at £41,600 for the entry-level Sport model, but you'll need to stump up £45,600 for the 20d M Sport we're driving here. For context, this is a £2980 jump over an identical X3. The X4's only direct rival (for the moment) is the Mercedes GLC Coupe, and specced with an equivalent engine, the GLC generally undercuts the BMW by around two thousand pounds.
Regular SUV rivals are thick on the ground, as the Alfa Romeo Stelvio, Porsche Macan, Range Rover Velar and Jaguar F-Pace can also be considered.
At the risk of falling down into an Aladdin's cave of possible alternatives, though, it's impossible for us not to consider the non-SUVs that £45k (or likely £50k by the time you've clicked a couple of option boxes) will buy you. Staying with BMW for the moment, priced at just under £45k is the 321bhp 340i M Sport Touring, and if motorway-friendly fuel consumption or all-wheel drive is a consideration, the 335d xDrive costs much the same. If you want a large, sloping rear hatchback, the 4-series Gran Coupe is barely any smaller inside, yet considerably nicer to drive.
Audi's desirable S4 Avant and the underrated Mercedes-AMG C43 Estate are even more well equipped, and both cost £47k, while massively improving on the entertainment factor.
You're probably getting a sense by now that although the X4 operates within a very narrow niche, its biggest downfall is not that it's a worse car than any main rival, rather it's compromised in so many areas in its attempts to be so many different types of car that it's difficult to create a rational argument for one.
For most, though, the X4 is bought out of desire, rather than practicality. For those people, the X4's inherent compromises are probably not enough to dissuade them from actually going out and buying one, but for everyone else there are plenty of other cars that do a better job for less.