We're quite happy that our long term TT RS has been delayed. To 'tide us over' (their words), Audi has loaned us an R8 Spyder. We're going to take it in turns to look after it for the next three weeks and will update the story every day, telling you what we've been up to with it and taking loads of snaps of it. Just click the links below and you'll be taken straight to the blogs.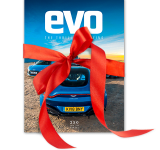 Subscribe to evo magazine
If you're passionate about the world's greatest performance cars, experience the thrill of driving with evo magazine. Try your first 5 issues for £5.
100 miles for a pint of milk. Ollie rouses the R8's dawn chorus
Sunday rains bring roof abuse. How much can the R8 Spyder tolerate?