The evo road test team returns with their best buys, but this time, the budget grows to £35,000. As you'll find out below, adding £15k to the pot opens the doors to some proper performance machinery. 
Supercars, iconic brands and legendary classics: they're all included in the list. Read on to find which cars would be getting our road testers' £35,000.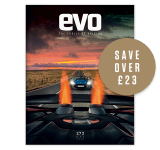 Subscribe to evo magazine
Subscribe today to have every issue of evo delivered straight to you. You'll SAVE 39% on the shop price, and get evo for its original cover price for a whole year!
Nick Trott - Aston V8 Vantage
V8 Vantages retailed for around £80,000 back in 2005, and now just £35k will buy you an early example. With a gorgeous Jaguar-derived 4.3-litre V8 under the bonnet and a proper manual 'box (optional Speedshift autos are less desirable), the little Aston mixes classic British sports car charm with modern usability. 
It wasn't the fastest car in its price bracket, but 380bhp and 302lb ft of torque was good enough for a 4.9sec 0-60 dash and respectable 175mph top speed. Admittedly, the 4.3-litre engine needed to be revved hard to achieve this performance; but that's not such a bad thing when there's a brutal sounding V8 up front. 
Combined with that sculpted Aston Martin body, the V8 Vantage almost seems like one of the last of the old boys. And thanks to precise handling and impressive balance, the baby AM goes as good as it looks.
Its relative simplicity means looked after Vantages are as reliable as any Aston. Due to most having lived cherished lives, you're somewhat stuck for choice in the UK. 
Add a few thousand to your budget and the later, more potent 4.7-litred cars creep into the classifieds. But even if £35k is your limit, you'd be far from disappointed with a baby Bond car.
>Read – Aston Martin Vantage V8 checkpoints
Stuart Gallagher - E90 BMW M3
From one naturally aspirated V8 to another, Stuart Gallagher's £35k choice is an E90 M3. The E90 was the four-doored saloon variant of the M3 series, with the E92 coupe and E93 convertible sitting alongside in the range (these are now badged as M4s in the latest F80 car).
Under the bonnet you'll find a 4-litre V8 producing 414bhp and 295lb ft of torque. Drive is sent rearwards through a six-speed manual gearbox (DCT auto gearboxes are an option too), enabling a 4.8sec 0-60 time and 155mph limited top speed. 
>Read – Best cars to buy for £10,000 – evo garage
Stunning performance, a typically understated M car exterior and top build quality make the E90 a great all-rounder. Though the latest M3 possesses heavy hitting brakes, the E90 was the last of a long list of M cars that lacked braking performance. 
Common fixes include fitting uprated pads, while owners seeking the best performance often swap standard calipers for six-piston items. Be mindful of these cars; whilst they'll appear well looked after, big brakes suggest a harder life. Don't write them off though, because the mod will substantially improve a much-loved car. 
While mechanical build quality is good, the interior can suffer from wear in high-mile cars. Often it's an easy fix – simply replacing trim or treating leather can do the job – so it needn't necessarily be a deal breaker. 
And when your £35k is buying a seriously potent German super-saloon, a bit of dulled plastic trim will probably be quite easy to ignore…
>Read – E90 BMW M3 buying guide
Jethro Bovingdon – Honda NSX
The Honda NSX is hot news at the moment. A new hybrid model is due in 2016, but we think Jethro's choice has more to do with the recently rekindled McLaren-Honda F1 partnership. 
The original NSX came from a time when Aryton Senna dominated F1 and preferred heel-and-toeing in leather loafers. With chassis guidance from the legend himself, the NSX was almost guaranteed to be a drivers' favourite. 
With its mid-mounted 276bhp 3-litre V6, the timeless Japanese sports car is good for a 5.5sec 0-60 time and 168mph top speed. That's quick even by today's standards, partly thanks to the car's skinny 1410kg kerbweight.
Balance is superb – we can thank Senna for that – as is the engine's character. Combined with the manual six-speed 'box (autos were available but arguably hindered character), the NSX offers a wonderfully analogue experience.
>Read – Best cars to buy for £5000 – evo garage
They say the Honda NSX was the car that forced Ferrari to rethink the supercar. Why? Because it was incredibly reliable. Today, Honda's well-built supercar has therefore stood the test of time well, but still be wary of cars that have lived hard lives.
Common issues for tracked cars often revolve around suspension wear, with replacement front uprights costing as much as £1000 each. Other things to look out for are failed VTEC variable-valve timing systems; you'll know if they've failed, because the NSX's strong top-end will feel rather gutless.
Other than that, £35k can buy you a very handsome Honda NSX indeed. And while we'd like to say we're not concerned with re-sale values, a fast growing book value can't hurt.
Read - Honda NSX buying guide
Henry Catchpole - E90 BMW M3
Catchpole and Gallagher would apparently be fighting for M3s, because a second E90 M3 has been chosen on our £35k list. We've covered the basics of why they're so desirable in this price bracket above, so we thought it better to illustrate why Henry is so fond of them here.
>Read – Best cars to buy for £20,000 – evo garage 
Henry does admit that the saloon 'is probably the sweetest handling of the E90 generation,' but his choice probably has more to do with his drive in one of the most hardcore E90 M3s to ever grace our roads, the M3 CRT: 
>Read - BMW M3 CRT saloon review
Dan Prosser – 997 Porsche 911
Prosser loves Porsches, that much is clear. He opted for the Cayman in our £20,000 list, but with an extra £15k he couldn't resist a proper 911.
The basic Carrera 997-generation 911 might have been shadowed by its harder GT and RS siblings, but despite its more restrained performance figures, it's still a superb drivers' car. 
The more potent Carrera S actually outsold the standard car, but Porsche experts say the smaller 3.6-litre car is the more reliable, often better bargain buy.
Producing 321bhp from its water-cooled flat-six, it was far from a slouch, and fine chassis balance and delicate controls meant the 911's bloodline was very much intact. 
Following on from the design-revolution that was the 996 – revolution by 911 standards, anyway – the 997 took things back to a more familiar design. It also managed to cling onto hydraulic steering, something the later 991 lost and a standout feature that will undoubtedly ensure the 997 holds value.
Fitted with a nicely weighted six-speed manual or effective five-speed Tiptronic auto, early 997s represent fantastic value for money. But they're far from perfect.
>Read - Porsche 997 Carrera buying guide
As we explain in our buying guide, there are two known engine issues with early cars: '[Issues common to] gen-1 (2004-2008) flat-sixes are scored cylinder bores and the failure of a bearing at the end of the intermediate shaft that drives the camshafts. Both can result in engine failure and a rebuild could cost up to ten grand.'
Ouch. Having said that, enough time has passed now that almost all cars with potential issues will have already suffered them. In short, you'd be incredibly unlucky to come across one.
What is likely though, is that £35k could land you with a 321bhp, 4.8sec to 60 sports car worthy of its Stuttgart nametag.