Hot hatchbacks are having a bit of a revival these days and while they're packing increasingly powerful engines they're also putting on weight leading some to look towards the supermini class for affordable thrills.
And the good news is that there's plenty of choice at the hotter end of the supermini spectrum with old favourites such as the Mini Cooper S (and JCW and Challenge derivatives), Peugeot 208 GTi by Peugeot Sport and the limited run Toyota Yaris GRMN doing battle with the latest (and greatest?) incarnation of the Ford Fiesta ST.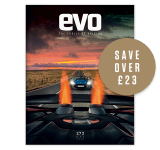 Subscribe to evo magazine
Subscribe today to have every issue of evo delivered straight to you. You'll SAVE 39% on the shop price, and get evo for its original cover price for a whole year!
>Best small cars 2018 – pocket rockets reviewed and rated
To find out which performance superminis we rate the highest have a look at the list below – there's plenty of choice with fine machinery to suit most budgets – and we gaze into our crystal ball to have a look at which models might be entering the fray next year.
Best superminis to buy now
1. Ford Fiesta ST
It was with a certain amount of trepidation that we approached the latest Fiesta ST – would it recapture the effervescence of the pervious generation? Could its three-pot turbo cut it in this fiercely contested class? Would it still be a class leader? Happily the answer was a resounding yes in almost all areas.
The engine certainly sounds different but with 197bhp and 214lb ft on tap (just shading the old four-pot unit's output) it's quick enough (0-62mph in 6.5sec) and although it's artificially augmented the triple-cylinder engine does sound good.
It's in the handling stakes that the old car really excelled and this entertaining character has been carried over. The steering (the fastest rack of any performance Ford) is sharp and well weighted (if a little lacking in feel) and the ST feels agile and lithe in virtually all circumstances. The ride, while better than before, can be a little firm at times.
Inside the new ST is streets ahead of the old car and the ST-2 and ST-3 models are pretty loaded with kit. The bigger body brings more interior space too, but despite the car's bigger footprint it's still as absorbing as ever to drive.
2. Toyota Yaris GRMN
Until the arrival of the new Fiesta ST the Toyota Yaris GRMN was our pick of the hot superminis but the fast Ford has just pipped it to the post. Among a sea of turbocharged rivals the Toyota Yaris GRMN stands out thanks to its supercharged 1.8-litre four-cylinder engine – there's no low-down turbo grunt here, just top end-power and razor-sharp throttle response. The 2ZR motor does its best work over the final 2000rpm of the rev range, emitting an angry blare from the exhaust.
On paper the GRMN offers enough power and torque to mix it with our current crop of best superminis: 209bhp and 184lb ft of torque making possible a 0-62mph time of 6.3sec and a 143mph top speed.
The transmission comprises a close-ratio, six-speed manual gearbox and a limited-slip differential that controls the spread of power between the front wheels and helps to haul the GRMN away from tighter turns. Gazoo Racing has limited production of the hot Yaris, only 400 are coming to Europe priced at £26,295. However, they've all been sold.
3. Peugeot 208 GTi by Peugeot Sport
The Peugeot 208 GTi by Peugeot Sport is among our favourite compact hot hatchbacks of all time and it still vies with the class leading Fiesta ST for top honours.
Here's why. The 208 has the most engaging chassis of any small hot hatch currently on sale and could teach most of the class above a thing or two about adjustability and fun, too.
It's also indecently quick, adding to the reactive (but not hyperactive) feel to all the controls. There's grip to exploit, but not so much that you can't adjust your line with a well-timed lift of the throttle, while the mechanical limited-slip differential claws you around the tightest of turns.
The interior design and layout aren't to all tastes but it does feel fairly well-built and well-equipped. Above all, it's a sign that, in combination with the old RCZ-R and the current 308 GTi, the team at Peugeot Sport really knows what it's doing.
4. Audi S1
It's easy to forget that Audi produces a hot hatchback below the bellowing five-cylinder RS3. But the S1 deserves attention, offering a compelling combination of a compact footprint, muscular 2-litre turbocharged engine, and something not offered by any other car in this sector – all-wheel drive. 
On outright thrills, it's not quite in the same league as cars like the Fiesta ST and 208 Peugeot Sport, but when the road conditions turn nasty there's little else here you'd prefer to be driving, yet it's still more fun than most of Audi's other S-badged models.
The S1 is undoubtedly quite expensive, and at 1315kg it's quite heavy too, which hampers it on drier roads. On the flip side, there's a real sense of quality to the Audi's build and at 5.8sec to 62mph, it's as quick as you're likely to need from a car this size.
5= Mini Cooper S/JCW/Challenge
We've decided to cover the sportiest Minis with a broad brush here since there's so much choice, and each offers its own merits and carries its own negatives depending on your choice.
The basic Cooper S is the most affordable, and combines typical Mini chuckability with a strong engine and numerous options when it comes to specification – from automatic gearboxes to a choice of three- or five-doors and numerous personalisation options. 
The John Cooper Works, or JCW, turns up the wick – it's a little quicker and a little sharper, and a little more fun. Unfortunately it's hamstrung slightly by unimpressive Pirelli tyres and, like most current Minis, slightly uncomfortable styling.
If you can find one – brand new, they've all sold out – the Challenge is our favourite. Some of us have reservations over its ride quality on the third-party Nitron dampers, but on smooth roads or the race track it's a riot, with searing turn-in (on lightweight Team Dynamics wheels and Michelin Cup 2 tyres), a biddable chassis and a naughty exhaust note. If you can live with the ride, it's among the most exciting hot hatches around.
5= Renault Sport Clio 220 Trophy
It was always going to be tough, changing the formula of one of the most exciting hot hatchbacks on the road. And even after tweaks and improvements over the last few years, Renault Sport still hasn't quite nailed the current Clio 220 Trophy.
There's little wrong with the basic ingredients of an attractive five-door body, potent 1.6-litre turbocharged engine and dual-clutch transmission, but getting them all at once – and following the previous three-door, naturally-aspirated and manual RS – was a bit of a mis-step for enthusiasts like us.
It isn't all bad news. In fact, the 220 Trophy is still a very good car – just one that isn't capable of topping the excellent 208 GTI by Peugeot Sport and the outgoing Fiesta ST. The driving position feels good, the steering is responsive and the chassis offers a good combination of grip and adjustability. 
Unfortunately, the 1.6-litre engine is a little bland, and the paddleshift gearbox is pretty poor – even in Race mode it's only just responsive enough, and then only on track when you can really use the revs.
6. Volkswagen Polo GTI
The old VW Polo GTI – in fact, every previous Polo GTI – was a bit of a disappointment. The ingredients all seemed to be there, but the recipe didn't quite work, giving us smart styling and decent performance but a notable lack of thrills. 
The latest car is certainly an improvement, but still doesn't quite hit the heights we know VW's engineers are capable of. Once again, it's handsome, well-built, performs well and should prove a pleasure to use day-to-day, but it isn't capable of entertaining like our favourite supermini hot hatches.
Perhaps it's a case of holding back a car that otherwise might give the more expensive Golf GTI a run for its money – after all, the Polo GTI sits on the same MQB platform as the Golf and uses its EA888 2-litre four-cylinder engine, albeit detuned.
The control weights are good too, while the Polo rides well and steers quickly. It falls down in the details – the lack of steering feedback, the benign, unexpressive balance, and the ineffectual electronic differential compared to the mechanical diffs in several rivals. A good car then, but not a great hot hatch.
What else is there?
We didn't quite feel like putting the Nissan Juke Nismo RS in the list, but in spirit and size it's closer to a hot hatch than it is a crossover and still warrants a look if something more conventional doesn't appeal. It's a bit unruly, but can be entertaining in the right circumstances.
Some of the big sellers in the class have recently ended production and while stocks remain in dealerships their direct replacements have yet to be confirmed. Hopefully we'll soon have news on what to expect from the likes of the new Clio and 208 – we're hoping the hotter variants can give the new Fiesta ST a run for its money.
Other potential buys could be the Suzuki Swift Sport – it can't match the class leaders in performance stakes but it's still an entertaining steer. If space isn't a priority then perhaps a downsize is in order and machinery such as the Volkswagen Up GTI could well fit the bill. 
evo best superminis 2018
3.  Peugeot 208 GTi by Peugeot Sport
4.  Audi S1
5= Mini Cooper S/JCW/Challenge
5= Renault Sport Clio 220 Trophy
6.  VW Polo GTI