Ever since Audi brought an all-wheel drive car along to the World Rally Championship, the potential for driving all four wheels of a performance car has been abundantly clear. Speed and usability go hand-in-hand, and should the weather turn against you, 4x4's extra traction will keep you moving when all around are forced to tread gently.
As the performance of road cars climbs ever higher, all-wheel drive starts to make even more sense, harnessing ever greater outputs through ever smarter means - and in recent years, those means have included hybrid 4x4 systems that negate the need for complex transmissions, bringing the added benefits of improved economy and emissions.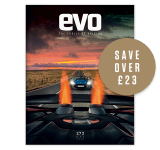 Subscribe to evo magazine
Subscribe today to have every issue of evo delivered straight to you. You'll SAVE 39% on the shop price, and get evo for its original cover price for a whole year!
What's notable from our list of the best 4x4 performance cars is the variety too, from hot hatchbacks to high-end supercars and a real spread in between. All-wheel drive is no longer just for getting muddy - it's a way of further increasing the remarkable breadth of abilities of the modern performance car.
Alfa Romeo Stelvio Quadrifoglio
There's a time and a place for SUVs, but few performance versions have really got under evo's skin. Two that have got closest are the Porsche Macan GTS and the Alfa Romeo Stelvio Quadrifoglio, and as the more exciting to drive of the pair it's the Alfa that qualifies for a place on this 4x4 performance car list.
While weight and height mean it doesn't quite have the cornering brio of the Giulia saloon, it's arguably even better in the kind of road and weather conditions we experience in the UK. The extra traction of an all-wheel drive system is most welcome, while the raised stance and greater wheel travel allows you to tackle broken surfaces with less circumspection than you might in the Giulia.
> Alfa Romeo Stelvio Quadrifoglio review
The £69,500 price tag is hefty (closer to the £69,505 Macan Turbo Performance Pack than our preferred £58,158 GTS) but given the Stelvio's Ferrari-esque engine, mighty performance (0-62mph in 3.8sec, 176mph) and appealing and spacious cabin, nor is it poor value. It makes you wonder what Ferrari itself might offer over and above the Stelvio when its own SUV-style car arrives.
Audi R8
The Audi R8 sits alongside the Porsche 911 Turbo in defining the modern everyday supercar - only with a mid-engined layout and sleek styling (not to mention a howling V10 engine), it arguably fits the definition even better than its Stuttgart rival.
While typical Audi attributes like slick styling and a great cabin have played a part in the R8's success, its ability to put considerable power to the road with minimal drama has been a factor too. Ironically, Audi has recently introduced a rear-wheel drive version of the R8, dubbed RWS, but all-wheel drive still defines it.
The latest R8s are indecently fast yet approachable too, feeling even more agile than their 911 rivals and delivering an even more spine-tingling soundtrack. Power oversteer is always on the cards, but in normal performance driving the quattro setup simply enhances traction and stability in the best tradition of AWD performance cars.
Audi S1
You forgot the Audi S1 existed, didn't you? It's an easy thing to do - the hot hatchback market has moved so quickly over the past couple of years that the S1's time in the limelight was brief, while subtle styling and a price tag that puts it out of touch with more conventional front-drive hot superminis (from £27,125) means it's often overlooked.
It probably shouldn't be though. While it lacks the outright excitement of cars like the Peugeot Sport 208 GTi and the latest Fiesta ST, its Haldex all-wheel drive setup is completely unique in this class (though one other manufacturer - Suzuki - still produces a regular all-wheel drive supermini) and gives it poor-weather ability beyond any of its rivals.
You also get the satisfaction of a potent 228bhp, 2-litre turbocharged engine, though performance is offset slightly by a 1315kg kerbweight. It fights back again with one of Audi's more engaging chassis and a level of build unmatched by its less premium rivals. It's a hidden gem.
BMW M5
Frank van Meel, CEO of BMW's M division, recently told evo that BMW doesn't like to call the rear-drive only mode in the new M5 a "drift mode". 'Every mode is a drift mode in an M5', he said.
It's difficult to argue with that, though like its Mercedes-AMG E63 S rival, the latest M5 does indeed have a mode that directs power to the rear axle alone. That such a mode is no longer the default is a symptom of a car that now produces 592bhp in its basic form, and 553lb ft. Given the previous M5 struggled to contain its lesser outputs, all-wheel drive seems sensible.
What the latest M5 lacks (similarly to its direct predecessor) is a real connection to the car, but the power and traction on offer certainly make it capable. It remains one of our favourite super-saloons, but on first acquaintance we're not quite as fond of it as we are of the AMG.
Ferrari GTC4Lusso
Ferrari's next dabble into all-wheel drive may not be quite as appealing as its current effort. The GTC4Lusso - previously known as the FF before extensive revisions a couple of years back - is a hugely desirable car and a fantastic grand tourer.
All-wheel drive has only enhanced those abilities over predecessors like the 612 Scaglietti and 456, allowing a GTC4Lusso on suitable tyres to venture up to the kind of ski resorts and mountain passes that a car like this is surely designed for.
The AWD setup itself seems fiendishly complicated, with a separate transmission for the front wheels and a transaxle rear, but the benefits are a good front-to-rear weight balance (47:53) and quick responses. With four-wheel steering too the GTC4Lusso is very nimble for a car of its size, and puts its power to the ground quite remarkably given the near-700bhp V12 up front. We're rather taken by the styling, too.
Ford Focus RS
The Focus RS is not a car for everyone, and as it's soon to go off sale as the all-new Focus rolls out, it'll shortly be a car for no-one. But it offers something Ford fans have been waiting for ever since the first-generation Focus RS arrived looking like a de-liveried version of McRae's rally car: all-wheel drive.
Ford's most recent RS wears its four-wheel drive heart on its sleeve, the GKN "Twinster" rear clutch pack offering a torque vectoring function that allows 100 per cent of the 2.3-litre engine's torque to be sent to one single rear wheel. The result is the car's much-vaunted "drift mode".
Power oversteer in all-wheel drive cars isn't new, but Ford made a feature of it before cars like the new M5 and E63 S arrived with their own systems to bias power towards the rear. It's a bit of a gimmick truth be told, but thankfully you still feel the benefits in the RS even in its regular driving modes, punching you hard out of tight corners and offering great off-the-line traction. The RS is far from perfect, but we hope Ford doesn't wait too long before replacing it.
Honda NSX
The original Honda NSX might have lacked the firepower we now expect from supercars, but it was light, advanced and spectacularly usable by the standards of the day. The latest model continues that trend, and while some will bemoan the lack of natural aspiration or the "impurity" of all wheel drive, it's a similarly remarkable car in the real world.
The NSX's all-wheel drive setup comes courtesy of a hybrid drivetrain, utilising a twin-turbo V6, electric motor and nine-speed dual-clutch transmission setup at the rear, and a pair of electric motors at the front axle, for a combined 573bhp and 476lb ft. The upshot is 0-60mph in sub-3 seconds (though no official number is claimed) and a 191mph top speed.
The electric running gives it a USP that few other cars in this bracket can boast and on-road performance and composure is staggering, to the extent you really need a track to make the most of it. When you do you finally start to feel the chassis moving underneath you, get to appreciate the fantastic brakes, and experience the traction of the torque vectoring setup.
Lamborghini Huracan Performante
For a car so similar under the skin to the Audi R8, you'd scarcely believe there's any connection when driving, or indeed looking at, the Huracan Performante. Those concerned that Lamborghini might have gone soft couldn't be further from the truth - and that's not just a dig at the marque's deeply uncomfortable sports seats.
From the bright paintwork to the forged composite components (which take on a marble pattern on details like the enormous rear wing), to the howl of its 631bhp 5.2-litre V10 and a windscreen that couldn't be more raked if it was horizontal, the Performante is a special car.
> Lamborghini Huracan Performante
But it's also a serious one, capable of circulating the Nordschleife in under seven minutes, wearing stiffer suspension than a regular Huracan, active aero, and a rear-biased all-wheel drive system that's surprisingly forgiving for such a focused car. It's fast, aggressive and addictive, and one of the most exciting all-wheel drive performance cars on sale.
Mercedes-AMG E63
The E63's natural home is barrelling down an autobahn straining against its limiter - regardless of whether we're talking the standard 155mph limiter or the 186mph raised ceiling of the optional AMG Driver's package. It'll do so in comfort and relative silence, and if you've got the Estate with its vast luggage area, then all the better.
But it's also one of the great hooligan cars, something resolutely unchanged despite the latest model boasting drive to all four wheels rather than just the rear pair. There's something primally satisfying about launching as quickly as the E63 is capable of - 3.4sec to 62mph in E63 S trim - the now-ubiquitous 4-litre biturbo V8 delivering sledgehammer performance that eclipses even its predecessor.
It's a genuinely good car to drive too. It's a very predictable car to drive quickly, with linear responses to both its steering and its drivetrain and brakes. And with the drift mode, which sends power to the rear axle alone, it'll oversteer until the day cars are banned forever.
Nissan GT-R
It's difficult to believe the R35-generation Nissan GT-R is ten years old in 2018. From its styling, presence and head-turning ability to its levels of performance, it does the job now as completely as it did back in 2008, even if the rest of the world has finally joined it. The most recent facelift kept it fresh and improved the interior too, though it's fair to say most still won't choose it for cabin ambience.
What they might choose it for is the way it puts 562bhp to the road for a claimed 2.7-second 0-62mph time, though we've never timed it quite that quickly ourselves. Oddly, the Nismo GT-R boasts the same 0-62mph figure, but around the wide expanses of a race track it feels even more rampantly fast.
The most surprising part of driving a GT-R is discovering it's nothing like the videogame-like experience you've been led to expect. Despite its weight it's agile, adjustable, and the steering delivers genuine feedback, while recent revisions have mellowed the ride quality. Just as with previous GT-Rs, all-wheel drive is an inherent part of the car's dynamics, and it's all the better for it.
Porsche 911 Turbo
If Honda's NSX illustrates the new way of doing things, the Porsche 911 Turbo remains the archetypal usable supercar - just as it was when the original NSX debuted, in fact. While the Turbo is overshadowed to a degree by Porsche's GT and RS models, the modern Turbo is still a 198mph car capable of sprinting to 62mph in three seconds flat - and the Turbo S is a genuine 200mph car.
All-wheel drive has long been a 911 Turbo staple and for good reason - it has kept the increasingly muscular power and torque outputs in check (up to 572bhp in the Turbo S) and ensured it's as usable on the road and in all conditions (perhaps more so) as any other 911.
Modern Turbos will still play the hooligan, and while they're not the most exciting or tactile of modern 911s, they still fare very well in comparison to similarly potent rivals. That lack of drama manifests itself as reassurance on wet roads and poor surfaces, allowing you to press on where others might encourage you to bleed off pace.
VW Golf R
You see a lot of Golf Rs about, but that comes as little surprise to us. The excellent finance deals available certainly help, but the Golf R is an excellent hot hatchback in its own right, and in this generation firmly established itself as the true drivers' car in the Golf range - Clubsport GTIs aside.
All-wheel drive lets the R find traction where the front-drivers might not, but it's not the overly safe, nose-led experience that some other VW Group all-wheel drive products have offered in the past, either. In fact, the R has quite an adjustable chassis - one that four-wheel drive allows you to exploit more often.
If there's a criticism it's that the R's elevated abilities do hide the chassis' best from you until you're going very quickly indeed, though they're easy to appreciate on wet and greasy roads - and the R still features all the regular Golf's best attributes, from handsome styling to a great driving position and quality cabin.