Lamborghini Gallardo (2006)
All you need to know to get one of our favourite supercars for £50K less than the list price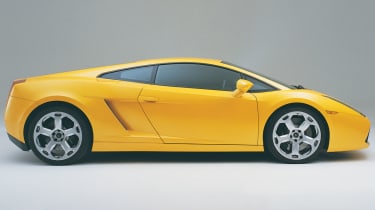 Everything is relative, they say. However, attempting to describe a second-hand, seventy-grand Lamborghini as 'a bargain' might just be pushing the boundaries of credibility when it comes to arguing the case for considering such a purchase. There's no denying the fact, though, that should your pockets be suitably cavernous, a three-year-old Gallardo could be yours for a substantial £50,000 less than its original list price. Whichever way you look at it, that's a major discount, and don't forget we're talking about the in-your-face drama of a taut, honed, 500bhp Lambo here.
Of course, defending any supercar purchase with rational argument is nigh-on impossible (just ask Harry), but you could always console yourself with the knowledge that even the cheapest Ferrari F430 you can find second-hand would still set you back around £100,000, despite its Gallardo-rivalling original list price. Just why the Ferrari has resisted depreciation while Gallardo values have taken a comparative tumble is anyone's guess, but right now a used example of the baby Lambo makes a very tempting alternative to a new 911.
But what about those boring yet vital issues of reliability and running costs? Well, since Audi took the reins back in 1998, Lamborghini has moved forward significantly from the company it once was. The fragility and temperamental nature of older Lambos has been banished, resulting in a car that is genuinely useable on a daily basis. Electrical issues and engine problems are more or less nonexistent, and even servicing costs are not extortionate for a car in this price bracket.
And don't forget that the Gallardo is a firm evo favourite. In our 2003 Car of the Year extravaganza it came a very close second to the 911 GT3, while last year the SE version was only prevented from climbing onto the eCoty podium by an extraordinary collection of cars that included Ford's brilliant GT.
EvolutionThe Gallardo made its debut at the Geneva motor show in 2003 before going on sale in the UK in the autumn of that year. Lamborghini's business was instantly revolutionised; the long-awaited second model-line was an instant hit and the perfect complement to the recently introduced Murciélago.
Designed by Luc Donckerwolke, whose CV includes the Audi R8 Le Mans car, the Gallardo's beautifully sculptured aluminium panels clothe an aluminium spaceframe, meaning the car is both light and exceptionally stiff. And being shorter than a 911, it's compact too, improving nimbleness and usability.
Mated to either a six-speed manual or 'e-gear' paddle-shift gearbox, the mid-mounted 5-litre, 90-degree V10 develops around 500 bellowing horses, transmitted to the tarmac through four-wheel drive. In normal conditions 70 per cent of that power is delivered through the rear wheels, although up to 50 per cent can be sent to the fronts when required. Self-adjusting Koni dampers and eight-pot Brembo brakes help keep everything in check.
The car remained essentially the same until the the limited-production (250 cars only) SE arrived in September 2005, with a 20bhp power hike (up from 493bhp to 513bhp), shorter gear ratios, sports suspension and a smattering of cosmetic revisions. It may be difficult to find one of these for sale, but the standard 2006 model-year car incorporated most of these features, including the power increase and shorter-ratio gearbox.
Alongside the MY06 car came the Spyder. Costing £131,000, it's still too new to be available with a second-hand discount.
Lamborghini Gallardo checkpoints
Driving one today
Unsurprisingly, Mike's car feels as tight and fresh as any of the numerous press cars we've driven over the last three years.  Every used Gallardo should feel this good, so if you haven't driven one before, try to test-drive a new one for comparison.
The e-gear system never feels completely happy trundling around town in first gear, and the downshift blip can be over-exaggerated, but at all other times the change should feel sharp and fast.
The steering is heavy at slow speeds, but start to feed the power in and it livens up just as the V10 begins to fill the cabin with its sonorous, baritone wail. The power is intense, but its delivery is smooth and linear, and it only takes a couple of flicks of the right-hand paddle for the peripheral view to become a very-high-speed blur.
There's a sense of occasion when climbing aboard a Gallardo that I doubt would diminish even if you drove one every day for the next ten years. Yes, you can spot the Audi switchgear, but it really doesn't matter. With its deep dash and even deeper seats, the cabin feels every inch a true Italian exotic. It's a car to make you feel good about yourself, but with its everyday usability it's a feeling you can enjoy on a regular basis.