With eight four-cylinder power units and three gearboxes to choose from it takes a little while to work out the A-Class performance hierarchy.
At the top is A35, which uses four-wheel drive and launch control to help it on its way to a 0-62mph of 4.7 seconds and an electronically-limited top speed of 155mph. Next up is the 2-litre A250 petrol, capable of sprinting to 62mph in a brisk 6.2 seconds and reaching the same restricted 155mph.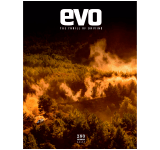 Subscribe to evo magazine
Subscribe today to have every issue of evo delivered straight to you. You'll SAVE 39% on the shop price, and get evo for its original cover price for a whole year!
Moving down the range is the A220 petrol, while uses an even further detuned version of the 2.0-litre four pot. Below this is a 1.3-litre four that forms the basis of both the A200 and the A180, which both crack 62mph in well under 10 seconds and will happily push past 130mph. Slowest of the bunch is the diesel powered A180d that needs 10.5sec to get to 62mph and will top out at 125mph. The A200d and A220d use the same 2.0-litre diesel but in different states of tune (the former needs 8.1 seconds for 0-62mph and will run to 137mph, the latter posts 7.0 seconds and 146mph for the same increments).
Initial impressions are good, with all units feeling quiet and vibration-free at idle. All engines also feel quite responsive to initial throttle inputs even in Comfort mode, but only the A250 and A35 continue to leap forward as you sink the pedal further. The A180d and A200 petrol we've tried provide extra noise but limited thrust. The diesel may actually be the preferable of the pair, as while it's slower than the petrol, its low-down torque characteristics mean you don't need to work it as hard in typical driving.
Given the A200's harshness and the A180d's relative smoothness, we'd say the diesel is the pick of the smaller units. We've yet to drive the A180, A220, A200d and A220d, so we'll have to reserve judgment on those for now.
The A250 isn't exactly bustling with character. It's smoother than its smaller petrol sibling and doesn't need stoking as much to get you down the road, but it's still a relatively joyless thing to rev and the DCT 'box makes a meal of quick getaways, without the reward of a truly snappy change when you're selecting manually with the steering wheel-mounted paddles.
You probably won't feel compelled to switch to Sport mode very often either, which drops a couple of ratios and makes the initial throttle response overly sensitive - Comfort mode is best, using the paddles to change gear manually when required. Ultimately though the new A-class isn't yet a car that goads you into a more lively driving style - it's at its best simply cruising along quietly with everything set to auto.
In the A35 you get the same smoothness and relative eagerness of the A250, but some decently implemented sonic augmentation gives it a deeper and more menacing note in the sportier driving modes, including some theatric pops and bangs on the overrun. Yet with so much torque (295lb ft) to play with there's no real incentive to chase the redline, feeling more than quick enough on give and take roads with no more than 4000rpm dialled in.
In most scenarios the DCT is quick and slick enough, but it can be wrong-footed by an unexpected downchange request, while hurried getaways at junctions and roundabouts can result in an uncomfortable lurching as the gearbox fails to keep up with the demands of your right foot. Unlike the other models however, Sport+ mode is preferable here, ideally with the transmission in manual mode. Configured such, you can keep up good pace without slovenly eco-biased gearchanges or needless revs, and enjoy the occasional barrage of pops and crackles.