Tasked with raising AMG's game to fight Porsche's 911 GT3, the new GT R promises great things. With more power, more effective aerodynamics, less weight and a chassis honed for serious track work, it should be the most complete, compelling and capable car AMG has ever made.
Engine, transmission and 0-60 time
The heart of the GT R is AMG's stonking 4-litre biturbo V8. As befits the R's role as performance flagship, AMG has breathed on the motor to increase peak power to 577bhp, together with 516lb ft of torque from just 1900rpm right through to 5500rpm.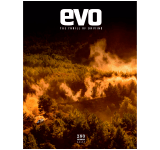 Subscribe to evo magazine
Subscribe today to have every issue of evo delivered straight to you. You'll SAVE 39% on the shop price, and get evo for its original cover price for a whole year!
To achieve this the turbo internals have been modified, engine mapping revised and boost pressure increased from 1.2bar to 1.35. AMG's engineers have also altered the compression ratio, refined the exhaust port design, changed the way the boost pressure builds and fitted a new dual-mass flywheel that's 0.7kg lighter than that fitted to the GT S – all with the aim of sharpening throttle response.
The transmission is the familiar seven-speed dual-clutch paddleshift gearbox fitted to the rest of the GT range, albeit with a taller first gear, shorter sixth gear and a lowered final-drive ratio for increased in-gear urgency. Top speed is 199mph and 0-62mph takes just 3.6sec.
Technical highlights
This car is all about detail engineering, with painstaking attention paid in particular to the chassis, aerodynamics, weight reduction and structural rigidity.
Hidden beneath the skin are many trick components made from exotic lightweight materials. Carbonfibre is used for the propshaft and torque tube and magnesium for part of the front structure. The battery is lithium-ion.
The most obvious changes are those made to the bodywork. Using a mixture of aluminium and carbonfibre, the front and rear wings have been stretched by 46mm and 57mm respectively to cover the GT R's wider track suspension. The nose gains a distinctive new grille featuring vertical fins just like the GT3 car, while the rear end wears an adjustable, full-width wing. In addition, active aerodynamics control a section of the underbody beneath the engine bay that automatically lowers 40mm (at 50mph in Race mode and 75mph in Comfort, Sport and Sport+), to create a venturi effect that reduces front-axle lift by some 40kg at 155mph as well as feeding the large double diffuser at the rear. In total, the R's aero package generates 155kg more downforce at maximum speed than the regular AMG GT.
The suspension features adaptive coil-over dampers, which can be run in Comfort, Sport and Sport+ settings. Uniball spherical bearings are used to locate the lower rear wishbones for more precise control. There's also a thicker tubular rear anti-roll bar.
Big news is the R's active rear-wheel-steer system – a first for an AMG model. Up to a speed of 60mph the wheels are turned in the opposite direction to the front wheels, increasing agility by effectively shortening the car's wheelbase. Above 60mph the rear wheels turn in the same direction as the fronts to increase stability.   
Also new to the R is a nine-way traction-control system, which is controlled via a yellow rotary switch on the dashboard. It looks incongruous until you appreciate it's very similar to that found in the GT3 race car. This system is accessed once you disable the regular three-stage ESP. This car being an AMG model, you can work your way through the usual suite of driving modes to tailor engine response, damping and transmission characteristics via the Comfort, Sport, Race, Race+ and Individual modes. And, of course, there's a switchable exhaust mode to bring the thunder on-demand via the the R's striking triple-exit system, which features a large central tailpipe flanked by a pair of smaller outlets.
Other highlights include the lightweight forged aluminium wheels and ceramic composite braking system. Featuring 402mm front and 360mm rear discs, the braking system offers longer service life, greater resistance to fade and a significant 15kg saving in unsprung weight.
What's it like to drive?
As AMG's 911 GT3 R you'd expect the R to look the part, but crucially it feels it, too. The manually adjustable seats grip you tight and place you low in the car, but you still get a great view down the sharply sculpted bonnet. Like with all AMGs, the engine starts with a boom, pulses at idle and roars with every prod of the throttle. It's a loud and extrovert machine.  
Our first taste of the car is on the challenging Portimao race track – quite an introduction to a 577bhp near-200mph sports car, yet one that proves the GT R is a car to be enjoyed rather than feared. With Race mode selected and the ESP system active but in its most relaxed setting, you can work the GT R's throttle hard with confidence. It's bullet-fast out of the corners and down the straights, aided by a DCT transmission that delivers clean upshifts and snappy downshifts, complete with a fusillade of bangs and crackles through the exhaust.
> Also read - Mercedes-AMG GT full review
However, it's the grip, traction and balance that are truly impressive. The steering weight is moderate, perhaps even a little lighter than you expect, but you have a genuine sense of connection with the the R's front end. It finds terrific bite but never feels overly responsive, so you can really lean on it. And because there's absolute unity between the front and rear ends of the car – something the GT S struggles to deliver – you can do so without fear of the tail struggling to cope with the rate of response.
It resists understeer brilliantly in the tighter corners, just pushing as you chase the throttle, but then neutralising as you power from apex to exit. The ESP just nibbles away if you really push things, but it's not too intrusive. It's equally adept through medium and high-speed corners, with exceptional grip matched by steadfast stability in direction changes and awkward braking areas where you also need to steer the car.
Subsequent lapping sessions with ESP and traction control fully disabled reveal even greater ability. With the possible exception of the SLS Black Series, AMG products always tend to struggle to deploy all their performance on track. Traction is limited, stability compromised and tyres worked to a frazzle in a handful of laps. The GT R is different. Very different. It finds so much grip on the way into corners and so much drive on the way out that you really can enjoy working it to and beyond its limits, as you would with a 911 GT3. When it eventually slides, it breaks away progressively (despite the considerable speed it's carrying and lateral forces it's generating) and can be held at modest angles that are hugely satisfying while maintaining your corner speed. Where AMGs always have a tendency to feel like blunt instruments on track, the GT R is a precision tool.
Out on the road the GT R feels hardcore. That's as you'd hope, but it's a very firm car, even in Comfort mode. On the plus side that means it's sharp as a flick knife, cutting a clean line through the corners and reveling in rapid direction changes, yet thanks to the rear-steer it always feels more controlled. There's greater feel and connection, too, so tapping into this dynamism and agility doesn't feel like a leap of faith. It's fun and blisteringly fast, but doesn't rely on pure speed to deliver a memorable driving experience.
The car copes well with compressions, but has a tendency to skip across sharp bumps and crests, especially when you're accelerating hard. Hit the wrong combination of road imperfections and it feels a bit like a skimming stone. Not crashing from bump to bump, but just struggling for rear wheel travel. You feel it and hear it in the slight rise and fall in the engine note as the rear tyres momentarily fight for traction. On the smoothest sections of fresh Portuguese tarmac the Sport setting is good and delivers really tight body control, but on the whole Comfort is plenty stiff enough. My hunch is the R could struggle for ultimate composure on British roads, but we'll have to wait until the spring to find out.
Price and rivals
With a starting price of £143,365 (though that'll be closer to £160,000 when you add worthwhile options such as the composite brakes, forged wheels and lairy paint) the AMG GT R enters an incredibly competitive sector that's brimming with sensational cars.
It's most obvious rival is the Porsche 991 GT3, the latest version of which is due to appear at the Geneva motor show in March 2017. However, similar money will also buy anything from an Audi R8 V10 Plus to an Aston Martin V12 Vantage S. And then there's McLaren's compelling 570S.
AMG's new flagship is every bit as desirable as any of them, punches as hard and delivers abundant thrills in its own distinct way. Expect the Mother of all road and track shoot-outs in the spring...