Although it hasn't been full of supercars and high powered saloons, the usual evo fodder, there have been plenty of interesting announcements at this year's Consumer Electronics Show. Here are some of the highlights from the event.
Faraday Future FF 91
One of few actual cars presented at CES, the on-paper specificiation of Faraday Future's FF 91 ("nine-one") is remarkable. It develops a combined power output of 1035bhp and distributes it to all four wheels, realising a 2.4-second 0-60mph time and with a 130kWh battery pack, could travel as far as 400 miles on a charge.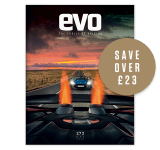 Subscribe to evo magazine
Subscribe today to have every issue of evo delivered straight to you. You'll SAVE 39% on the shop price, and get evo for its original cover price for a whole year!
> Read more about the Faraday Future here
The styling is unusual too and there's a whole suite of autonomous and connected functions, of which the most unusual is probably facial recongition to unlock your car. Faraday Future has an uphill struggle though if it's to build its cars by the 2018 target - Tesla aside, few startup electric vehicle firms have made it through to volume production unscathed.
Hyundai autonomy, Ioniq scooter, and smart house
The Hyundai Ioniq, the first dedicated hybrid, plug-in hybrid and electric vehicle family of cars, has been bolstered further at CES with an autonomous prototype. All the usual autonomous features are being developed, and the prototype was demonstrated by driving around the roads of Las Vegas.
> Hyundai Ioniq Electric review - is Hyundai's Leaf rival a driver's car?
Cars can only go so far however, so Hyundai also previewed the idea of an Ioniq electric scooter at CES. For scooter, think those metal frames kids skim along on rather than a full-blown moped however - the idea is that it can be folded up and stored inside the front door of the Ioniq cars, to be used for that "last mile" between a parking space and workplace. Or your smart house, which your car will connect to and become an integral part of when it's parked and charging.
Renault open-source EV, charging, and smart clothing
Few cars are simpler than Renault's Twizy, which makes it a perfect platform for making its software and hardware open-source. Together with OSVehicle, Renault has previewed POM at CES, a Twizy shorn of its already limited body panels but fully accessible and configurable via connectivity from ARM, supporting autonomy, advanced cockpit tech, and connection to the "internet of things".
Renault has also presented a new charging cable at CES, developed with Pilot. The electroluminescent cable can pulse and flash to indicate charging, flashing faster when charging is in full swing and slower as the battery becomes full. Another technology revealed at CES, in collaboration with Sensoria, is smart clothing for racing drivers - taking information from a driver's t-shirt and socks to feed back telemetry data. We're assuming that doesn't include the smell...
Toyota Concept-i
Toyota has unveiled the Concept-i, a car designed to be more intuitive and friendly for the driver. Prompts and information within the car aren't limited to just a screen on the dashboard; instead, information is revealed where it's most important. For example, lights in the footwell signal when the car is in manual or autonomous mode and blind spot information is projected onto the seat pillars.
An in-built AI system, named Yui, interacts with the driver inside the car and helps to plan routes. It also monitors the driver's emotions and attention, increasing autonomous driving support when necessary. Yui appears on the outer panels of the car to welcome the driver and passengers, too.
BMW i Inside Future concept, HoloActive Touch, Connected Window and autonomous 5-series
BMW has chosen CES to reveal not just a concept, but also three other technologies. An evolution of its gesture control, called the HoloActive Touch, is showcased in the i Inside Future concept. It uses a virtual screen that the driver interacts with using their fingers, but as there's no need to touch anything tactile, feedback is produced using ultrasound pulses.
> Read more about BMW at CES here
It has also equipped its latest 5-series with autonomous technology so good BMW are happy to let you watch videos while you're in the driver's seat. In fact, it's almost encouraged. BMW hasn't just limited itself to just cars, though. It has created the Connected Window, a large screen for inside the home that allows you to organise your travel plans and choose your entertainment.
Honda NeuV, Moto Riding Assist and Safe Swarm
Looking more like the kind of car you'd expect to see at the Tokyo motor show, the NeuV (pronounced "new-V") is a two-seat, Smart Fortwo-style city car designed as an autonomous ride-sharing vehicle. The idea is that most cars spend most of their time sitting around unused, whereas your NeuV could spend the day effectively picking up fares and ferrying them around town. It's a funky little thing too, if not perhaps the ideal evo vehicle.
Moto Riding Assist is an interesting idea too. Using tech from Honda's Uni-Cub (a kind of self-balancing unicycle-cum-latrine) it allows a motorcycle to remain balanced, unaided, at rest. Safe Swarm, meanwhile, is Honda's plan for vehicles to communicate at short range to allow them to share the road more efficiently and without accidents.
Volkswagen ID, User-ID
The ID makes its reappearance at CES, following its introduction at the Paris motor show. It's effectively the Volkswagen Golf of the future, boasting both autonomous driving capabilities and a 370-mile electric range, around three times that of the current VW e-Golf. It should be brisk too, with 168bhp of electric power.
It's part of a deeper connected experience however (please, let us never have to type such a sentence again...) incorporating User-ID, an electronic profile that VW says you can take everywhere with you - so if you desire, you can transfer details of everything from your preferred radio station to the perfect degree of ambient lighting from car to car, whether personal or rental vehicles.
> Read more about the Volkswagen ID concept here
Cleverer still is the augmented reality head-up display, which virtually projects relevant information onto the road ahead. We've said it before and we'll say it again: it could make a fantastic driver training tool and useful on road or track.