It's probably fair to say the original Nissan Leaf was not an evo car. It's difficult to call the new model an evo car either, in truth – sorry to start this review with such a statement, but we wouldn't want to disappoint you – but since cars like this are only set to become more common, it's important we keep track of them just in case a manufacturer unwittingly releases the first electric hot hatchback.
It might still be Nissan, launching a Nismo-prepared variant of the Leaf at the Tokyo motor show shortly after our drive in the standard car. It's just a concept at this stage, but with the new Leaf's impressive drivetrain and an uprated chassis, perhaps that's the car we're really waiting for…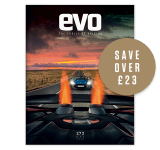 Subscribe to evo magazine
Subscribe today to have every issue of evo delivered straight to you. You'll SAVE 39% on the shop price, and get evo for its original cover price for a whole year!
Engine, performance and 0-60 time
Engine? Those are old news these days, aren't they? The Leaf uses a 110kW electric motor – that's 148bhp in old money – and sends its power through a single-speed reduction gear to the front wheels alone.
It's also capable of developing 236lb ft of torque – effectively from rest – a figure that it holds for long enough until the power peak takes over. The whole lot is powered by a 40kWh lithium-ion battery pack, good for an official 235 miles on the NEDC test, or according to Nissan's own engineers, a realistic range of between 150-200 miles, depending on how you drive. That puts it in good stead with its rivals, most of whom are still scratching around the 150-mile mark.
Nissan doesn't quote either 0-60mph or top speed figures for this new Leaf just yet, but an engineer suggests it'll get to sixty in the mid to high eight-second range. Call it 0-62mph in nine, a good couple of seconds quicker than its predecessor. And, naturally, it'll do that time and time again and in near-total silence – save for the wind and road noise that begins to pipe up around 50mph.
Technical highlights
Structurally and under the skin the Leaf is fairly conventional. Technologically though there are three features which stand out – if not all from a driving dynamics standpoint.
The first is the e-Pedal. That's Nissan-speak for one-pedal driving, something many electric vehicle owners will be familiar with already – using the regenerative effect of the electric motor to slow the car, rather than the friction brakes.
Where e-Pedal differs to most is that it will pull the car to a complete halt, and do so smoothly and on road gradients. It does so by decelerating largely using the motor, but then blending in the friction brakes itself – and holding them – as you come to a halt. Doesn't sound appealing? You can turn it off with a switch on the centre console.
Next is ProPilot, with "Assist" and "Park" functions. Assist is a basic form of autonomous driving, steering you between the lines and maintaining a distance from the car in front at highway speeds. ProPilot Park is, as you might imagine, a system that can park the car completely by itself. Simply find a space, press the button, select "Go" from the menu on the touchscreen, and hold down the button for the rest. It'll parallel park, go forwards or backwards into a bay, and even let you select an unmarked space – in a big grass or gravel car park at a show, for instance.
What's it like to drive?
Hop into a Leaf and you'll quickly discover that this is not a car designed for the enthusiast driver. The driving position is set high, the seat cushions are flat, and some drivers may struggle for the perfect driving position due to the steering wheel adjusting for rake alone.
Persevere, and it's not all so bad. The upright driving position is actually fairly comfortable and the cabin layout throws up no surprises. It's not a particularly exciting cabin and it's less distinctive than the old car, but at this stage in the lifecycle of electric vehicles, customers seem keen to play it safe. You can see Nissan's thinking.
Our Yokohama test route precludes any solid thoughts on ride and handling, but like the cabin layout it's immediately apparent that Nissan has played it safe with the chassis too. UK models will have a more dynamic setup than the typically soft Japanese cars, but the slow, feel-free steering and raised driving position do little to engage you. A Volkswagen e-Golf is a long way from being a proper drivers' car, but we'd pick one over the Leaf if we wanted a little entertainment on our commutes.
A disaster then? Not quite.
Nissan's much vaunted e-Pedal works brilliantly, for a start. No, you won't get the traditional evo thrills of braking late into a corner and powering out again, but driving the car with one pedal alone brings a whole new dynamic to driving and it is, at the end of the day, a skill that has tangible rewards.
Driving both quickly and smoothly without ever touching the brake pedal becomes intuitive after barely a mile, and because the pedal responds both quickly and consistently there's a deep satisfaction to accelerating and decelerating the perfect amount for a given situation. If you value keen responses and linearity in your controls, e-Pedal absolutely delivers.
Turn it off and driving actually feels quite unnatural at first, such is the success of the system, though if you want to benefit from the Leaf's strong power and torque figures, e-Pedal off is the best way to do it, with small pedal responses to better almost any combustion vehicle and, unlike the previous Leaf, acceleration strong enough to join a motorway without having to sink the pedal all the way to the floor.
ProPilot Park also works well, if a bit slowly (UK models will apparently park themselves a bit quicker), but ProPilot assist isn't quite up to the standards of similar systems from Mercedes-Benz or Tesla – it's a little jerky and lacks polish. Driving a Leaf is hardly stressful anyway – we'd switch it off.
Price and rivals
Leaf pricing kicks off at £26,490, a figure which includes the government's up-to-£4500 plug-in car grant. We could list all the exciting combustion-powered vehicles you could get for similar money, but that would be missing the point – none would be as affordable to run either in the short or the long-term, and we doubt many will cross-shop Leafs with Focus STs and the like.
More relevant is comparison with its electric alternatives. Grant included, an e-Golf is £27,690. A BMW i3 is £28,840, while a Hyundai Ioniq sits a little lower at £24,995. All are more dynamic than the Leaf (at least until we've experienced the UK chassis tweaks) and have their own benefits and demerits, but the Leaf's mainstream appeal should ensure it continues to be a strong seller in this market – adding to the 280,000-odd Leafs Nissan has sold since the model debuted in 2011.
Us? We'd pick the Golf for basic drivers' car attributes, or the BMW i3 for its fantastic interior ambience and desirability. Show us that Leaf Nismo, Nissan, and we might have to reconsider.