Ten years have passed since the GT2 RS badge first graced a 911 and it'll do so again this summer now Porsche has finally confirmed the existence of its new rear-wheel drive turbocharged flagship. But before we drive it in a few months time there's the passanger ride in a prototype manufacturers like us to do. Normally we say no, but we'll make an exception for a car with over 600bhp. 
If you've a decent enough memory you'll remember the details of the old 997 GT2 RS. It was a 611bhp, turbocharged, rear-drive, manual 911 with a 3.5 second 0-62mph time, 0-100mph time of 6.8 seconds and a lap around the Nurburgring in 7 minutes 18 seconds.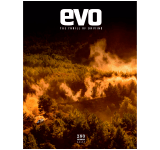 Subscribe to evo magazine
Subscribe today to have every issue of evo delivered straight to you. You'll SAVE 39% on the shop price, and get evo for its original cover price for a whole year!
That was a decade ago, remember, and this new GT2 RS promises lunacy on another level altogether. Sub three seconds to 62mph, 124mph comfortably under nine and a top speed in excess of 211mph. It will achieve all this by using the same pick and mix of 911 Turbo and GT3 RS parts from engine to chassis, with a number of specific components also included to gaurantee the performance.
Technical highlights 
We're so early in the GT2 RS prototype that Porsche hasn't actually homologated the car production yet, so it's being justifiably vague about specifics.
We know the engine's based on the Turbo S's 3.8-litre twin-turbo unit. To that the GT department has added a pair of larger turbos and upped the boost pressure accordingly, there is also a bespoke lightweight titanium exhaust system and revised engine internals to cope with the increased power and torque. 
There's also a new water spray cooled intercooler system, similar to the one found on BMW's M4 GTS. Coming with a separate five-litre water tank, that'll need refilling after three hot laps of the Nurburgring, it drops the intake temperature by as much as 15 degrees to allow the GT2 RS its huge hike in power and torque. As the man responsible for the car's development, Andreas Preuninger says: "it's not just a chipped Turbo S, definitely not, it's a completely re-engineered car."
Pre-homologation, Porsche is stating its output as 'greater than' 641bhp and 553lb ft. Nobody's denying those figures are fairly conservative, and in the best GT2 RS tradition the expectation is they'll be a good deal more than that. 
The GT2 RS's top dog status is secure then, but Preuninger's promising a bit more sophistication than its unruly 997 predecessor. "I like this absolute brutal power that this has, but it's a joy to drive on the track, it's so precise, it's so nimble and agile and a lot easier to drive than a 997 GT2 RS, which was a brute, to the point where you couldn't handle it sometimes. This one has more power, way more power," says Preuninger.
Driving the rear-wheels via a seven-speed Sport PDK (yep, the 997 GT2 RS was the last manual GT2), that's a deliberate, and necessary decision. Necessary for the engine's torque output, and deliberate as it's faster. Preuninger admits GT cars wearing an RS badge will always be about outright speed - so PDK only.
> Porsche 911 GT3 manual review
There's a feeling he's been stung by criticism from some on the GT department's recent focus on driver engagement (the manuals in the R and GT3) rather than outright speed. The GT2 RS is very much the riposte, Preuninger saying it'll not just beat its internal competition's performance - that Turbo S and old GT3 RS - but all its rivals, too. We can expect a very hot lap from W. Rohrl in time then, which given the GT3's 7min 12sec capability with a 150bhp deficit should see the GT2 RS dip under the 7 minute barrier.
Helping Walter will be suspension that to all intents and purposes is pinched from a 911 Cup car running to a Nurburgring specification. There's upside down race dampers and every link, with the exception of a single connection on the rear-wheel steering system, is rose jointed. Preuninger says the spring rates are double on the front axle compared to that of the GT3, the rear significantly higher, too.
The PDK allows the use of Porsche's electronically controlled locking differential, allowing anywhere from 0-100% lock up. The wheels, 20 inches front, 21 at the rear, are shod with 265/35 ZR20 and 325/30 ZR21 Michelin Pilot Sport Cup 2 tyres specifically developed for the GT2 RS.
Weight is down, via the usual GT department means. The expectation is it will come in under 1500kg, though given its huge output Preuninger says it's just not been necessary to remove every last bit of sound deadening. Nor has the rear glass been replaced with Perspex in the ultimate pursuit of weight loss, rather it's thinner and made from Gorilla Glass - the type used on smartphone covers - which will please US customers, where Perspex windows are illegal.
Yes, you can still delete the a/c, radio and infotainment system, but few, if any will. If you're mass obsessed Porsche will offer a Weissach pack, which drops 30kg from the kerbweight. That's possible thanks to some exotic metals, including magnesium wheels - these alone are responsible for a 12kg reduction over the standard alloy items. The Weissach pack's cage is made from titanium and saves a further seven kilos, while the GT department has also found a way of making a lighter roof from carbon fibre than the magnesium skin that's attached to the GT3 RS.
PCCB features as standard, the front discs cooled by the NACA ducts positioned on the bonnet. It will, Preuninger promises, look significantly different to the GT3 RS (and hence the prototype here), with GT2 RS carbon elements featuring heavily, from the vented outlets above the front wheels to the side intakes ahead of the rears, front splitter, rear diffuser and more. Even so, downforce should be around the same as the GT3 RS. 
Engine, performance and 0-60mph time
A heavily tweaked 3.8-litre flat-six from the Turbo S sits on active engine mounts. Along with the bespoke water spray intercooling system and titanium exhaust which, with the flaps open at heat, will give the rapidly disappearing traffic behind a view of the orange glow of hot catalysts via a pair of massive exhaust pipes.
Porsche is quoting 0-62mph in less than 3.0 seconds, it likely to be around 2.9 given it's rear-drive only powertrain, though above that Preuninger promises it'll monster everything, the 0-124mph time comfortably under 9 seconds. 
What's it like to drive?
We'd love to know, but we're strictly belted into the lightweight fixed-back seat on the side of the car without a steering wheel or pedals.
It's quick, hugely so. The engine sounds magnificent, too, which given it's turbocharged is very welcome indeed. The way the GT2 RS rearranges your internals and makes you spit out expletives is like little else we've been in. It makes a 991 Turbo S feel almost normal. 
If anything it feels 918 Spyder-elastic, if without the hypercar's electrically-assisted immediacy. A quick ride on the autobahn sees the numbers pile on quicker than the electricity meter at an AC/DC gig. The brakes are mighty, the stability unerring, it even rides with civility - though we'll take a pass on that until we can get it away from the flatteringly smooth tarmac around Weissach and actually drive it ourselves.
On the country roads that Preuninger drives to work on the GT2 RS is sensationally quick, the traction obvious, and his assertion that it's as agile as the GT3 RS difficult to argue against from where we're sitting.  
Verdict, price and rivals
Very early to call, but the prototype demonstrates enormous promise, and Preuninger says the last 20% of development happens once the pre-production cars run off the line. That's happening in the next few weeks.
A different type of GT Division car, then, as it should be to live up to that reverential badge. As it stands this prototype could head the range, so we're more than a little bit keen to experience all this ferocity with even more polish in the eventual production version. 
Prices? Who knows, we'd not be too surprised if it starts with a two, especially if, as you inevitably will, you go for the Weissach pack. Rivals include anything that's been around the 'Ring with a view to setting a fast lap, though at this level it's irrelevant, as the GT2 RS will be parked alongside them in owner's garages. That is assuming Porsche can satisfy what's likely to be strong demand for the most powerful 911 production car it has ever built.