It's been a while since Lexus has built a true luxury coupe, but with the new LC it hasn't done things by halves. There's an all-new platform underneath the car (to be shared with the LS saloon) and Lexus has dropped in its best engines, a 5-litre V8 from the RC F and GS F, and a 3.5-litre hybrid tested here (we've already driven the V8) with a new transmission said to deliver on the disparate strengths of performance and economy.
Oh, and it looks pretty good too - it's undoubtedly the brand's most visually appealing car to date. It isn't a sports car though - at least not in Lexus' words. So how does Japan's latest luxury grand tourer fare?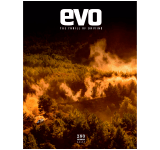 Subscribe to evo magazine
Subscribe today to have every issue of evo delivered straight to you. You'll SAVE 39% on the shop price, and get evo for its original cover price for a whole year!
Engine, transmission and 0-60 time
The LC 500h uses a derivative of the company's existing 3.5-litre V6-based hybrid powertrain. There are a few key differences here though, mostly around the continuously-variable transmission (CVT) that Lexus has paired it with.
Lexus calls it a multi-stage shift device, and it pairs a conventional CVT with four gearsets. The CVT is stepped in three stages, the ratios of which are then multiplied by the first three gearsets, for nine gears. The fourth gearset then provides an overdrive ratio, for ten speeds altogether.
> Click here for our review of the Lexus GS F
The theoretical benefits are numerous, from very low engine speeds at high road speeds (for economy and low noise), to the usual hybrid benefit of being able to shut down the engine and run on electric power alone, something possible at up to 87mph. Lexus also says the arrangement gives a more "direct" feel than a conventional CVT - though it's not without its drawbacks, as you'll read further down.
Altogether, the hybrid drivetrain develops 354bhp combined, good for a rapid 0-62mph sprint of 4.7 seconds and a 155mph top speed. The other benefit is economy - 44mpg combined, where the V8 can manage only 24.4mpg. Our test, which included large stretches of derestricted autobahn and a couple of mountain passes - probably not representative of UK driving, but a better indication of grand-touring economy - returned a slightly disappointing 30mpg.
Technical highlights
The new LC is a technological feast, though for the full extent you'll have to opt for Sport+ specification - something only a minority of LC 500h buyers are expected to do (in contrast, V8 buyers - 60 per cent of LC sales in the UK overall, according to the brand's calculations - will primarily go the whole hog with Sport+ trim).
Luxury-spec models miss out on dynamic rear steering and variable-ratio steering, but all benefit from the LC's ultra-stiff body, with high-strength steels, box-sections, carbonfibre-reinforced plastics and cast aluminium all used to improve structural rigidity. The mixture of aluminium and steel has required Lexus to use adhesive bonds and self-piercing rivets to ensure no electrolytic corrosion takes place.
> Click here for our preview of the new Lexus LS 500
Due to the location of the batteries behind the rear seats, the LC 500h actually has a slightly better weight distribution than the LC 500 V8 - 51:49 front to rear, compared to 52:48. Both have a low centre of gravity though, located around the driver's thigh - close to the ideal hip-point that manufacturers aim for.
What's it like to drive?
If you've been wooed by the exterior then you're in for further delights inside the Lexus LC. The brand has always been strong on fit and finish and material quality, but the LC is a further step above anything Lexus has done before. You'll struggle to find any visible surface that isn't trimmed in expensive-feeling materials and some details in particular really make the cabin feel special, such as the Alcantara door cards with their floating aluminium handles, or the shapely seats - that proved comfortable after hundreds of miles of driving.
Those familiar with more conventional powertrains might be surprised by the silence when the starter button is pressed, but like other Lexus hybrids, it's designed to move away initially on electric power alone. The engine itself fires up after a couple of minutes if you're parked (to top up the battery) or at larger applications of the accelerator pedal.
> Click here for our review of the Porsche 911
Broadly, the drivetrain works well. The stepped CVT does a fairly good impression of a conventional automatic gearbox, with reasonable responses and a fairly natural feel to the way the revs rise and fall, while the V6 itself is smooth and very quiet. Quieter still when it turns off, which it does a lot on light throttle, helping you save fuel.
Its appeal starts to wane when you ask for more performance, however. Firstly, the six-cylinder loses its refinement higher up the rev range and creates a fairly noisy, tuneless note. Secondly, brake feel isn't great - a familiar hybrid bugbear. It's difficult to brake smoothly, with an initial jolt from the regenerative effect of the motor and then a period of muddiness as regen swaps with friction braking.
And thirdly, the gearbox seems to have an identity crisis, with shades of both a regular automatic and a traditional CVT creeping in.  Up hills in the 'box seems to hunt around for ratios, and some changes (we're guessing those between gearsets, rather than steps in the CVT) are surprisingly jerky. Ironically, we suspect the more elastic feel of a regular, unstepped CVT would actually feel better much of the time.
> Click here for our review of the Mercedes-Benz SL
Predictably, this makes the more powerful, responsive and tuneful V8 our choice of the LC's drivetrains, but thankfully both power units are ensconced within an impressive chassis.
Smooth alpine test roads mean we can't come to a definitive verdict on ride quality, but there were no uncomfortable thumps and the structure feels very stiff. The ride feels particularly well-judged for the motorway, and it's ultra-refined at speed - though again, on UK roads we'd expect a little more tyre noise than we heard on the smooth autobahns.
Otherwise, the LC's rear-wheel drive chassis is a predictable companion. There's good grip front and rear, well-weighted steering (our Luxury-spec test car came without the four-wheel steer and variable-ratio steering of Sport+ models) and consistent responses.
Appropriately for a GT, it feels best being driven briskly rather than towards its limits, feeling smooth, agile and composed, and minimising some of the drivetrain and brakes' less appealing characteristics.
Price and rivals
Lexus has priced the LC identically whether hybrid or V8, which means a starting price of £76,595 in Luxury trim, £80,595 in Sport, and £85,895 in Sport+. You're really not missing much in terms of specification by spending the least money, with a fully leather-trimmed cabin (Sport and Sport+ models get Alcantara inserts in the seats) and only a limited list of cost options - a head-up display, Mark Levinson sound system and metallic paintwork are the only additions you can make.
Lexus sees the BMW 6-series and Porsche 911 as competitors. The choice between the Lexus and BMW is very close indeed, though we'd be tempted to opt for the Lexus (in V8 trim) for its fantastic engine and for its striking styling inside and out.
As a sports car, the LC still doesn't come close to offering the handling and entertainment of the 911 - but as a GT, the LC is considerably more refined and probably more comfortable than the car from Stuttgart.