The Rimac Nevera can reverse at 171mph
The stunning Rimac Nevera has a new Guinness World Record under its belt…this time going backwards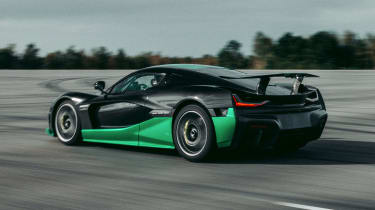 Near-silent power delivery, instant torque and zero tailpipe emissions. These are the benefits of EVs that are usually cited, but Rimac has found another. The Nevera hypercar is now officially the fastest car while driving in reverse, thanks to its lack of conventional gears and bi-directional electric motors. The speed? 171.34mph. Crikey. 
Having broken 20 acceleration and braking records earlier in the year (a few of which have since been snatched away by the Koenigsegg Regera), the Nevera has once again broken new ground with its most recent record. Staggeringly, the maximum speed achieved by Rimac test driver Goran Drndak matches that of a Honda Civic Type R going forwards, and comfortably beats an Alpine A110. 
'On the run itself, it definitely took some getting used to,' said Drndak. 'You're facing straight out backwards watching the scenery flash away from you faster and faster, feeling your neck pulled forwards in almost the same sensation you would normally get under heavy braking. 
'You're moving the steering wheel so gently, careful not to upset the balance, watching for your course and your braking point out the rear-view mirror, all the while keeping an eye on the speed.'
Going forwards, the Rimac is mind-meltingly quick. With an electric motor on each wheel generating a combined 1888bhp and 1741 lb ft of torque, the Nevera is able to precisely distribute its power to sprint from 0-100mph in just 3.2sec, reaching 200mph in under 11sec.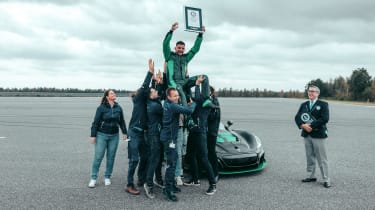 Theoretically, the motors can produce maximum power going in the opposite direction, which is as fascinating as it is daunting. As Rimac's chief engineer Matija Renić notes, 'The aerodynamics, cooling and stability hadn't been engineered for travelling backwards at speed. But then, we started to talk about how fun it would be to give it a shot.
'Our simulations showed that we could achieve well over 150mph but we didn't have much of an idea how stable it would be – we were entering uncharted territory.' Of all the records held by the Nevera, we suspect that this one will stand the longest…