We long since declared our love for the V12 Vantage S. But then what's not to like about a small, beautiful coupe with a big, badass engine and a top speed north of 200mph? Not a great deal, that's what.  
If there has been a criticism to level at the V12 Vantage S it's that Aston's fiercest and most driver-focussed series production Vantage has only ever been available with the company's seven-speed paddle-shift transmission. It's something that has always vexed the purists, but as the message from sports car manufacturers has long been 'nobody buys manuals anymore' few have predicted Aston would make the effort to equip the ageing Vantage with a stick shift.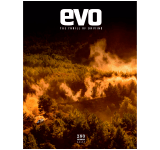 Subscribe to evo magazine
Subscribe today to have every issue of evo delivered straight to you. You'll SAVE 39% on the shop price, and get evo for its original cover price for a whole year!
Consequently we were as pleasantly surprised as anyone at the low-key introduction of a seven-speed manual gearbox alongside the existing Sportshift III transmission. This is our first opportunity to, er, give it some stick.
Engine, transmission and 0-60mph time
With the V12 Vantage S the clue's in the name. Lift the vented bonnet and you'll find Aston's familiar naturally aspirated 5.9-litre (even though they badge it 6.0) V12. Developing 565bhp at 6750rpm and 457lb ft at 5750rpm doesn't have the headline-grabbing figures Ferrari manage to extract from their own big capacity V12s, but it still does the business, punching the Vantage to 60mph in 3.7sec and on to a mighty impressive 205mph.
The transmission is a manual version of the seven-speed paddle-shift gearbox. Aston has chosen to give it a dog-leg first gear - that's to say located to the left and back, with second gear across and forwards. It's a nod to old-school racing transmissions and really rather cool, at least if you're geeky enough to appreciate that kind of detail. 
>Read our Aston Martin DB9 review
Technical highlights
It might be a retro transmission, but it has some hi-tech features, most notably the AMSHIFT function, which offers automated throttle blips on downshifts that make you into an instant heel-and-toe hero. Thankfully for those of us who have invested rather more of our lives than we should mastering the art for ourselves AMSHIFT is switchable. It also enables you to flat-shift up through the gearbox with the throttle pinned.
As a 17MY Vantage, it also benefits from Aston's new and long-awaited 'AMi III multimedia and sat nav system, which offers features including easier address input, faster loading times and updatable maps, plus Apple CarPlay iPhone integration.
What's it like to drive?
Few cars on sale today offer what the V12 Vantage S delivers. The concept of putting your most potent motor in your smallest model is as compelling now as it was when the original V12 Vantage was launched back in 2008. As the S is a lot sharper more powerful and more aggressive you can imagine it makes for an explosive and unforgettable drive.
We're effectively testing the gearbox rather than the whole car, but it's worth recapping what the V12 Vantage S is all about. You have a choice of suspension settings, but none are exactly pillowy. Not that you'd expect that, but this is an unashamedly hardcore car. The cockpit has that effortless blend of quality and sporting purpose that Aston does so well, and the driving postion sits you low so you feel part of the car. There's decent weight to all the controls and the steering has the added bonus of being hydraulic rather than electrically power assisted, so there's old-school consistency of feel and response to match the whole car's pure, simple focus. 
Handling-wise it offers strong grip and a supremely balanced agility that lets you cut through corners in clean, committed style. Multi-stage ESP keeps the rampant V12 reigned-in, but you need to be respectful as it'll still wag its tail in the more sporting modes. Switch it off and you're in for a brilliantly wild ride. Carbon brakes ensure massive stopping power, matched with impressive finesse. Same as it ever was, then.
What's the manual transmission like? On an emotional level it brings an immediate and more intimate sense of connection with the car. You have to think about what you're doing. You have to plan ahead and match revs with road speed in a way that paddles simply don't require you to do. If you share our love of driving, this is officially A Good Thing.
On a practical level this new dog-leg seven-speeder takes some learning, and not just because 1st gear is in a funny position. To be honest the V12 has so much grunt it'll quite happily pull away in 2nd gear, so it'll spare your blushes if muscle memory leads you to think 1st gear is in the normal place. Trickier is the tightness of the gate and a spring bias that favours the 4th/5th plane over those for 2nd/3rd and 6th/7th. In short unless you're deliberate with your upshift from 2nd to 3rd you can end up slotting 5th instead.
It's pretty annoying at first, though if you give it time you do get more comfortable and confident with the gearbox. If you aren't prepared to make the effort to get to know it then you should probably opt for the paddle-shift transmission in the first place, but the flip-side of that is if you're going to make the effort you should be rewarded with a great gearshift. The new seven-speeder isn't a great gearbox, but nor is it a deal breaker. The AMSHIFT function is great for the heel-and-toe cheat, but the full-throttle upshift is more of a gimmick. Certainly by the time we had to hand it back to Aston, the added charm and connection offered by this manual V12 Vantage S had proved very seductive indeed. 
Rivals
None. At least if you want a V12 two-seater with a manual gearbox. Porsche's 911 R shares the same ethos, but it's not a series production car. In fact it was sold-out long before it went on-sale.