Weighing 25kg less than its predecessor, the new Audi R8 Spyder, for all intents and purposes, is a slightly heavier (80kg) R8 coupe with a cloth roof in place of a sheet of aluminium.
Not only does it share the same hand built 533bbhp 5.2-litre V10 engine as the coupe, but it is also built on the same lighter, stiffer and stronger Audi Space Frame (ASF) aluminium chassis incorporating a carbon centre cell.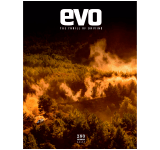 Subscribe to evo magazine
Subscribe today to have every issue of evo delivered straight to you. You'll SAVE 39% on the shop price, and get evo for its original cover price for a whole year!
The combination of that V10 and a lighter construction results in a 198mph roadster that will reach 62mph from zero in 3.6sec. Of course, being an Audi Sport product (Audi Quattro GmbH was recently renamed Audi Sport) it's four-wheel drive.
Priced from £132,370 the new R8 Spyder V10 drives headlong towards Porsche's 911 Turbo, Jaguar's F Type SVR, Mercedes recently announced GT C Roadster and the Maserati GranCabrio MC Centennial convertible (yes, it still exists). A more powerful Plus version of the Sypder is on the way, it will have the same 602bhp V10 as the R8 Plus coupe will reach 203mph and hit 62mph from a standstill in 3.3sec.
> Find out more about the Audi R8 Spyder V10 Plus
Technical highlights
Audi's 5.2-litre FSI V10 engine has been rightly praised for its scintillating performance, spine tingling soundtrack and, when needed, its placid nature. For the Spyder the V10 remains unchanged from that found in the less powerful version of the coupe.
Compared to the V10 in the old R8 that went off sale in 2014 the new engine's efficiency has been optimized. It features the latest cylinder-on-demand technology (COD) that works its socks off to improve fuel consumption by 13.7% and reduce C02 output by 10.6%. Crucially it's still dry sumped.
Its 533bhp is delivered at 7,800rpm, the 398lb ft peak arrives at 6500rpm and it produces 102bhp/per litre. Compared to its predecessor this equates to 15bhp and 7lb ft increases, a two-tenth reduction in the sprint time and an 11bhp/per tonne improvement (up from 297bhp/tonne).
The new seven-speed S tronic dual clutch gearbox is also the same one as fitted to coupe. So, as with the engine, that means improvements to the driveline refinement, shift speeds and the launch control system over the transmission in the predecessor. The lower gears are shorter than the outgoing car, with seven now a dedicated overdrive to help deliver those efficiency gains. Two modes remain for the gearbox: Drive for fully automatic mode and the most efficient driving and Sport for, well you get the picture; a pair of paddles behind the steering wheel provide full manual control.
You can adjust the engine map, gearshift speed, exhaust flaps and damper modes through the Drive Select menu, and there's a three-stage traction control system: dry, wet and snow. Four if you include turning it off altogether. Magnetic ride dampers and dynamic steering are both options, so too are carbon ceramic brakes, only the latter being fitted to our test car. As standard the R8 Spyder is fitted with 8-piston calipers at the front with 365mm disc with 356mm discs and 4-piston calipers fitted to the rear axle.
Weighing just 8kg more than the coupe at 208kg, the Spyder's new aluminium frame is 55 per cent stiffer than the old soft-top R8 and is better optimised for the role of being a roadster with improved longitudinal and transverse rigidity.
Audi Sport has continued to improve on its famed all-wheel drive layout. The R8 has always used a multi-plate Haldex clutch that's positioned between the propshaft and front differential that controls how much torque is sent to the front axle. The new car is no different, but the clutch pack is lighter, there's also new software for the quattro's digital brain and 100 per cent of the engine's torque can be channelled to just one axle if required. A mechanical locking rear differential is standard, as are a set of 19-inch wheels. A set of 20-inch items are available as an option.
Sticking with a fabric roof, the Spyder's cloth cap weighs 44kg and can open or close in under 20-sec at speeds of up to 31mph and is available in a choice of three colours. Nine standard body colours are offered plus Argus brown, which is unique to the Spyder, with five further Audi Exclusive matt finishes also available.
What's it like to drive?
Roof in place you'll be hard pressed to tell the Spyder apart from the coupe when it comes to driving. On the practical side of things there is next to no noise penalty with the roof closed, with wind and tyre roar kept to a minimum, but you can still hear that wonderful V10. Lower the rear window between the seats and the noise is amplified further still.
It's an epic motor, with a guttural deep sound at low revs that builds, and builds and builds to such a delightful wail you don't want to bring it to an end by changing gear. But when you do – bang! – it starts again, the R8 firing itself down the road at a lightening pace, drawing you in with that thoroughbred soundtrack and comical pops and bangs when you finally lift.
The cab-forward cockpit design pulls the R8 in around you, encouraging you to hustle it to the apex of tighter turns like you would a car with half the footprint. Through faster turns it's nothing but rock solid and confidence inspiring. Exciting? Not unless you start to switch off the driver aides and take some liberties, but then the R8 reminds you of its wide rear hips and the room they need to wriggle around.
The steering doesn't shout clear instructions back at you, but within a very short distance your senses are calibrated to those of the R8's front axle and you can get it turned and locked in ready for that V10's power to be poured across all four wheels. Get on the power a second too early and the nose will begin to push, too hard and all four corners claw their way through to the exit, the whole car working as one as torque sprints between axles. Get the outer front tyre loaded to the point of just breaking traction then feed in the throttle and it will run through and out of the corner will real poise, precision and detailed balance.
If this all sounds very familiar to the coupe, that's because Audi Sport set about eliminating any compromise between the coupe and Spyder. And while the former will always be the driver's choice in Audi's eyes in the new Spyder it has eliminated as much dynamic compromise as is possible.
Negatives? The standard steering has an inconsistency to it weighting, in standard mode it's too light, in Dynamic mode it's heavy for the sake of being heavy. The optional Dynamic steering (yes, there's a dynamic mode for the standard steering and an optional Dynamic steering system…) isn't a favourite either, so there's possibly more work for Audi Sport to do there.
Our test car's optional carbon brakes had a nice pedal feel and could be well modulated, but after a run down the side of a Spanish mountain pedal travel was lengthening with each application towards the end of the run.
And with the roof down? Less buffeting and wind noise than in a 911, no shakes or wobbles from the windscreen and barely a hint of flex across the body. It's hugely impressive.
We have found the optional fixed-back buckets seats to be very uncomfortable, their odd angle and unforgiving padding makes it difficult to find a relaxing position over long journeys. 
Rivals?
There are plenty. Porsche's 911 Turbo Cabriolet loses the cylinder count race but its two-turbo chargers provide it with an identical 533bhp and 103lb ft more torque. The Porsche is also half a second quicker to 62mph and at 1665kg weighs a handy 55kg less, although it will cost you at least £5000 more. Jaguar's new F Type SVR Roadster also loses out to the R8 on cylinder count, but its 5-litre supercharged V8 is more powerful at 567bhp and crushes the R8's with 516lb ft of torque. It's also £15,000 cheaper than the Audi, but can't compete with the Spyder's poise, grip and agility.
Mercedes-AMG's new GT C Roadster, with its twin-turbo hot-V V8, is more powerful (549bhp), torquier (501lb ft) and also lighter (1660kg). From Italy Maserati's GranCabrio MC Centennial is the closest rival, but its naturally aspirated V8 produces just 454bhp and 383lb ft and it weighs a portly 1898kg. You couldn't call Ferrari's California T HS a direct rival to the R8 Spyder, not just because it costs over £70,000 more than the German but it's quite possibly one of the most disappointing cars on sale today.