Like its larger S6 TDI and S7 TDI counterparts, the Audi S4 has adopted a diesel engine – at least in the European market. Strange move? Perhaps, but with diesel still a popular choice in this segment it's certainly a logical one.
It certainly did the larger cars no harm when we tested both a few months back, their 3-litre TDI engines providing plenty of power and torque and an unruffled delivery that suited each car down to the ground.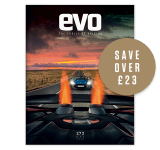 Subscribe to evo magazine
Subscribe today to have every issue of evo delivered straight to you. You'll SAVE 39% on the shop price, and get evo for its original cover price for a whole year!
Given the petrol S4 has rarely been the sharpest of tools, perhaps diesel can work well in this application too – and ideally, on UK roads.
Engine, transmission and 0-60 time
The S4 TDI may be smaller than the recently introduced S6 and S7 TDI models, but Audi hasn't held anything back with the S4's 3-litre V6 TDI engine compared to its larger siblings. It develops the same 344bhp at 3850rpm, and no less torque, with a massive 516lb ft available between 2500 and 3100rpm.
Power is sent through an eight-speed Tiptronic automatic transmission and quattro all-wheel-drive system with self-locking centre diff, while our test car also featured Audi's locking 'Sport differential' at the rear axle. In saloon form the S4 is capable of 0-62mph in 4.8sec – two-tenths quicker than an S6 Avant and just a tenth shy of the old S4, despite a small horsepower deficit – while the S4 Avant is a tenth slower than the saloon. Both reach an electronically limited 155mph.
> Click here for our review of the Audi S6 TDI Avant
As with the S6 and S7, Audi's quoted fuel economy figures show only a small improvement over the petrol predecessor, but they're also comparing apples with oranges. The new 40.9mpg combined (39.8mpg for the Avant) is recorded on the tougher and more realistic WLTP test rather than the old car's 36.7mpg on the NEDC test.
Technical highlights
Aside from the diesel engine, the S4 is the latest Audi to gain a 48V electrical system, mild-hybrid technology, and an electric compressor to supplement the conventional turbocharger. The hybrid tech uses a belt-driven starter-alternator to allow for start-stop functionality and engine-off coasting, while the latter is said to improve throttle response.
As far as more visible technology goes, the latest S4, along with the rest of the A4 range, has adopted a 10.1-inch central touchscreen standing proud of the dashboard, with updates to the MMI interface and infotainment functions. It doesn't quite have the flash of Audi's recent larger models, but while touchscreens are still far from ideal when it comes to distracted driving, the screen is at least fairly intuitive.
The interior design arguably didn't need much changing, and has done so less than the exterior, which LED headlights and tail lights aside, isn't an entirely successful update to our eyes – the fake plastic urQuattro-aping trim above the grille and token blistered arches appear rather fussy.
What's it like to drive?
Neither the S4's revised styling nor its refreshed interior are likely to set the heart racing, and pressing the starter button to hear a diesel fire into life – even a diesel six – is unlikely to prickle the senses either. It must be said though, there's character to the sound, and it's hard to fault how effective the V6 is in this application.
Below around 2000rpm the engine isn't overly enthusiastic, most easily discovered if you're changing gear manually rather than leaving the 'box in auto. Proper electric torque-fill rather than half-hearted energy recuperation would be welcome here, and the eight-speed 'box itself can be frustratingly slow to wake up if you're pulling onto a roundabout or out of a junction... before sprinting off at full chat, because you've sunk the pedal trying to get some kind of response.
> Click here for our review of the new Audi RS5 Sportback
But avoid the low-speed torpidity and ignore the last thousand rpm or so before the red line, and the S4 has real wallop. Overtaking is done in a flash and throttle response is impressive in that mid-range band, with an offbeat growl to the exhaust note.
As with the larger S6 and S7, the unit also makes the S4 a fantastic cruiser, settling down to near-silence but always a quick downchange or two away from sprinting up to autobahn speeds. Top gear is tall enough that it's overly keen to change down on motorway inclines, but whether you use the paddles or leave the transmission to its own devices, changes are always smooth and swift.
The same can be said of the S4's cornering behaviour. Not yet a car you'd take out for a sunday morning blast, Audi's chassis are nevertheless getting better and better. Dynamic steering is bordering on the likeable these days. It's low on weight and feedback (though weight increases in Dynamic mode), but there's plenty of precision, and combined with great body control and strong grip, it makes the S4 a very easy car to place.
S4s lack the S6 and S7's rear-wheel steering so there are times when the smaller car actually feels a bit less wieldy than its heavier brethren, but throwing an Avant through a snaking series of turns, feeling the rear axle share the cornering load and the sport diff bolstering corner exit traction, is surprisingly good fun. And as a package – smooth, swift, composed and frugal – the S4 has perhaps never made more sense.
Price and rivals
Pricing begins at £48,000 with the regular S4 quattro, moving up to £49,500 for the S4 Black Edition with its blackened exterior trim and piano black interior inlays, and finally £60,850 for the range-topping Vorsprung. The latter includes a significant roster of kit, from unique alloy wheels, through Audi Matrix LED headlights, standard fitment of the Sport differential, Bang & Olufsen audio and a head-up display.
You can then add £1400 to all these figures for the equivalent S4 Avant, which is surely the model most buyers will opt for, and does come with small equipment differences – the Vorsprung gets a panoramic glass roof rather than a tilt-and-slide sunroof, for instance.
Audi suggests the Mercedes-AMG C43 as the S4's closest rival. It's powered by petrol rather than diesel, lacks the Audi's torque, the equivalent saloon and estate of that car are around £2000 more and, according to Audi's figures, will depreciate a little quicker.
By virtue of its sonorous petrol engine and a slightly less aloof feel to its controls the C43 is probably the more fun of the pair. But the S4's trump card in this iteration is clearly economy, going over a third further on every gallon of fuel and costing you less to tax into the bargain. That, plus the S4 diesel's easily accessible performance, is likely to win Audi a few more fans.