Watch - 2015 Frankfurt motor show rundown - 2015 Frankfurt motor show preview - page 3
These are some of the most exciting new cars of the Frankfurt motor show. We look over more on video.
Lexus RX
Love or hate it, Lexus has one of the most distinct visual identities of any carmaker right now. The new Lexus RX is very much a part of that, and a new model is making its European debut in Frankfurt. Alongside it, Lexus will also show the facelifted GS. Both get the firm's new turbocharged four-cylinder among their engine-lineups.
Mercedes-AMG C63 S Edition 1
Mercedes has given its C63 the Edition 1 treatment, adding striking stripes and details to the super-coupe's body. The inside gets a similar reworking too, in a colour scheme that matches the C63 DTM racer (which has also just been revealed). We take a closer look at the car in the video you can find on this page.
Mercedes-Benz Concept IAA
One of the stars of Frankfurt is undoubtedly Mercedes' super-sleek Concept IAA, or 'Intelligent Aerodynamic Automobile'. With shape shifting bodywork and closable wheels, the car's drag coefficient is a slippery 0.19. Though it's very much a concept, there's little doubt that the effective technology demonstrated here will trickle onto production models in the near future.
Mercedes-Benz S-Class Cabriolet
Not only is Daimler launching one of the smallest cabriolets on the market at Frankfurt (the Smart Fortwo, below), it's launching probably the most luxurious. The new S-Class Cabriolet is based on the plutocratic coupe, and Mercedes says it's the first convertible S-Class in 44 years.
Mini Clubman
We'd not be too surprised if the new Mini Clubman is great to drive – its predecessor was, and Mini's other products all bring a smile to your face on a country road. Whether it'll bring a smile to your face sitting on the driveway is another matter – the Clubman's styling will be far more contentious than its driving characteristics.
Nissan Gripz concept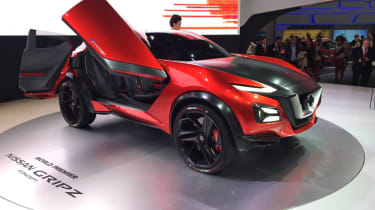 Originally only seen in a couple of teaser images, Nissan says its Gripz concept is a performance crossover. The new car could be an indication of the next-generation of Juke - a car that Nissan's chief creative officer, Shiro Nakamura, told evo would appear in concept form at an imminent motor show - but the firm is also drawing close links with the Datsun 240Z sports car.
Peugeot 308 GTi
Peugeot confirmed the final details for its hot 308 hatch - in top spec its 1.6-litre turbocharged engine produces 268bhp and 243lb ft of torque, enabling a 0 to 62mph time of 6 seconds and an electronically limited top speed of 155mph. That's pretty brisk, so we can't wait to get our hands on one.
Peugeot Fractal concept
Peugeot's angular Fractal concept is much more than just a design demonstration, it's a demonstration of cabin technology too. With touchpads, a head-up display, touchscreen and sound-delivered information (click here to find out the details), the interior provides its occupants with plenty of information. Even the seats provide kinaesthetic feedback, making the Fractal a very unusual concept indeed.
Page 4 of 2015 Frankfurt motor show preview