The new Ford Focus RS is one of the most exciting performance cars we'll see in 2016. With 345bhp and 347lb ft, it's fast. With all-wheel drive it's also grippy, yet clever electronic and mechanical tuning makes it something few other 'super-hatchbacks' in the class are: Really good fun.
But it's a long, long way from being the first RS-badged Ford, nor the first whose rear tyres will carve a different arc from its fronts.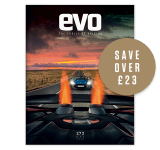 Subscribe to evo magazine
Subscribe today to have every issue of evo delivered straight to you. You'll SAVE 39% on the shop price, and get evo for its original cover price for a whole year!
Ford recently released an infographic that covered each and every RS it's made over the years. From that graphic we've picked eleven cars that best represent the Rallye Sport badge - and why the latest car does well to support the weight of expectation on its shoulders.
Escort Mexico Mk1
The Mk1 Escort Mexico might not have had 'RS' in its name but it had all the credentials. It was built to celebrate the Mk1 winning the 1970 London to Mexico rally. Its stiffer shell, improved suspension and heavy-duty transmission were shared with the RS1600 and built by Ford's AVO (Advanced Vehicle Operations) department.
It made do with Ford's fairly ordinary 1.6 'Crossflow' engine from the Cortina and Capri – developing 85bhp at 5500rpm – but that made it strong, durable and easy to maintain. Ideal characteristics for winning a long-distance rally.
Escort RS2000 Mk1
The Mk1 RS1600 was a purpose-built homologation car, built to win rallies, but its Cosworth-developed, 16 valve, BDA engine made it expensive. Ford saw a gap in its Escort lineup and so the RS2000 was built to sit between the Mexico and the RS1600. Visually, the RS2000 was set apart from other Escorts with a set of wide stripes down the side and across the bonnet.
Like the name suggests, the RS2000 was bestowed with a 2-litre engine, but with only 8 valves and a single carb it still couldn't match the RS1600 for power – 99bhp played the 1.6-litre car's 113bhp. It may not have been built to win rallies, but that hasn't stopped the RS2000 being used in competition. The Mk1 RS2000 won the 1974 and 1975 Tour of Britain, driven by Roger Clarke and Tony Pond respectively.
Capri RS2600 Mk1
Despite RS standing for Rallye Sport, the RS2600 was built for circuit racing. Ford used the RS Capri to battle BMW's CS 2800 in Group 2 touring car racing across Europe. In racing trim the Capri sprouted wide arches to accommodate ludicrously wide (especially considering their 13in diameter) wheels – 10in fronts and 11.5in rears.
Ford and BMW continued to fight on the circuit throughout the 1970s. The fierce competition led to each company creating the ultimate incarnation of their touring cars: BMW developed the CS into the famous 3.0 CSL 'Batmobile', while Ford evolved the Capri into the RS3000.
Escort RS2000 Mk2
Much like the Mk1, the RS2000 Escort Mk2 was not a purpose-built rally car, but has since enjoyed lots of success in the hands of privateers. Rather than just a set of stripes, the Mk2 RS2000 received a new and contemporary slanted front end design.
However, the four headlights and 'droop-snoot' front is not favoured by those competing in rallies; most opt for the simpler, squarer front end from the standard Escort – just like Ford did for its homologation special RS1800. The one above might be familiar to you if you're a reader of the magazine - it's the one our own Henry Catchpole goes rallying in.
RS200
With such a rich history in rallying, Ford had to get involved in the phenomenon that was Group B. Group B regulations allowed manufactures almost free reign over the design and layout of their rally cars, just as long as 500 roadgoing versions were made. Ford created the bespoke RS200, possibly the most advanced Group B car. Its fibreglass body covered a 1.8-litre turbocharged engine, four wheel drive with driver adjustable torque distribution and double wishbone suspension with twin springs and dampers at each corner.
The RS200's rally career was short-lived as Group B was outlawed after some tragic accidents, and the Ford only had chance to complete one entire season. Its competition career did not end there though; many RS200s continued to be used in rallycross and hill climb competitions. Here they achieved great success and were developed into even more extreme competition cars.
> Click here to discover six more of the greatest-ever RS Fords