Sitting before me is a trio that could be from another planet: a C-type and a D-type, with the unmistakeable form of an XJR-9 in the middle. They span nearly four decades, and were built for the same purpose: to race at Le Mans.
They won it, too ­– seven times between them. So it's astonishing to think that for years Jag had to bat off reasonable accusations that it neglected its rich heritage. You simply cannot put a price on such a history, and it seemed the company finally clocked that when in 2015 its Heritage division delivered the first of six exquisite Lightweight E-type 'continuation' models. Driving one almost rendered former evo scribe Jethro Bovingdon speechless, though he did eventually recover to put pen to paper on the experience.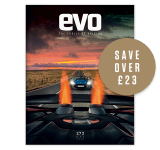 Subscribe to evo magazine
Subscribe today to have every issue of evo delivered straight to you. You'll SAVE 39% on the shop price, and get evo for its original cover price for a whole year!
Things have since moved quickly, and today the three racers make up a welcome party to guests arriving for the opening of Jaguar Land Rover's new, £7million 'Classic Works' division at Coventry. It's an ambitious but mouth-watering proposition, not to mention a monumental commitment from the company to its backstory. The venture has involved consolidating existing classic services staff from more than ten locations dotted around the Midlands into one facility, and indeed not a single person was laid-off during the transition.
The goal of Classic Works is to support owners of vintage JLR cars (though technically this includes the XK8) by offering restorations, maintenance and a supply of genuine parts, many of which have had to be remanufactured after decades out of production. So far, more than 30,000 such parts are available, and gazing from the reception area through a panoramic glass pane towards the centre's dedicated XJ220 service area – six sultry silhouettes in various states of undress – we're reminded of just how seriously JLR now takes the wellbeing of its classic cars and their lucky owners. 
Pirelli was recently commissioned to develop 'modern' tyres for the supercar, which was welcome news as many examples are still, a little worryingly, on their original Bridgestones yet capable of well in excess of 200mph. At £5000 a set this is pricey rubber, but it'll allow the cars to driven as intended, and that's the whole point of the Classic Works. As well as helping to keep the 1.5 million classic Jags and Land Rovers around the world in good order, the department will also maintain the company's dizzying private collection of machinery and act as a showroom for finished E-types, XJSs and the like. Yes, you'll be able to walk in off the street and buy the fruits of Classic Works' labours.  
Stepping from the urbane entrance area into the workshop proper is a surreal experience. 'Workshop' is a bit of misnomer. It's no quaint setup dotted with oily rags and teacups. It's a vast, neutral space with 54 bays and not a torque-wrench out of place. Very corporate, but perhaps that's what clients spending more than £150,000 on an E-type restoration want. It's certainly in keeping with the Classic Works' clinical approach to maintaining older cars, as the director of the department, Tim Hannig, explains.    
'We do restorations slightly differently. We do it in an "industrially inspired" way. We take the car apart, and then all the bits and pieces are processed by experts on that area of the car. It means we don't have only three people restoring the whole car, with the good steel guy that makes bad leather seats. No, we have dedicated trimmers, engine experts, gearbox experts and so on.'
The restoration process takes around nine months (and there's currently a ten-month wait before work can start on your car) and begins with a full strip-down and a 121-point inspection. Every individual component of the car is catalogued before being sent off to whichever branch of Classic Works is tasked with returning it to perfect fettle. As far as we're aware, that level of diligence as part of a commercial operation is unprecedented.
After that, the parts are sent to dedicated assembly experts, who turn them into something very, very special – a classic Jaguar or Land Rover, in perfect condition, built for the second time by Jaguar Land Rover. Even the driving dynamics are true to the original, and Le Mans winner Andy Wallace, whose XJR-9 it is sat out front, has been brought in as chief test driver. We'd bet there isn't a petrolhead in existence that wouldn't want their pride and joy to undergo this kind of process, and a bare ladder chassis at one end of a production line and a gorgeous Series 1 with canvas tilt at t'other neatly illustrates the procedure.
We raise the question of handling with John Edwards, the man in charge of JLR's Special Operations. Could the team behind cars such as the Project 7 F-type 'optimise' an XJR in the same way that, say, RUF tinkers with a 964 Porsche? The answer is that yes, they thought about it and undoubtedly could, but no, it won't be happening. Classic Works will accommodate certain low-key upgrades, but if you want a fire-breathing classic Jag you'll have to try and get onto the list for a proper continuation model, like one of the nine impossibly curvaceous XKSSs currently in assembly. And good luck with that.
'Our starting point is the authentic setup,' says Hannig, 'but where we have opportunities to upgrade and the customer wants that, we do it. For example, the Series 2 E-type's brakes are much stronger than the Series 1's, and it was all tested in period, so we can use them now.'
Edwards suggests that alongside restoring cars as part of 'Reborn Legends' programme, there will be further 'Legends Continued' joining the Lightweight E-types and XKSSs. He's tight-lipped, perhaps uncertain, on what those cars that might be, though, so we're happy to pass on any suggestions readers of evo might have. In the meantime, anyone can visit the Classic Works showroom, and come September there will be the option of a three-hour tour for £49.