What is it?
A Jaguar C-X75…sort of. The original 2010 show car featured a terrifically complicated hybrid drivetrain that used four electric motors, one driving each wheel. These motors were powered by batteries that took their charge from a pair of small gas turbines.
That original concept eventually morphed into a pre-production prototype, which was powered by a more conventional petrol-electric hybrid. Developed in conjunction with Williams Advanced Engineering – the applied technologies division of the Formula 1 Grand Prix team – that version of the C-X75 used a turbocharged and supercharged 1.6-litre four-cylinder with one motor on each axle.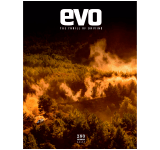 Subscribe to evo magazine
Subscribe today to have every issue of evo delivered straight to you. You'll SAVE 39% on the shop price, and get evo for its original cover price for a whole year!
Both versions were built around a carbon fibre tub. The C-X75 was on course to go into limited production as a direct rival to the likes of the McLaren P1 and Porsche 918 Spyder, but Jaguar canned the project in 2012, citing the weak state of the global economy.
The C-X75 was handed a lifeline – of sorts – when the producers of the latest James Bond film, Spectre, cast it as the villain car.
Technical highlights
The prototype models were used for the low-speed and static shots. They have lined cabins and the exteriors are finished to a high standard, but reasonably enough Jaguar and the producers agreed that those cars were too valuable for the extreme stunt driving makes up a proper Bond car chase sequence.
The solution was to build a number of cars specifically for the punishing drift, jump and handbrake turn shots. Working again with Williams Advanced Engineering, Jaguar built five stunt cars. They're built around a tubular spaceframe chassis with composite body panels. The tubing is so thick you could crash into a cathedral and come out the other side in pretty good shape.
Suspended on double wishbones all round the stunt cars use the same springs and dampers as a Porsche 911 GT3 tarmac rally car. Landing the cars softly from jumps was one of the main objectives, so they have long-travel, droopy suspension. The cars are also fitted with hydraulic handbrakes for the most dramatic handbrake turns.
The cars have no ABS or traction control, let alone switchable drive modes.
Engine, transmission and 0-60mph time
Rather than a costly and complicated hybrid drivetrain the C-X75 stunt cars use the 5-litre supercharged V8 from Jaguar's F-type. It's a reliable, cost-effective unit that delivers enormous power and torque. The F-type's eight-speed automatic gearbox, however, is too long for the C-X75's mid-engined configuration. The stunt cars therefore use the same sequential transmission as McLaren's 650S GT3 competition car.
The V8 engine was actually found to be too powerful. For one thing the stock 542bhp and 502lb ft made the C-X75 very snappy on the limit, and for another that huge torque output chewed through driveshafts like they were made of Bond's commitment to celibacy. The long-travel suspension necessitated high-angle driveshafts, which aren't rated for such a high level of torque.
The solution was to limit torque output through the gears – first and second are limited to 350lb ft, with 450lb ft arriving in third and 500lb ft coming in from fourth gear onwards. Drive goes to the rear wheels only via a mechanical limited-slip differential.
Jaguar quotes a weight in the region of 1500kg, which would suggest a sub-four-second 0-60mph time.
What's it like to drive?
Given the sort of precision driving the car is purpose-built for – drifting through Vatican City, for instance – it's important that the stunt C-X75 is easy to operate, rather than being tricky or recalcitrant. For that reason it uses a centrifugal clutch – which means it can't be stalled – and the steering is electrically-assisted.
The car is no more taxing at low speeds than an F-type, then, aside from it being rather hot and noisy within the un-trimmed cabin. What's most impressive about the C-X75 stunt car, though, is the well-resolved driving experience. For such a low-volume, hard-working car to be as cohesive as this is both surprising and impressive.
The steering is crisp and intuitive while the front axle finds very strong turn-in bite on its Michelin Pilot Super Sport tyres. Despite the rally-derived suspension there's very taut body control and tight roll resistance, which gives the C-X75 the immediacy and agility of a production-specification supercar.
The driving position feels very natural and the brakes are easy to modulate, despite lacking ABS. Were it not for the raw and stripped-out interior you could well believe that this C-X75 was in the latter stages of development before being signed off for production.
The overriding impression, though, is one of simple, honest fun. At corner exit the car can be coaxed into very fluid, controllable powerslides. The torque-limiting means that throttle inputs at corner exit are much less critical than might otherwise be, which makes the car readable and progressive under power. The mechanical LSD also behaves very predictably in this moment. With a pointy natural chassis balance the rear axle will quite readily start to mobilise itself off-throttle, though, which does require the driver to be alert.
The gearbox uses an unusual shifter mechanism. It's a single, small paddle mounted to the left side of the steering column. Pushing it away changes down a gear and pulling it towards you changes up a gear. Given that in a conventional paddle shift car that second action would initiate a down-change you might imagine that the system would be counterintuitive, but it actually works very well indeed on the go.
The gearshifts are quick and clean, throttle response is very sharp and performance is strong without being really shocking.
All too often these days performance cars are smothered by their own multitude of driver aids and drive modes, or the complexity of their drivetrains. The C-X75 is a wonderfully simple machine. Built to be tough, it's happiest when being slung this way and that, when being hung right over the edge and thrashed to within an inch of its life.
It's not intimidating or particularly tricky to drive hard. In fact, it delivers one of the year's purest, most entertaining driving experiences. Stunt drivers have never had it so good.
Rivals
The C-X75's greatest rival is, of course, the Bond-driven Aston Martin DB10. Read our impressions of that car here.