What is it?
Jaguar's stillborn hybrid hypercar-cum-technology showcase. Having taken the painful but pragmatic decision to abort the production version thanks to the flaky economy, Jaguar continued to develop the car as a means of exploring the outer limits of future 'downsizing' technology. Now they've let us drive a prototype. Nice.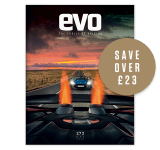 Subscribe to evo magazine
Subscribe today to have every issue of evo delivered straight to you. You'll SAVE 39% on the shop price, and get evo for its original cover price for a whole year!
Technical highlights?
Like all the new breed of hybrid hypercar, the C-X75 is an incredibly complex machine. Unlike the Porsche 918 Spyder, LaFerrari and McLaren P1, which employ varying levels of hybrid tech alongside big power, large capacity, multi-cylinder petrol engines, the C-X75 fully embraced the whole downsized ethos. The original four-point mission statement for the car is as simple as it is remarkable: The only fixed targets were for the finished car to look like the original design concept, to be Veyron-quick to 100mph, to have the same CO2 figure as a Toyota Prius and the same zero emission range as a GM Volt.
To achieve this Jaguar packaged an equally ambitious propulsion system, comprising a twin-charged (supercharger and turbocharger) 1.6-litre in-line four-cylinder petrol engine. Good for 500bhp and revving to 10,200rpm it's an extraordinary engine born from F1 technology. This engine nestles between the monster battery pack that powers a pair of 190bhp electric motors, which combine to give the C-X75 its 900bhp headline total.
With one electric motor powering the front axle, the other supplementing the petrol engine to power the rear axle, the C-X75 is all-wheel drive. A bespoke (and tiny) 7-speed single-clutch paddleshift gearbox completes the super-trick drivetrain.
What's it like to drive?
Sensational. In zero-emission electric-only mode it feels quicker and more alert than the 918 Spyder. It also sounds better, thanks to an amusing sounds generator that attempts to give some impression of 'engine' noise to mask the otherwise unpleasant sound of wind noise and stones rattling in the wheelarches. The Star Wars-style noises are somewhat tongue-in-cheek, but bizarrely they do help engage you on a sensory level.
Despite initial fears the diminutive 1.6-litre engine would lack the charisma cars at this level demand, it has real character, burbling and gurgling like a highly boosted Group B engine at idle, then screaming like a single-seater at high revs. It actually sounds like a flat-plane crank V8 once it's really singing, and it's smooth as you like. There's a remarkable lack of intertia, so it has sensational throttle response despite relying heavily on forced induction (up to 2.4 bar) to develop 313bhp-per-litre, and the electric motors do a brilliant job of compensating for any lack of muscle at low revs.
The gearshifts isn't quite as instantaneous as the 918 Spyder's PDK 'box, but it's so close as to make little difference. Crucially it feels lighter on its feet than the Porsche, and though the steering (EPAS) needs a lot of calibration work to match the sensational feel of the Spyder, the overall balance, ride and sense of connection is very, very impressive. Like the 918 Spyder one of the biggest challenges in making these hybrid hypercars work is achieving consistent brake feel. The Jaguar's brakes are better than the truly scary stoppers on the Porsche, but they still don't have the clarity of feel or linearity of response you need in a car this quick. And yes, it is quick with a capital F.
Despite never having driven the car – or the Gaydon test track before – it felt natural and comfortable to be chasing 200mph on the long back straight.
How does it compare?
Very well. In pure technology terms it is the most advanced of an extraordinary bunch, with the energy density of the batteries and the size/output ratio of the motors being standard-setting. There's also something very impressive about Jaguar's total commitment to building a genuinely groundbreaking supercar that breaks with tradition.
The headline power and performance figures are on a par with the Porsche, as is its full plug-in hybrid capability. Where it moves the game on is in its obsessive pursuit of efficiency. Many people – myself included – wore furrowed brows when Jaguar announced the 1.6-litre four-cylinder engine, but when that engine borrows heavily from Formula One's recently shelved engine concept it's like nothing you've ever experienced before. That alone places the C-X75 in a class of its own, but when you factor-in its faithfulness to the design of the original 2011 Paris Show concept (evo office consensus is the later prototype actually looks better than the original concept) you have a compelling car.
Jaguar's programme engineers are the first to admit they would still have plenty of work to do were the C-X75 to reach production, but from what we've experienced – and what we know of the near-production 918 Spyder – it's already blessed with formidable ability and desirability. All of which makes the decision to abort the programme all the more heartbreaking.
Anything else I need to know?
One of the C-X75's main inspirations was the XJ13 from the 1960s. This was also a stillborn project, created to race at Le Mans, but rendered obsolete and uncompetitive by rule changes before it had a chance to race. That didn't stop it becoming one of Jaguar's most iconic cars. On the evidence of our test drive, while it's a tragedy we won't be seeing the C-X75 enter production, it too seems set to attain mythical status and leave us with the tantalising legacy of what might have been.
Specifications
| | |
| --- | --- |
| Engine | 1.6-litre turbocharged and supercharged in-line four-cylinder petrol, with 2 x 150 kW electric motors |
| Max power | 502bhp @ 10,000rpm (petrol only); 900bhp (combined petrol and electric) |
| Max torque | 738lb ft (combined) |
| Top speed | 200+mph (claimed) |
| On sale | Never |