It was not so long ago that the Toyota Prius and Honda Insight were the only cars associated with the word hybrid - how quickly things have changed, and in less than 20 years. In car development terms, that's about three standard model cycles, yet hybrids have proliferated across the industry, the technology becoming a staple of models ranging from cheap city runabouts to the most powerful supercars and hypercars.
The first jump in prominence for hybrid hypercars came with the so-called holy trinity in 2013 made up of the Porsche 918 Spyder, McLaren P1 and LaFerrari. Coming up to 2021 it's the turn of Mercedes-AMG and Aston Martin to explore the realms of lighter, high performance hybrid applications, as the traditional supercar players begin spreading their hybrid learnings to their more mainstream model ranges.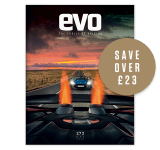 Subscribe to evo magazine
Subscribe today to have every issue of evo delivered straight to you. You'll SAVE 39% on the shop price, and get evo for its original cover price for a whole year!
Ferrari has got the ball rolling with its first series-production hybrid model, the new SF90, but McLaren's mainstream hybrid applications have been put on pause as it battles through some financial issues. Still, the Speedtail expands on the P1's drive system, while next year we'll see a new Sports Series model with a hybridised V6 breaking McLaren's reliance on the Ricardo-built V8 that's been in use since that first McLaren Automotive MP4-12C. Porsche's been more pragmatic about its approach to hybrid, introducing it to its passenger car range in the Panamera and Cayenne.
Elsewhere in the performance car arena Gordon Murray Automotive's less-is-more mentality has found space for a mild-hybrid system, while Lamborghini's taken its own route by employing a supercapacitor rather than battery in its mild-hybrid, limited-run Sian. There's more to come in the near-future too, but for now, in this list are the fastest hybrid cars in the world, which now also happen to be the fastest cars in the world, period.
Aston Martin Valkyrie 
The Valkyrie has been a tough development process for Aston Martin, but then a groundbreaking hypercar is rarely straightforward to bring to market. As Aston continues to battle through wider issues of financial pain and a tough economy, the Valkyrie project has continued to wade through development as it approaches 2021. The Valkyrie has a compact hybrid system that banks on lightweight batteries and a small electric motor to provide a subtle KERS-like kick where desired. 
While its reliance on electric power is less significant than that of the Ferrari, McLaren and Porsche trio - and indeed the Mercedes-AMG Project 1 - its compact and lightweight construction make it an interesting inclusion in what is billed as a super-high performance hypercar with race car-like ability on track. 
The Valkyrie's nuanced application of electrification is in-keeping with its ultimate performance mantra in that it only uses electric power to boost the Cosworth V12 engine that does without the turbochargers used by the Merc and McLarens. 
Mercedes-AMG Project 1
The Mercedes answer to the Valkyrie has been a high stakes game for the German brand as it works to maintain a direct line to its Formula 1 success in the Project 1's development. That's because unlike the Valkyrie's made-to-measure V12 (by Cosworth) the Project 1 has been promised to use a derivative of the 1.6-litre turbocharged V6 from the F1 car. 
The powertrain is also hybridised with a chunkier three-motor electrical setup that is able to act as a KERS-like push-to-pass system while also providing added grunt across the V6 engine's substantial rev-band.
Few car manufacturers have successfully employed a Formula 1 derived engine before, a notable exception being the Ferrari F50. With added hybrid complexity on top of the highly-strung nature of F1 engines, it isn't surprising that even an automotive development powerhouse like AMG has come across big issues and delays to the project. 
Gordon Murray Automotive T.50
GMA has taken a similar approach to the Aston Martin Valkyrie in utilising a Cosworth-built high-revving V12 engine, but in the T.50 engineers have used the hybrid system to streamline the combustion engine's operations. Rather than having a KERS-like push, it instead uses a lithium ion battery to power a starter motor and generator which functions on a 48V electrical system. This system is both lighter and more capable than a traditional 12V arrangement, reducing parasitic losses of the associated accessory belts from the front of the engine to allow more of the engine's power to be used for pure propulsion.
This has been done in line with the T.50's key mantra - putting the driver first. The car combines simplified elements such as a manual transmission, rear-wheel drive and a pared-back cabin with state-of-the-art weight saving measures and Gordon Murray's trademark central driving position. For a hybrid system to be employed by GMA is a testament to the advancement of the technology in recent years, considering hybrid is so often associated with big and heavy modern cars. 
McLaren Speedtail
Like all McLaren special-series models, the Speedtail had a very specific set of targets for its development. Where the Senna is track-focused, the Speedtail is all about straight-line speed, which is why it's returned to the use of a hybrid system derived from that of the original P1. Like the P1, Speedtail is able to travel for short distances on electric power alone, but will quickly revert to petrol as the lithium ion battery depletes. 
This is a more substantial application of hybridisation than the models above, defined more by its 230kW electric motor than the tiny 1.6kWh battery pack. Despite the small size of that battery, it's four times more power dense than the P1s. This is combined with the familiar twin-turbo V8 engine and together the pair produce a 1055bhp peak power output with a peak of 774lb ft of torque. 
Ferrari SF90 Stradale
The Ferrari SF90 has the biggest reliance on electric motors in this group of high performance hybrids, utilising a total of three electric motors and 8kWh battery pack in addition to a 3.9-litre twin-turbo V8 engine. The technical layout is a complex one, similar ironically to the Porsche 918 Spyder, but with even more punch. 
The front axle is powered by two individual electric wheel motors that also remove the need for a mechanical reverse gear. This arrangement is complemented by another electric motor sandwiched between the V8 and dual-clutch transmission. 
The layout makes the 986bhp SF90 Stradale all-wheel drive, a first for a mid-engined Ferrari, and only the second overall after the FF/GTC4 Lusso GT. Like the Speedtail, it can also run in pure electric mode for short distances and, thanks to the more substantial battery pack, will do so to a 15-mile distance (roughly). This is the first mass productionised example of the hybrid expertise gained from the LaFerrari, we suspect it won't be long until we see another.
Lamborghini Sian
Lamborghini's Sian is the outlier in this group due to its lack of a traditional battery, instead Lamborghini has, as it so often does, gone its own way and utilised the sci-fi sounding Supercapacitor. 
A supercapacitor works in a similar fashion to a battery, but rather than slowly feeding its energy to and from an electric motor, a supercapacitor dumps all of its energy out at once, and then recharges with equal ferocity.
In cars, this means that the supercapacitor can expel and recharge with every cycle of acceleration and braking, allowing the system to be compact, and therefore lightweight. The electric punch given by the Sian's 34bhp electric motor doesn't have the impact on overall performance of the system in the Ferrari SF90, for instance, but if it extends the life of the naturally-aspirated V12 engine, it's an exercise worth undertaking.