Seldom is it you hear a complaint of a car that's simply too powerful. One of the great thrills of driving is pinning the accelerator to the bulkhead with abandon unleashing all the power a car has to offer. Sometimes though, as the evo team has discovered, this turns a moment of excitement into one of fear as you open the perfomance tap.
Seven evo staffers recount experiences of corruptive and-or overwhelming power in a wide variety of cars, such as a clapped-out fast Ford,a jet-powered land-speed record breaker and an over-boosted Porsche 911 Turbo.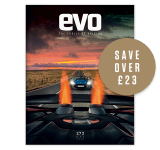 Subscribe to evo magazine
Subscribe today to have every issue of evo delivered straight to you. You'll SAVE 39% on the shop price, and get evo for its original cover price for a whole year!
200bhp Ford Escrot RS Turbo
Stuart Gallagher
Someone on Performance Ford thought it was a good idea. Take one Mk4 Escort RS Turbo and tune its crude 1.6-litre CVH engine to within an inch of its life. The goal was to add 70bhp to the rather weedy 130bhp standard figure. For today's turbo engines this would require little more than some beefier injectors, additional cooling and an ECU remap. In 1997 it took six months of engine-building, many broken parts (cams and pistons, mainly), a turbo you could rent out as a bijou fl at in London, an induction kit you'd struggle to fit in a dustbin and an exhaust to rival the Dartford Tunnel for girth.
The result? We hit 200bhp and it was awful. Driveshafts snapped, engine mounts broke, and when those 200 rampant horses came crashing in at 5000rpm it was a traction-free zone for the next 500rpm, so you'd either change gear and wait for it to all happen again or the clutch would cry 'enough', which it did with predictable regularity. Rubbish car, rubbish idea.
'Vampire' jet car
Colin Goodwin
For lots of power you can't beat a jet engine, particularly if it's fitted with an afterburner. Before Richard Hammond tried to off himself in it, I drove the Vampire jet car at Bruntingthorpe. I did a few runs without the afterburner but the car only went to 205mph (in a measured quarter-mile). I couldn't go home without knowing what it would be like at full beans. So they let me.
'How will I know if the afterburner is lit?' I asked. 'You'll know,' they replied, with large grins. And they were right. Over 270mph in around seven seconds. What's more, the faster a jet goes, the more air it gulps and the more power it makes. When I pulled the fuel cut-off and parachute release lever it was still accelerating (it still holds the British land speed record at a mean speed of 300.3mph, and Hammond hit 314mph before his accident). Unfortunately, as much as I would have liked to have seen 300mph, the sight of a field of unsold Vauxhalls at the end of the runway was getting larger.
BMW M6 Competition Pack
Will Beaumont
Possibly not the most powerful car I've driven, but the BMW M6 Competition Package trying to send 567bhp onto cold, wet tarmac through rear tyres that had taken a hammering on track just a day before certainly felt like one of the silliest. It broke traction with such ease that it felt like the tyres were made of ice. Wheelspin was constant and it meant the car's angle to the road wasn't dictated by the steering wheel, rather by gravity sucking the slipping back end down towards the lowest part of the road. Even traction control ran out of ideas that day.
600bhp Morris Minor
David Vivian
The annual Brighton Speed Trials were a good source of bonkers machinery for us motoring journalists to figure back in the late '80s. James Tiller's battered but brutal Allard J2 was a fun day out – less so, maybe, for snapper Peter Burn who was roped to the roll-bar in lieu of a passenger seat and treated to a 165mph mile- straight run when James forgot he was there. My favourite, though, has to be Nick Mann's 600bhp Morris Minor that had a railway sleeper bolted to the back to aid traction and returned acceleration stats to make a Ferrari F40 blush.
700bhp Porsche 964 Turbo
Adam Towler
Bruntingthorpe, and a 3.3-litre Turbo modified by a well-regarded race engineer at a cost similar to purchasing a Porsche Carrera GT, most of it spent on the engine. Earlier, unbeknown to us, some fine-tuning of the mapping had accidentally removed the 1.5bar boost limiter (at which point it already had over 700bhp). Second gear, full throttle, and utter insanity breaks loose, complemented by a shriek from the engineer in the passenger seat as 2bar is exceeded. I thought the little 911 might actually topple over backwards. Later, back on 1.5bar, it hit 212mph.
Ford Cortina Cosworth
John Barker
The turbo chattered madly as the corner rushed to meet us. I shouted to my Performance Car colleague in the passenger seat: 'I don't want to worry you,' (I was lying) 'but the brakes have gone!' (I wasn't lying.) The ratty Mk3 Cortina was running a snorty 300bhp-plus Cossie RS motor but, as it was a drag racer, feeble original brakes. We'd easily passed Meaden wringing out a 911 3.3 Turbo but now, it seemed, we were about to become part of the scenery. Britain's Scariest Car? Well, the traces from our heart monitors showed an impressive spike.
Sutton Mustang CS700
Antony Ingram
Global car-makers have got pretty good at designing chassis and drivetrains that cope with big power, though the old Mercedes-AMG E63 S always felt rampantly, clammy-palms fast. But tuning firms can still throw up surprises. The supercharged Sutton Mustang CS700's surprise wasn't the way it drew in the horizon but the black smoke that filled my mirrors (and the 'check engine' light that illuminated on the dash) the first time I gave it a prod. This one wasn't even running the full 690bhp that Sutton eventually wants to extract.