30,420 miles in just 18 months. That must be some sort of record for a Ferrari. On the one hand it's meant that I've seen rather too many bills land on my desk; on the other, those miles have been among the most enjoyable I've ever driven. But has the monumental spend been worth it?
S858 XAN arrived at evo at the tail end of 2004. December is perhaps not the best time of year to start driving a car as glamorous as a Ferrari – most exotics tend to be locked away outside the sunny 'driving season' – but the flipside is that prices tend to be at their lowest during the darkest months, and £60,000 for a 15,100-mile 550 Maranello seemed like very good value indeed at the time.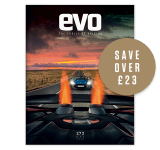 Subscribe to evo magazine
Subscribe today to have every issue of evo delivered straight to you. You'll SAVE 39% on the shop price, and get evo for its original cover price for a whole year!
The car had a full Ferrari service history (with the last service having been carried out just 200 miles previously), and it was red – in my view the only choice for your very first Ferrari. Only two faults were apparent at the time of purchase. On the bodywork front there was a slight bubbling of corrosion on both the inside of the bonnet and where the nearside rear wing meets the rear valance – something I never got round to having fixed as neither area got any bigger, such is the peculiar nature of corroding aluminium.
Inside, the leather covering the dash had peeled away from the base of the windscreen. Apparently Ferrari changed its glue supplier briefly, and any car built during this period (including, unfortunately, this one) that is left parked in glaring sunlight can suffer from the glue melting in the heat, allowing the leather to shrink back away from the screen. From the driver's seat it wasn't obvious, but from the outside it got to the stage where I recently decided to book the car in to have it repaired at an estimated cost of £800.
With the 550 pressed into service as my everyday, whatever-the-weather steed, things were soon going swimmingly, the car proving to be a very fine companion indeed. The seats, in particular, deserve a special mention as some of the best you'll encounter in any car, anywhere. Proper side bolsters hold you in place when pressing on, yet they remain comfortable far longer than the optional sports seats I had lusted after when first looking for a car.
Another nice surprise was the range afforded by the 550's enormous 100-litre-plus fuel tank. Combined with typical fuel consumption in the 16-18mpg range, 320 miles per tank was the norm, and I even ventured beyond 360 miles on some occasions. That makes a big difference when you're using a car to cover big distances regularly.
One somewhat more costly thing that quickly got my attention was the 550's appetite for tyres. Never before have I owned a car that could make a tyre depot so happy. Around 6000 miles was the limit for a set of Pirelli P Zero Rossos; the rears would be visibly worn by then, while the fronts would seem OK at a casual glance but would be badly worn on their inside edge, causing serious deterioration in the handling. I had the geometry checked several times and it was always spot-on, so this type of uneven wear at the front would seem to be normal. But at this wear rate, and with tyres costing around £900 for a set of four, it would mean keeping the 550 in tyres alone was going to cost 15p per mile!
After working through three sets of Pirellis, I decided to give some Michelin Pilot Sports a try instead. While there was a significant decrease in the amount of grip, they lasted almost twice as long as each set of Pirellis had. Another advantage was that the 550's playful handling could be enjoyed at much lower speeds. In fact, I've never before encountered such a gulf between two makes of tyres on the same car.
More often than not I would take the Maranello the long way home. Its ability to shrink around you meant that it never felt in the least bit intimidating to hustle down a typical B-road. That may well explain why the tyres didn't last too well, but with the car being so enjoyable to drive on such roads, I could never resist. I'm no 'driving god', as the bloke with the white teeth on the telly might put it, but not once during those 30,000 miles did I ever encounter that horrible feeling when a car does something unexpected when you're pushing on. Yes, the rear would soon step out, but it did so progressively, so stopping it getting out of hand with a slight lift and a bit of corrective lock was child's play. Never once did it hint at snapping back the other way, either. For a 200mph, near-500bhp, rear-drive car, it was nothing short of remarkable.
Obviously, the enormous servicing costs can't go without a mention here. While we spent a small fortune keeping the 550 in fine fettle, that's mainly because we packed in so many miles. Do 12,500 miles a year and you can expect the annual service bill to be around £1800. On top of that, you'll need to budget another £400 every third year to replace the cambelts, but the really scary bill comes at the 45,000-mile point, when all four lambda sensors need changing, adding a whopping £1500 to the usual servicing cost.
Other costs for our car included a Ferrari Power Train warranty, which saved us a hefty bill for a new gearbox but seems to be of dubious value as a car gets older due to the increasingly limited cover. Meanwhile the 550's only breakdown, caused by the failure of a £27 fuel cut-off solenoid, resulted in a bill showing a ridiculous £634 charge for labour.
In July 2005 I had a Permagard paint protection treatment applied to the Ferrari. It seemed to work very well for some time, but after around eight months there were signs that water wasn't beading up quite so readily, the treatment clearly having started to wear off. Still, it was a really tough test in view of the life that this particular 550 lived, so at £145 for eight months' protection, it still seemed pretty good value.
Eighteen months after the Ferrari arrived, I was very tempted to continue running it at the same frantic pace for another 30,000 miles, but it's a Ferrari and deep down I couldn't bring myself to do it. The 550 had been such a special car, it really didn't deserve to be treated as an everyday hack any longer. It ended on a high, still running superbly, and that's how I want to remember it.
Taking servicing, tyres, fuel and depreciation into account, the overall running costs worked out at 105p per mile. That might sound like a chunky figure, but according to Glass's Guide it's identical to the running cost of a brand new BMW 535d M Sport, and a world away from something like a BMW M6 (192p) or Aston Martin Vanquish (364p). And to help reduce costs you could check out the Ferrari clubs and befriend one of the many Ferrari specialists out there, rather than using a franchised dealer.
Even at over £1 per mile, it was more than worth it. I'm sure the 550 will go on to be a classic Ferrari one day (if it isn't already), in the same way that the '60s Daytona became one over time. At today's market value of around £60,000 for a low-mileage 550, they look spectacular value too.
The only trouble I'm having now is deciding what on earth to replace the 550 with. It's not an easy decision, but I think I have the answer: something Italian again, and with a V12 engine too. Of course, it's going to need to be pretty special to top running a Ferrari 550 on a daily basis, but I think this one just might be able to do it…
Find used Ferrari 550's for sale on the Classic and Performance Car site here.
Running Costs
| | |
| --- | --- |
| Date acquired | December 2004 |
| Total mileage | 30,420 |
| Duration of test | 18 months |
| Servicing costs | £8025.08 |
| Consumables | £2297.26 (tyres) |
| Extra costs | £2335.90 (warranty), £145 (Permagard) |
| Price new | £60,000 |
| Trade in value | £48,000 |
| Depreciation | £12,000 |