Ford is a brand synonymous with many things across the motoring spectrum, from revolutionising the production line that's been a bedrock of modern automotive manufacturing, to modelling socio-economic norms both in the UK and abroad. 
But what makes Ford one of the most celebrated and important manufacturers in our world is its passion and commitment to performance cars, a genre that in some cases it defined, and in others revolutionised.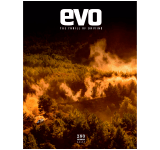 Subscribe to evo magazine
Subscribe today to have every issue of evo delivered straight to you. You'll SAVE 39% on the shop price, and get evo for its original cover price for a whole year!
> Five fast Ford Fiestas – celebrating small, hot Fords
Backed up by motorsport success across the continents, and a fiercely passionate base of enthusiasts to draw from, it's unsurprising to see that Ford's back catalogue of performance models is vast, and one with perhaps more variety than any other.
From the 1963 Lotus Cortina Mk1 to the modern-day Mustang, and through to the latest iteration of the Ford GT, we celebrate the marque's greatest performance offerings with our top ten list of favourites.
Mk1 Lotus Cortina
Escort Twin-Cam
Fiesta Supersport
Focus ST170
Mk2 Ford GT
Mustang GT 5.0
Fiesta ST Mk7
Fiesta ST Mk8
Puma
Racing Puma
Mk1 Lotus Cortina
Famously photographed in neat, finely balanced high-speed four-wheel drifts – with the likes of Jim Clark, Graham Hill, Jackie Stewart, Jack Sears and Roger Clark behind the wheel – the Lotus Cortina established Colin Chapman and Lotus as the 'go to' guys for competition tuning of everyday cars. 
With its (Lotus engineer) Harry Mundy-designed and Grand Prix-proven twin-cam cylinder-head under the bonnet, plus lightweight panels and heavily revised suspension, the 'Consul Cortina Developed by Lotus' helped Jim Clark win the 1964 BRSCC Saloon Car Championship, then bagged the European Saloon Car Championship for Sir John Whitmore the year after. Victory on the 1966 RAC Rally showed it was robust as well as quick.
Escort Twin-Cam
The Escort Twin Cam's genesis sprang from a 'what if?' moment within Ford's rally team: What if we stuff the running gear from the Lotus Cortina into the lighter bodyshell of the Escort? A good question with a very satisfactory answer. 
As a rally car the Twin Cam won the World Championship for Makes in 1968 and 1969, and with its engine further tuned by Cosworth, the Twin Cam also took the 1968 British Saloon Car Championship too. 
Fiesta Supersport
The Supersport wasn't technically the first sporting Fiesta – that was the 1300 Sport – but it was very much the precursor to the XR2 that followed in the second generation.
With 89bhp from its 1.3-litre engine and a 775kg kerb weight it was certainly lively by the standards of early 1980s shopping cars, and like the XR2 the styling still looks great today – think stripes, spotlights, chunky 13x6in alloy wheels, and a matching front lip and tailgate spoiler. Values today are rising rapidly for the rare survivors, too.
Focus ST170
Filling the gap left by the short-lived Racing Puma, the Focus ST170 was launched in 2002 with a significant power bump, chassis tweaks and design changes over the standard car. The Mk1 Focus RS stole its limelight not long after, but the ST170 is a charming hot hatch nonetheless, with a sharp but understated design and an excellent chassis.
Dramatic 17-inch 15-spoke wheels were fitted overtop of a set of uprated brake package (300mm front, 280mm rear), with features such as a redesigned honeycomb front grille and Recaro seats helping distinguish the first Focus ST from its lesser siblings.. Though overshadowed by the 212bhp RS in the power stakes, its 2-litre four-cylinder engine packed new forged pistons, dual-length inlet tracts, variable intake cam timing and a freer-flowing exhaust system for a 171bhp and 144lb ft output, which was sent to the front wheels through a six-speed manual for a 7.9sec 0-62mph time and 134mph top speed. 
Mk2 Ford GT
The road-going Ford GT and GT40 has always had an extremely close relationship to its competition sibling (the 2005 reincarnation not included), but the connection has never been so direct than with Ford's second-generation GT. Just three years after the project's inception, the Le Mans racer went on to claim the GTE Pro victory at the 2016 Le Mans 24hr. 
Assembled by Multimatic, the second-generation GT was designed first as an endurance racer, and it shows in the road-car. After extending the production run due to unprecedented demand, the road-going GT is still in production today, where its truly unique driving experience is as close as you can get to driving a Le Mans-winning racer on the roads. 
Mustang GT 5.0
The Ford Mustang has been the poster child for the American muscle car since its 1964 inception, and although its name has recently made its way onto an all-electric SUV, the blue oval will still sell you a traditional naturally-aspirated V8 coupe.
The GT provides a welcome break from today's complex, sometimes electrified performance cars. Its 5-litre V8 produces 444bhp, allowing it to reach 62mph from standstill in 4.3sec and go on to a 155mph top speed; not bad considering its 1818kg kerb weight. Independent rear suspension is finally on the cards, too, although handling remains true to its American muscle roots.
Fiesta ST Mk7
The Mk7 Fiesta ST was an outstanding hot hatch, with class-leading dynamics and a little firecracker of a 180bhp turbocharged four-cylinder engine. Defined on the road by its almost comically tail-happy handling balance, superb body control and its screaming engine, it was simply unmatched at the time of its launch. 
That engine was a 1.6-litre turbocharged four-pot under the VCT designation, and in all ST forms had a fantastic propensity to rev, and rev without a hint of strain as it flung itself into the redline. It's 180bhp was then sent to the front wheels via a six-speed manual gearbox for a 6.9sec 0-62mph time and 139mph top speed. It might have lacked the hardware of some contemporary rivals, like the limited-slip differential and sticky tyres of rivals like the Peugeot 208 GTI by PS, but the ST's joyful driving experience was all the better for it, bringing world-class performance car experiences to the masses for an even more affordable price. 
Fiesta ST Mk8
Bettering the Mk7 seemed a near-impossible task, but the boffins at Ford Performance managed to pull it off with the Fiesta ST that followed. Thanks to new hardware like the limited-slip differential and a faster progressive steering, front end bite is superb. This is balanced by a mobile and interactive rear-end and a feeling of depth to the engineering that Ford's engineers have become known for. 
Ride is firm, but it also keeps the body composed over difficult sections of tarmac, while not being so iron-fisted to become unpredictable as speeds rise. The real difference between it and the previous mk7 is the powertrain though, as while the new 1.5-litre three-cylinder has more punch, it lacks the previous engine's willingness and enthusiasm. Still, with 197bhp and 214lb ft of torque, the St is good for a 6.5sec 0-62mph time and 144mph top speed, once again bringing performance to the masses like few others. 
Puma
Even two decades on from its launch, the Puma remains one of the greatest low-cost driver's cars in Ford's history. It's underpinnings were derived from the Mk4 Fiesta giving engineers an already excellent platform to build upon, to which they fitted increased spring rates, a thicker anti-roll bar and the sleek, if rust-prone body.
The package was topped off with a new Yamaha-fettled engine that proved a brilliant partner to the chassis. The 1.7-litre model was the unit in question, sending a 123bhp and 116lb ft of torque to the ground through a slick five-speed manual. These might sound like meek outputs in today's context, but its 1041kg kerb weight still allowed it to cover the 0-60mph sprint in 9.2sec and go on to a 126mph top speed.
Racing Puma
Just two years after its launch came the Racing Puma, an even more bespoke and specialised limited edition that has since gone on to define the term affordable exotic. The differences are immediately obvious, with a set of motorsport-inspired 17" Speedline wheels tucked within widened arches, adding 70mm and 90mm of additional track with front and rear. New bumpers and larger Alcon brakes were also part of the package, with the cabin also receiving an overhaul with the addition of that trademark blue Alcantara trim and Sparco bucket seats.
Various tweaks to the 1.7-litre engine added a further 30bhp on the table for a total of 153bhp – torque only saw a mild bump to 119lb ft. Despite an increase in weight over the standard car, a 132bhp/ton power-to-weight ratio gave it a 7.9sec 0-62mph time, but the Racing Puma was never about straight-line speed, rather the ability to handle twisty broken back roads like few others.
The best of the rest
Sierra RS500 Cosworth
The Ford Sierra Cosworth was designed from the outset as a homologation special for touring car racing, but while the road car created a passionate following by fans, the racer wasn't quite so successful. To fix that, Ford went to Aston Martin Tickford racing to build a special edition called the Sierra RS500 Cosworth, which featured a selection of updates that would build on both the road car and its racing sibling. 
The changes consisted of a new front bumper and grill to feed more air to the new, bigger turbo, larger intercooler and oil cooler. The race version also received a different set of injectors, helping liberate over 400bhp from its Cosworth YBD engine, a big jump on the road-going model's 224bhp. The RS500 proved the success on track that Ford was hoping for, in the process creating an icon out of the 500 homologation road cars.
Escort Mexico Mk1
The Mk1 Escort Mexico might not have had 'RS' in its name but it had all the credentials to make for one of Ford's most iconic performance models. It was built to celebrate Ford's victory of the 1970 London to Mexico rally, hence the iconic name. Its stiffer shell, improved suspension and heavy-duty transmission were shared with the RS1600 and built by Ford's AVO (Advanced Vehicle Operations) department.
It made do with Ford's 1.6-litre 'Crossflow' engine from the Cortina and Capri – developing 85bhp at 5500rpm – but that made it strong, durable and easy to maintain. Ideal characteristics for winning a long-distance rally.
Escort RS Cosworth
In the 1990s, there were one or two crucial elements that defined success in the world rally championship, and one of those things was four-wheel drive. In order to compete with the hugely successful Lancia Delta Integrale and Toyota Celica, Ford had to go the extra mile of developing its rally car from scratch, creating the iconic Escort RS Cosworth we know and love.
While it might have looked like a contemporary front-wheel drive Escort of the '90s, it was in fact based mechanically on the earlier 4WD Sierra Sapphire Cosworth featuring an updated 2.0 four cylinder turbocharged Cosworth engine, developing 217bhp. The body of the MK5 Escort was then modified with wide arches, deeper sills and bumpers, and the now iconic rear wing. Ironically, the Escort RS Cosworth rally car never won a title – but still won eight rounds of the WRC in Group A specification, and then twice more under new WRC car regulations.