Mercedes AMG GT vs Porsche 911 and rivals
Mercedes' forthcoming AMG GT faces stiff competition from Audi, Porsche, Jaguar and even Chevrolet. We consider its chances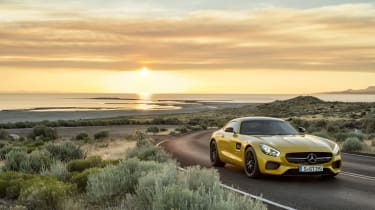 Following on from last week's AMG GT mega-gallery, we thought it useful to revisit five of the new Merc's main rivals to really understand what it'll be up against. With two-door sports cars seemingly coming at us from all angles, we're happily faced with a market brimming with offerings from all over the globe. We've slimmed those offerings down to consider five of the strongest rivals the AMG GT will have to face. 
What cars have we considered then? Coming from its native Germany we have the Porsche 911, Audi R8 and BMW M6, from across the channel in Britain we have the F-type Coupe R and from far out west in America we have the Chevrolet Corvette. All offer a proper sports car experience in their own way, so the new AMG GT will have to combat them all if it's to effectively represent Mercedes in this two-door battle.
Click the Porsche 911 button on the menu above to begin...