Mercedes-Benz SLK350
This month our Mercedes has been camera and support vehicle to a spectacular track stunt at the Bedford Autodrome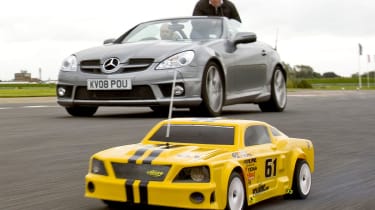 Mate, why've you got the roof down? It's freezing out here!' the young man shouted from the footpath, no doubt largely to impress his mates. He had a point, though. Or at least half of one. It was indeed pretty nippy – out there. Inside the SLK, climate control set to a balmy 27 degrees, heated seat on, Airscarf blowing a warm breeze around my neck, winter had been put on hold.
I've always been amazed by how often you see convertibles being driven around with their roofs up even on the nicest of summer days (yes, I mean you, Honda S2000 owners), but what I'd never fully appreciated before our SLK long-termer arrived was how a well-appointed drop-top can still be enjoyed even when the temperature is into single figures. As long as you don't mind onlookers thinking you're a berk. In fact, as I've discovered over the last few months, open-top motoring can be quite addictive. There's something remarkably uplifting about squeezing some more fresh air into your day, even if the only light above is stars and street lights. And in the case of the SLK 350, it also enables you to better hear its V6 pop-popping on the overrun in lower gears (yes, really, in a Mercedes. Who'd have thought?).
There are other advantages to having a convertible too. When, a few weeks back, we were talking to Anthony Shaw of The Hobby Company (01908 605 686) about the remote-control Nissan GT-R we wanted to feature in last issue's Christmas Essentials, he happened to mention that he'd also got a Carson one-fifth-scale petrol-powered remote-control Mustang, complete with double-wishbone suspension, oil-filled dampers, disc brakes at the front and a 2.4bhp 23cc two-stroke engine. Boys being boys, it wasn't long before we'd hatched a plan to see how fast it could lap the West Circuit at the Bedford Autodrome. All Anthony thought he needed was a chase car with a sunroof. But I could do better than that…
Strong crosswinds were whipping across the West Circuit when we met up there a few days later, which didn't make things easy for the Carson, nor for Anthony, perched up between the SLK's head restraints, controller in hand.
But after a few spins and, inevitably, very nearly crushing the Carson with a Pirelli P Zero, Anthony managed to put in a clean lap. Reaching 40mph on the straights, the remote-control Mustang crossed the line with a time of 3min 47sec – only two minutes slower than a Clio 197 Cup (not bad given the 194bhp deficit), twice as fast as a Sinclair C5 (evo 100), or a scale time of 45.4sec. Take that Caparo T1!
Running Costs
| | |
| --- | --- |
| Date acquired | August 2008 |
| Total mileage | 12,829 |
| Costs this month | £0 |
| Mileage this month | 1531 |
| MPG this month | 26.8 |