This is the fastest, most powerful, and most focused Nissan GT-R. Built by Nissan Motorsports International in Japan, it has aerodynamic, suspension and engine upgrades, and with the optional 'Track Pack' fitted it's the car that's set the fastest ever time for a series production car around the Nurburgring, at 7.08.679. The Porsche 918 Spyder has gone quicker, bringing into question what 'series production' actually means, but there's no doubt that this is one hell of a focused car.
Engine, performance and 0-60 time
Key differences are a more resolved aero package, including a carbon rear wing, deeper front spoiler and side skirts. At 186mph the Nismo develops an extra 100kg of downforce. Both the front and rear bumpers have also been elongated to attempt to offset the increase in drag caused by the deeper spoiler and taller rear wing. The suspension is revised and with more resistant damping, the springs are unique to the Nismo model, there's a lovely (if you like that kind of thing) hollow rear anti roll bar, and the front wheels are wider. Correspondingly, the front wings are 10mm wider. Those wheels deserve special mention - gorgeous 20in RAYS forged alloys unique to the Nismo.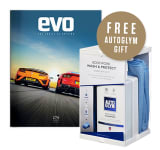 Subscribe to evo magazine
Subscribe today to our exclusive new offer and SAVE 39% on the shop price, get evo for its original cover price of £3.00 an issue, plus get a FREE gift worth £20!
The bodywork is bonded during construction, increasing stiffness by 8 per cent, and there are numerous other styling and interior tweaks including a pair of lighter bucket seats.
Power is up from from 542bhp and 466lb ft to 591bhp and 481lb ft, and while acceleration and top speed data has not been released we would expect the Nismo to achieve the 0-60 sprint in around 2.5sec Blimey. The standard car's top speed is 196mph, and the Nismo is expected to be around the same.
What's it like to drive?
The familiar chuntering of the diffs at low speed remains, the steering is immediate and direct, and the throttle response keen. The transparency of the controls makes you feel instantly at ease, and ready to drive harder.
The engine is surprisingly quiet, but the punch is vivid. Turbo lag is mild, but the subsequent race to the redline intense. This isn't a raucous engine - far from it. It feels evolved and smooth. Saying that, it doesn't feel any quicker than the 125kg lighter (1595kg), but 78bhp less powerful (513bhp) Powerful 911 Turbo. Like all the best performance cars, you need to cycle-in a warm-up period before attacking – turn-in oversteer is noticeable when the rear tyres are cool. When up to temperature, the Nismo GT-R grips hard, responds instantly to your inputs, and feels extremely stable.
Turn in harder, and get on the throttle sooner, and the four-wheel drive GT-R will oversteer and power through into a neutral state just as the corner opens up on the exit.
At 1720kg (just 20kg lighter than the standard GTR) the Nismo isn't light, but it maintains agility, resists body movement, and remains extremely stable even during high-speed direction changes. The lack of movement in the body in turn gives you a real understanding of the tyres, and in turn allows you to judge the moment from grip to slip with ease.
And that's the brilliance of this car – you drive it, and it lets you drive it hard, with clear and unfiltered messages from the road filtering up through the wheel and seat. To those who still think the GT-R is a rather digital and soulless experience, please find a way to experience it for yourself.
"I'd noticed how firmly suspended it was in town earlier, the whole car thumping over manhole covers and pattering loudly across stretches of pavé like a race refugee. Clearly the engineers haven't been shy about the set-up.
"The staggering way the GT-R gains speed is still mentally hard to process, but with the huge increase in body control there is less squat under acceleration than with the standard car, so it actually feels slightly less intimidating because you feel in sharper control." Henry Catchpole, evo 199.
Rivals
At £125,000, the Nismo GT-R isn't cheap. That's around £50k more than the standard GT-R. The aforementioned 911 Turbo is similar on both price and performance, but the 911 GT3 undercuts them both significantly and gives up very little in terms of outright speed. The sublime Aston Martin V12 Vantage S should also be considered a strong rival.
On the used side, a Porsche 997 GT3 RS is similarly focused, and a McLaren 12C quicker. A Porsche 997 GT2 has a similar turbocharged vibe, and a Ferrari F430 Scuderia Italian flair and a sublime engine note. Decisions, decisions...
Anything else I need to know?
The question of value. The price will no doubt cause raised eyebrows, but around 200 will be built per year, of which around 65 will go to Japan with the rest of the world enjoying the rest. In the UK, it will be extraordinarily rare, which justifies the price to some extent.
However, it goes without saying that the Nismo is just over 50 per cent more expensive than the standard GT-R – a car that the majority will find fast and entertaining enough. Not only that, but many GT-R owners will feel like they can get a similar experience from a used but upgraded GT-R. For us, Nismo is every bit as professional and skilled as AMG or BMW's M division, and a car engineered by a genuine race shop is deeply appealing.
The Nismo GT-R won't appeal to all – its styling is an acquired taste, and many will consider it brash and lacking the style of an Aston Martin V12 Vantage S and the polish of the 911 Turbo. However, as a drivers' car it is easily a match for this pair and it exudes real character to boot. To award it five stars is an easy decision.
Price and release date
The Nissan Nismo GT-R costs £125,000 and is on sale now.