'Listening to music should be endorsed not scorned when you're behind the wheel'
Switch off the stereo and listen to the music of the engine? Alternatively, suggests Dickie, leave it on and crank up the volume.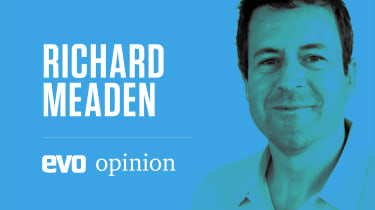 So you've settled on your ideal car and mapped precisely the road on which you'd want to drive it. But what music will you be listening to? Yes, I know; presented with this question any evo reader worth their salt should immediately denounce such namby-pamby audio entertainment in favour of whatever mechanical music their car might be making. What rot.
Much like Richard Porter's assertion that sweaty-backed rejectors of air-conditioning are suffering in vain, I'm happy to put forward the heretical notion that even the nape- prickling symphony of an Italian V12 begins to grate when you're covering big distances. I love the sound of a fabulous engine being wrung-out just as much as you do, but I'm struggling to think of any great drive or journey I've ever had that hasn't been made better by a great musical soundtrack.
> 'The A1 is interesting and unusual and I hope it never changes'
Solo drives are often the best. Free from the anxiety of revealing the darker secrets of your iPod playlist, you can play shuffle roulette with abandon, repeat favourite tracks as many times as you like and crank up the volume to ear-splitting levels. That said, I always relish the opportunity to inflict raucous EDM on Chris 'Test Match Special' Harris, if only to laugh at his fogeyish protestations and subsequent tales of being traumatised by my 'ambient dub' music. Whatever that is.
MP3 players have proved a game-changer on long road trips; streaming music from the internet even more so. I can vividly remember driving a Tesla through the spectacular scenery of Norway, streaming a playlist so perfectly suited to the tranquil surroundings it could have been an Attenborough documentary. It made a unique journey truly unforgettable.
When I'm in line for a new long-term test car of course I hope for the keys to something that goes like stink, but I also keep my fingers crossed for a car with a really stonking stereo. Highlights of the relatively recent past include an Aston Martin Rapide with optional Bang & Olufsen hi-fi (complete with brilliantly theatrical pop-up tweeters), an Audi R8 V10 Plus, again with B&O kit, and a Bentley Continental GT with a kick-ass system by Naim – all 14 speakers and 1100 watts of it. My new Fast Fleeter, an AMG C63 S Coupe that we'll be introducing to you next month, has made an epic first impression thanks to a brilliant Burmester surround-sound setup that's proving more than a match for the beefy biturbo V8.
> 'Are modern performance cars better value than their predecessors?'
Yet I do rather miss the ritual of sorting through a pile of CDs and committing yourself to half a dozen of your favourite albums. Likewise, while accessing your entire catalogue of music and playing it, via Bluetooth, through an epic sound system is akin to a miracle, there's great charm in listening to old music in an old car on some long defunct music format. For instance, my Peugeot 106 Rallye still has a MiniDisc player. To push a copy of Leftfield's album Leftism into the slot and hear the tinny speakers thud-thud- thud to 'Release the Pressure' is to be transported back to the mid-'90s, when this little Pug was in its prime.
Music doesn't just put a time stamp on your driving memories, it provides energy and tempo, different styles serving as a soothing emollient or potent accelerant. If you're in a quick car and need to cover some ground, the latter can get you into hot water, as the influence of high-energy music on driving is well documented. If it means I don't risk hearing the deathly banality of Ken Bruce on Radio 2, I'll take my chances. Besides, when a fast road and elevated rhythm align, it can help mortal metal transcend the most exotic supercar. That's why some 22 years on, a late-night dash from Brands Hatch to north Cornwall with one of my best mates, a Ford Mondeo estate and the Prodigy's Music for the Jilted Generation, remains one of the best drives I've ever had.
Sometimes silence has its place. Whenever I drive my radio- less 964 Porsche I always manage to square away a lot of mental detritus, but it's always a relief to get back into a car with more than a bellowing flat-six, chuntering diff and road roar for company. The miles just seem so much easier to bear. So come on, don't be shy. Share your sounds, whether you're an ageing raver like me (even though I never actually went to a rave...), a dutty dancehall bwoy like Jethro Bovingdon or really partial to a Desert Island Discs podcast like Henry 'The Animal' Catchpole. The ultimate evo playlist starts here.
Find more evo opinion though the links below...