How to solve a problem like rallying? That most noble of motorsports: not merely driver pitted against rival driver in a controlled environment, but a partnership of two human beings, trusting each other implicitly in the face of potentially mortal danger. Man and machine battling not just to be the fastest of all from point A to point B, but to conquer the conditions and the natural environment, too. Motorsport to the original template.
But something's not right with rallying. Sure, it's become almost fashionable to knock it, so we'll aim to be a bit more constructive than that, but when Messrs Meaden, Barker, Vivian, Goodwin, Ingram and Beaumont, and yours truly, get round a table, a pattern emerges. Well, apart from the wily old Viv, that is: 'Still the only place you can witness genius driving and the deployment of giant cojones together,' he opines. 'Splendid. Wouldn't change a thing.' Somehow I think the rest of us are going to have a different view...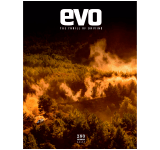 Subscribe to evo magazine
Subscribe today to have every issue of evo delivered straight to you. You'll SAVE 39% on the shop price, and get evo for its original cover price for a whole year!
> The anatomy of a Group B rally car
You'll often hear the phrase 'I don't know where to watch it' applied to modern rallying, a perception based on the time when the WRC disappeared from terrestrial programming. In fact, there's a variety of ways to watch: highlights are on Channel 5 and BT Sport in the UK, while there's also coverage on Red Bull TV (online) and on the sport's dedicated online portal (WRC+), which also enables all sorts of data to be accessed – although you'll have to buy a subscription.
Rallying is crying out for the sort of fan interaction enabled by the modern world of smartphones and social media content. It's a sport on a large scale, often elusive to cover – and far too expensive we're always being told. But surely modern technology, from smartphones to drones, offers so many solutions.
Will Beaumont makes a sound point about the nature of the coverage: 'I prefer the old style of rally coverage, where you'd see each car go around the same corner one after another before moving on to another corner. That way you got to see how each car and driver drove, their different styles. The modern WRC show of quick cuts, on-board crash footage and slow-mo jumps is much more spectacular and more inclusive, but it doesn't satisfy the nerdy urge to compare the cars and drivers.'
> Xavier Foj – an interview with a Dakar Rally veteran
There's no doubt that rallying has especially suffered in the UK. In much of Europe, the sport's top echelon enjoys a much healthier following, bolstered by the success of drivers from those countries – the 'Loeb effect' in France, for example. But UK rallying had its guts ripped out with the tragic demise of World Champions Richard Burns and Colin McRae. Their loss, and that of their mainstream media-attracting star quality, still casts a shadow over the sport.
It's clear, though, that what we really don't like are the cars. Specifically, the fact that they're nothing like the ones we can actually buy. How ironic, given that the 2017 regulations, with their boost in power to nearly 400bhp and wild aero devices, were meant to put the Group B flavour back into the WRC. It seems all they've achieved is to turn us off.
'What I loved about rallying was the connection between road and rally cars,' says Meaden, getting all misty eyed. 'Group A was the zenith for me, but even Group B cars were road cars, albeit built in very small numbers. The first WRC cars were cracking things, but as soon as manufacturers don't have to build the cars they compete with, I tend to switch off.'
> Subaru WRX STI Final Edition review 
Barker agrees: 'The cars now look too little like road cars – or aren't available as road cars.' Antony Ingram concurs: 'Another series hurting from a lack of road relevance. Probably more so than any other series, since the WRC and its various regulations over time has given us some of the world's most exciting drivers' cars.'
I agree. There seems to be this misconception from the powers-that-be in motorsport that every competition car needs to have huge spoilers, massive arches and so on. It wasn't enough to just up the power with the new-era cars: downforce and chassis tech had to be increased too, so the speeds went up, and the cars are more capable than ever. But for what? They might be able to fly in Finland at a height that would make Eddie the Eagle wince, and drift around hairpins with metronomic precision, but it's too clinical, too perfect.
As an antidote, head to YouTube and watch footage of the 1994 Tour de Corse rally. Look at the snarling, flame-spitting Group A cars in their pomp: the variety of shapes and sizes; the different noises they make; the way they need to be grabbed by the scruff and really driven, and in turn display the differing driving styles of those behind the wheel. You don't need to be told that's McRae in the Impreza, not Sainz, it's blatantly obvious. Look closely too at the Impreza 555, the Group A homologation version of the Impreza Turbo. It has neither big arches nor a low front splitter. It runs the meek 'boomerang' rear wing off the original WRX JDM and UK Turbo 2000 models. And yet has there ever been a more glorious, emotive competition car than this?
> Motorsport moments of the year - 2017's best bits of track and rally stage action
Goodwin's more of a circuit racing man, but as he points out: 'I would like to see more variety of cars taking part in the WRC – like 911s and the Toyota GT86. Not much interested in hatchbacks.' Quite. By forcing all rally cars to effectively look – and be – the same, we're losing the variety that gave us the Celica GT-Four and the Mazda 323 Turbo, let alone the Skoda 130 RS and the Lancia Stratos. The FIA tried recently with its RGT class, but it got nowhere outside a handful of howling 911 GT3s, so beloved in national championships throughout Europe.
For years we were told that manufacturers didn't want the trouble and expense of homologation cars. And yet there are more performance cars on the current market than ever before, and a bigger appetite than ever for limited-run cars. Why not a Ford Focus RS and VW Golf R on the stages? Cars that fans could have driven themselves to come along and spectate, or even prepare and enter themselves into events at a much more reasonable level. A new Group N, if you like, as in the days of the original Ford Sierra RS Cosworth.
Rallying needs that sense of adventure, too. Night stages, long stages. More than one of our collective mentioned the loss of the old Safari Rally – 'rallying's Le Mans 24-hours,' as Meaden puts it. When David Richards ushered in the World Rally Car era, the events changed too, with centralised servicing, shorter and fewer stages – all to make the series more televisable. But rallying lost so much in the process, including, ironically, TV coverage.
> Mitsubishi Lancer Evolution VI - review, history and used buying guide 
So what have we learnt? Bring back the homologation specials, perhaps with a modern, slightly more accessible twist; make rallies feel like adventures again, and utilise new tech to spread the coverage. Not an easy challenge, but one that's more than worthwhile. The sport deserves nothing less than all our perseverance and attention.