There's always been a unique challenge to extracting the best from Brabus-badged Smarts, and it involves recognising that you'll only have fun if you accept the car's limitations and work around them, rather than expecting it to drive like a "normal" car. Hampered by a tall body and narrow stance, going fast in a Smart has long been an exercise in ultra-smooth inputs and working around the quirky (some would say 'infuriating') automated manual gearbox.
Launched in 2014, the latest car is off to a much better start. It maintains the old car's useful length and quirky proportions, but body and track width have increased, there's more power, a better gearbox and greater sophistication. That puts greater weight than ever on the Smart Brabus Fortwo's expectations as a driver's car.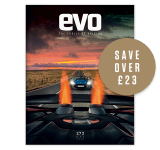 Subscribe to evo magazine
Subscribe today to have every issue of evo delivered straight to you. You'll SAVE 39% on the shop price, and get evo for its original cover price for a whole year!
Engine, transmission and 0-60mph time
The engine is a development of that in the regular turbocharged Fortwo, displacing 898cc and three cylinders. It's a Renault unit – you'll also find it in the Twingo GT – and as in its French application it gets higher fuel pressure and improved breathing both on the induction side and the exhaust, thanks to redesigned intakes and a Brabus sports exhaust system.
> Renault Twingo GT review - Has Renault Sport built a city car for drivers?
The end result is 107bhp (up from 89bhp) and 125lb ft of torque, an improvement of 25lb ft on the regular turbo car. Unlike the regular car, there's only one transmission option: A six-speed 'twinamic' dual-clutch automatic transmission with shorter ratios than standard and 40 per cent quicker shifts – and the DCT was already better than the old Smart's automated manual in this regard.
Like all Smarts, drive is sent to the rear axle alone, with a 9.5-second 0-62mph time the result. Top speed is electronically limited to 103mph; the Brabus Forfour, with its longer wheelbase, gets a higher 112mph limiter.
Technical highlights
In addition to the engine improvements, Brabus models receive firmer suspension than even the dealer-fit Brabus setup on regular Smarts. The springs and dampers are 10mm lower and 20 per cent firmer than those models, and an uprated front anti-roll bar cuts roll by a further 9 per cent.
Steering too has been optimised for the Brabus. The variable-ratio system has greater return torque than regular models (it'll still U-turn on a sixpence, too) while the ESP system has been relaxed a little and specially-tuned for the firmer, faster setup.
Not so much of a highlight as an observation, but the new Fortwo Brabus is a bit of a porker. At 995kg it's a massive 215kg heavier than its predecessor, which goes some way to explaining why it knocks only one tenth off the previous Fortwo's 0-62mph time, despite more power and a better gearbox.
What's it like to drive?
The Brabus Fortwo is fairly unusual at this end of the market, thanks to both its rear-engined layout and its driven rear wheels.
Smart still runs a staggered tyre setup to mitigate its short wheelbase and rear-engined layout - the front tyres are 185-section to the rears' 205 – but there's more front grip than in the old model and indeed more than most traditional city cars. Understeer isn't quite as terminal and surprisingly, the car's balance is actually quite exploitable as a result. Turn in at silly speeds and the front end will still push wide, but the short wheelbase means the slightest of throttle lifts will curtail that, and lifting harshly will even see the back end quickly slide around.
Quick steering and ever-present ESP quickly rein in that sort of behaviour, but because it happens at low speeds it's something you can enjoy virtually everywhere and with very little risk. It's also something that simply doesn't happen in the Renault Twingo, but does in the Brabus Forfour, suggesting some of Smart's tweaks have unleashed a little playfulness in the chassis. And if you're smooth with your inputs, it's a dynamic layer you don't have to explore if you don't want it, since the Brabus generates perfectly respectable levels of grip, and the greater natural stability of this model, compared to its predecessor, means you can find a flow down most roads.
That's helped by the ride quality. Okay, jump out of a particularly well set-up modern hot supermini and you'll find the Smart's body control laughable, and you spend a lot of time keeping things in a straight line on bumpy roads (though the car's narrow width gives you more space to play with anyway). But the ride is far from punishing (as long as you avoid potholes) and not discernibly worse than say, a Fiesta ST.
> Also read: Ford Fiesta ST review - The unbeatable junior hot hatch?
You don't get much steering feel, and there's little bite over the first few degrees of lock either – presumably to make the Fortwo feel a little less busy on the motorway. But the rack is surprisingly quick and made quicker still by the extreme angles the front wheels will turn to. Despite the Smart's weight, it feels hugely nimble.
Surprisingly, it's now the engine that lets the package down. Performance is deceptively quick (again, in context of the car's size), but the Renault-sourced lump is as characterless here as it is in the Twingo. The old Fortwo Brabus' 3-pot emitted much more amusing noises and with less weight to push along, delivered similar performance. Thankfully, the dual-clutch 'box works well; it's by no means a standard-bearer of its type, but shifts are respectably quick, and you don't feel like you're punishing the Smart quite as much as you do the manual-equipped Twingo to extract its performance.
Price and rivals
The very least you can spend on a Brabus Fortwo is £16,445. The Xclusive model we tested (which adds sports seats, artificial leather trim on the seats and dashboard, a full touchscreen system with satnav, and two-tone paintwork options) begins at £19,615, and our car had been specified to more than £20k.
That's patently insane when regular hot hatchbacks like the Ford Fiesta ST or Peugeot 208 GTI would run rings around the Smart, offer greater practicality and greater depth of talent than the tiny Brabus for similar money or less.
It's safe to say though that there is probably no Venn diagram where buyers of Brabus Smarts and regular hot hatchbacks overlap – nor even with the more practical Forfour – and that the Brabus Fortwo stands out as a unique proposition. For certain customers only the smallest of cars will do – Smart notes that it's sold 120,000 Fortwos in Rome alone since the car debuted in the late 90s – but it is noteworthy that this is the first Brabus Smart that's enjoyable for more than just what it is, but what it can do.