Audi RS4 B7 (2006-2008) - buyers guide
Audi's second RS4 surprised us all with its exceptional engine and handling when it was launched in 2006.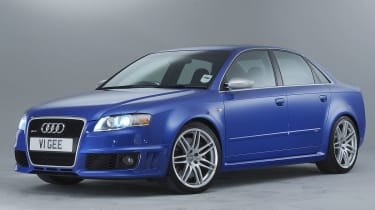 This was one surprising car when Audi sprang it on us in 2005. Its engine alone was enough to get your attention. A naturally aspirated 4.2-litre all-aluminium V8 with direct fuel injection and a huge 12.5:1 compression ratio, it revved all the way to 8500rpm and put out 414bhp when running on super unleaded. All of this energy was channelled through the four-wheel drive  with 60 per cent of it heading rearwards unless the system decided otherwise. There was also 'Dynamic Ride Control' (DRC), a purely mechanical system that hydraulically linked diagonally opposite dampers with valves to control the passage of fluid according to the forces acting on the wheels. The result was suppleness in a straight line, tautness in corners, and a fluidity of fast, involving progress somewhat unexpected in an Audi.
The RS4 differed from the regular A4, and the also-V8 but yawningly inert S4, in having flared-out wheelarches, aluminium front wings and an aluminium bonnet. Initially it came as a saloon only but an Avant soon followed, then a rather wobbly cabriolet that is perhaps best forgotten.
The RS4's drivers' car credentials were cemented by there being just one transmission, a six-speed manual, while a Sport button added to the appeal, sharpening the throttle response and opening bypass valves in the exhaust to release a savage onslaught of combustive percussion.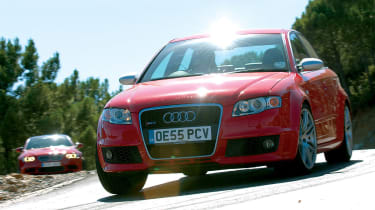 If the RS4 you're looking at has the optional Sport pack, it will sit a little lower and ride more firmly. Some prefer it, others favour the standard set-up. This pack also brings front seats whose side bolsters move inwards when the Sport button is pressed, clamping you in place and squeezing your lunch. Given that the standard seats' bolsters are manually adjustable anyway, this is a slightly annoying gimmick. The standard steering wheel is disappointing, too, the aluminium-look lower part of its rim actually consisting of two pieces of ill-fitting plastic, but a better quality carbonfibre-look alternative was an option.
Partnership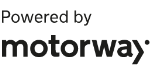 Need to sell your car?
Find your best offer from over 5,000+ dealers. It's that easy.
Don't worry too much about the steering wheel, though. The RS4 has far deeper attributes to enjoy. This side of an R8 (the cheaper version of which uses the same engine), no other recent Audi gets under your skin quite like this one.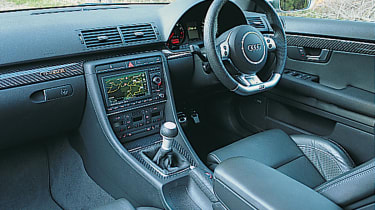 We recently drove all of the RS4s, and this is what we though of the B7:
Compared to the original model, it feels incredibly responsive, supremely controlled and also has a capacity for interaction and entertainment that its predecessor couldn't muster. All in all, it's pretty damn superb.
Sadly, the grippy Alcantara wheel is gone but as soon as the 4.2-litre V8 starts with the twist of a key and a prod of the starter button located on the transmission tunnel, it hardly seems to matter. It positively explodes into life and has that gorgeous heavy-metal-smashing-into-more-heavy-metal sound that is unmistakably V8. The six-speed manual 'box has a slightly shorter throw and a light, almost hollow feel to it, but in combination with the faster steering rack it seems a perfect fit. Within two gearshifts you just know this RS4 is going to be a bit special and after 20 miles you will find yourself reaching for your phone and scrolling through classified ads for a very fast Audi estate car.
So what makes it so special? Well, the engine has a terrifically weighty punch in the mid-range but then zings to 8250rpm with a perfectly judged mix of aggression and honey-coated smoothness. What's really impressive, though, is that the engine's precision and reach are matched move for move by the chassis. It has an always-present tension and agility but never feels artificially pointy or contrived. There's real subtlety to the way this car operates: the damping is supremely controlled and the balance itself has a real adjustability – both on and off the power. Turn in too quickly and there's some understeer, but a simple lift of the throttle will snap the nose back into line. You might even sense a trace of mild oversteer if you're going really quickly. With practice you'll nail the entry speed to avoid any push, allowing you to commit to the throttle and feel the car shift into a neutral to tail-led stance. You might even need a tiny bit of corrective lock if the surface is damp, but that's hardly the point. The real satisfaction comes from feeling the car respond to your inputs and its mix of efficiency and indulgence.
Find used Audi RS4's for sale on the Classic and Performance Car site here.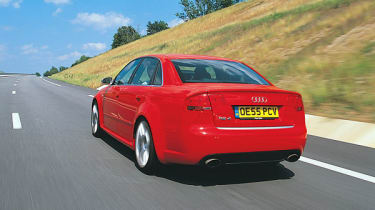 I bought one!
'I'm a big Mercedes fan, and I was looking to replace my 1995 E320 coupe. I wanted a V8 this time and was after a C63 AMG, but I tried an Audi S5 and the grip was so good that I was hooked. A new S5 was too expensive so I looked at RS4s and found this July '06 one at Fontain.
'That was February '09, when it had just 6300 miles on the clock. I've added another 10,000 to that since then. The original tyres lasted only 13,000 miles but that did include two trackdays. It's had new brake pads, too.
'I love it – the sound, the grip, the performance. Road tax at £400 is a bit of a shocker but it's worth it. My car has the Sport suspension and 19in wheels, which don't look too big but are a bugger to clean! The only problem so far has been a creaking from the offside front, which was coming from a suspension arm.
'I paid £31,950 for my car, and now higher-mileage ones are going for the same, so it has kept its value well. I plan to keep it for three years, and will be using it every day.' Darren Gee