In days gone by we produced pieces like this because new performance cars and depreciation went hand-in-hand, their values plummeting quicker than they could lap the Ring. That's all changed now. Appreciation is the name of the game. We've swept through the classifieds and identified four of the best car cars to buy for £20,000.
This situation is having a knock-on effect with used evo icons. Cars that, not so long ago, could only find homes with those who got them. Lusted after them from new. Promised themselves that, one day, they'd own one. These cars are now finding favour with those looking for a quick buck in the growing 'modern classics' market.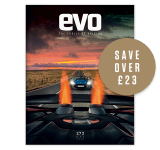 Subscribe to evo magazine
Subscribe today to have every issue of evo delivered straight to you. You'll SAVE 39% on the shop price, and get evo for its original cover price for a whole year!
But we haven't selected the cars you see here because we rate them for their investment potential; that couldn't be further from the truth. Rather, these are a handful of evo icons we think you should buy now to enjoy before the speculators ruin it for everyone.
So join us as we look at the performance heroes you can buy now for less than £20,000. Many won't be that cheap for long.
Renault Sport Clio V6 255
Rear-wheel drive, a tiny supermini wheelbase, two seats and a 3-litre V6 out back: the Renault Sport Clio V6 sounds like the perfect recipe for a high speed merry-go-round. That wasn't far from the truth when the first V6 arrived in 2001, as countless motoring journalists fell in love with its supercar-esque character, but also fell foul of its incredibly dynamic rear-axle. 
Thankfully by the time the 255 arrived in 2003, a 23mm longer wheelbase and numerous chassis modifications helped to transform the once wild rear-driven Clio into something much more manageable. Capable of reaching 0-60mph in under 6sec and racing onto a 153mph top speed, the 255 is a faster, yet ever-so-slightly less raw machine than the Mk1.
> Renualt Sport Clio V6 buying guide
Early noughties Renaults were only just beginning to shrug off their reputation for minor electrical maladies, most of which amounted to random dash lights turning on for no apparent reason. But aside from the intermittent flicker of dash lights, mechanically speaking, the 255 is solid. 
The 24-valve engine sits directly behind your ears to offer its full vocal talents without hindrance. It's also a quality block, while the gearbox, which doesn't offer the slickest of changes, is at least durable. As long as oil changes and servicing have been regular, a 255 is a safe buy. Until you explore that excitable chassis that is.
| | |
| --- | --- |
| Engine | Mid-mounted V6, 2946cc |
| Power | 255bhp @ 7150rpm |
| Torque | 221lb ft @ 4650rpm |
| 0-60mph (claimed) | 5.8sec |
| Top Speed (claimed) | 153mph (limited) |
| MPG | 23.5 |
| On sale | '03-'05 |
Mk2 Ford Focus RS
A recent impromptu straw poll of the evo office uncovered something decidedly odd about the Ford Focus RS. Despite the current version offering four-wheel drive, thereby answering so many of the issues associated with both the first and second generations, there was a general consensus that we'd rather be driving the snarling, thuggish, often divisive Mk2.
Granted, we've been a bit cooler on the Mk3 RS than some other media commentators, but was this just nostalgia taking over? We don't think so: as much as cornering ability, traction, performance and all the other measurable attributes are important, a great evo car needs to have more. It needs to generate a frisson of excitement that makes you yearn to own it, to look over your shoulder unnecessarily after you walk away from it, to truly desire it. The Mk2 has that presence, visually and, unquestionably, aurally.
> Ford Focus RS Mk2 buying guide
Both the Mk1 and Mk2 RS borrowed body styling and chassis know-how from full-blown WRC Focus models, with the Mk2's bold rear wing a clear confirmation of the RS badge's rally connection. Under the bonnet was a warbling turbocharged 2.5-litre five-cylinder engine, producing a substantial 300bhp and 324lb ft of torque.
And while the Mk2's front-wheel-drive layout does limit both its ultimate ability and the breadth of the driving experience, particularly in the wet, let's not overlook just how quick this car can be point-to-point. Sensible? Well, just look at the long-term residual values of classic fast Fords... 
| | |
| --- | --- |
| Engine | In-line 5-cyl, 2522cc |
| Power | 300bhp @ 6500rpm |
| Torque | 324lb ft @ 2300rpm |
| 0-60mph (claimed) | 5.9sec |
| Top Speed (claimed) | 163 |
| MPG | 30.5 |
| On sale | '09-'11 |
BMW M3 (E90/E92)
The E90/E92 BMW M3 is one of a select band of performance cars that appears to be getting more desirable with each passing day. Born in an era when German manufacturers in particular seemed obsessed with F1-influenced, manically high-revving powerplants, prioritising raw horsepower over almost everything else, it's rapidly become a car disconnected from the present: it's impossible to imagine BMW making such a machine today.
The M DCT gearbox is the sensible choice, a brilliant partner for the V8, allowing access to that elevated powerband as often as possible. Yet as driving enthusiasts it's hard not to get twitchy with excitement about finding a manual car: a naturally aspirated 414bhp V8 with an 8300rpm red line combined with a third pedal is an almost extinct combination today, let alone in a sports saloon (E90) or coupe (E92) that can double as comfortable, useable, everyday transport.
That mix of characteristics really is the great thing about the E90/E92 M3. Less brash than the current car, it may well have had its detractors when new for being even further removed from the E30 M3 genome, but it now feels like a forbidden fruit. Sampling that regularly would surely be a real pleasure. 
| | |
| --- | --- |
| Engine | V8, 3999cc |
| Power | 414bhp @ 8300rpm |
| Torque | 295lb ft @ 3900rpm |
| 0-60mph (claimed) | 4.8sec |
| Top Speed (claimed) | 155mph (limited) |
| MPG | 23 |
| On sale | '07-'13 |
Porsche Cayman S (987)
The original Porsche Cayman S was a brilliant car at launch and nothing has changed since. Moreover, the one you can now buy new has a serious flaw: somehow it has lost a pair of cylinders, making a right din in the process. For your £20,000 you will have no such worries, as you'll be serenaded by the pure howl of naturally aspirated flat-six.
There are many reasons why this is one of the best performance cars you can buy full-stop, let alone for £20,000. To start with, it's the right size: big enough to get comfortable in every day, and with surprisingly good luggage space across two compartments and a rear parcel shelf, its small-ish footprint is ideal on crowded, narrow British roads. It's a point often overlooked, but you're not a prisoner to your lane in a Cayman, you have options within it.
Inevitably the real prize is the driving experience. The controls are something really special: the delicacy and precision of the steering, superior to that of the current model, the terrific gearshift, the weighting of the pedals.
> Read our review of the Porsche Cayman GT4 here
You sit low in a 987, the view out through the letterbox windscreen framed at the lower edges by the rise of the front wings, and right behind you, stuffed up against the bulkhead, is that compact horizontally-opposed six. Even if you weren't aware of this it becomes obvious as soon as the Cayman's wheels being to rotate, and increasingly so when the car is driven how you will inevitably be compelled to drive it. 'Balanced' is a great way to describe a Cayman S, because it always feels as though it's working as one, both ends of the chassis – every element of the car, in fact – in perfect harmony.
That's part of what makes it an 'easy' car to drive, one that can be pushed hard on any road and in all conditions, but it is this same malleability of character that attracts the accusations of blandness and of not offering enough of a 'challenge' from those who tend to confuse horsepower and top speed with driving enjoyment.
So why aren't we all driving around in a cheap Cayman S, then? There are a few key potential weaknesses with the M97 engine that you should be aware of before parting with any cash: if you're really unlucky it could get very costly, very quickly. The 3.4-litre lump isn't as prone to issues with the cylinder bores as the 3.8 in the 997 Carrera S, but it's still a possibility, and changing the intermediate shaft bearing with the clutch is very much recommended as well.
Still, the horror stories are only applicable to a very small percentage of Caymans. So do your homework first and grab a classic Porsche in the making. 
| | |
| --- | --- |
| Engine | Flat-six, 3436cc |
| Power | 315bhp @ 7200rpm  |
| Torque | 273lb ft @ 4750rpm |
| 0-60mph (claimed) | 5.2sec |
| Top Speed (claimed) | 172 |
| MPG | 31 |
| On sale | '05-'13 |