1. Porsche Macan GTS
The best part of a good sporty SUV is the way it seemingly defies physics. A top-heavy, compact off-roader shouldn't be able to thrill its driver like a sports saloon – but amazingly, the Porsche Macan does.
Our pick of the range is the GTS model. Oddly enough, it doesn't sit at the top of the Macan tree, instead slotting between the regular 3-litre S and the full-fat Turbo, both in terms of price and power.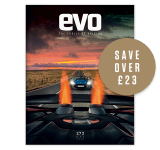 Subscribe to evo magazine
Subscribe today to have every issue of evo delivered straight to you. You'll SAVE 39% on the shop price, and get evo for its original cover price for a whole year!
The Macan GTS benefits from a range of chassis changes – suspension lowered by 15mm, sportier settings for the adaptive dampers, and a new set of matte black 20-inch Spyder wheels. The front brakes have also been upgraded with 360mm discs, as fitted to the Macan Turbo.
Under the bonnet, changes such as a reworked inlet and more boost on the turbo bring power up to 355bhp at 6000rpm and torque to 369lb ft from 1650rpm. That's enough to propel the 1895kg Macan from 0-60 in just 5.2 seconds.
But the best part is how the Macan handles. There's an almost ridiculous amount of grip, while the body control will shame many a hot hatchback. The electronic aids may be beating the laws of physics with a bat rather than subtly dancing around them, but oh boy, does it work. The GTS even manages to maintain acceptable road manners when you're not hooning about.
2. Lamborghini Urus
We'll leave the debate as to whether companies such as Lamborghini and Ferrari should be offering SUVs to another day but with the sector growing at seemingly exponential levels it's almost inevitable that they should want a slice of the cake.
And while it might be an expensive offering at £165k (before perusing the extensive options list), its staggering performance is its trump card. Packing a Lamborghini-fettled version of the VW Group 4.0-litre twin-turbo V8 it develops a potent 641bhp and 627lb ft of torque thanks to new cylinder heads, cams and turbos. 0-62mph takes a frankly ridiculous 3.6sec while the 2.2-ton SUV tops out at 189mph. 
> Lamborghini Urus – big power, big performance 
As with virtually all performance SUVs there are a plethora of different driving modes to choose from but it doesn't take too long to settle on a setting that suits most driving situations. On smooth surfaces the Urus's chassis can deliver physics-defying agility but rougher roads upset its composure especially with ludicrously large 22- or 23-inch rims.
Inside it's roomy, well appointed and nicely finished. It's party piece though is definitely its performance and no matter how many times you experience its rabid acceleration it never fails to bring a smile to your face.
3. Jaguar F-Pace
When Jaguar announced it was going to build an SUV, it was a worrying prospect - even with the expertise garnered from sister company Land Rover. But when the F-Pace arrived we were amazed at the competence, character and involving drive on offer.
The F-Pace doesn't actually share all that much with any Land Rover model, instead taking its platform from the XE and XF saloons. That endows it with brilliant road manners matched to poise and composure that belie its size. We'd even go so far as to call it fun.
> Jaguar F-Pace - Jaguar's SUV is one of the best
A range of engines provide generally good economy and performance, but we'd lean towards the powerful 3-litre diesel mated to an eight-speed automatic 'box. It's not that characterful, but it's very flexible, and you can easily make swift progress without trying too hard.
The F-Pace is an impressive handler for such a big car – helped by its lightweight aluminium construction, it stays flat and level in the corners, and the rear-biased four-wheel-drive system even allows a modicum of fun.
Add in good looks, a great interior and the space on offer from its practical, boxy body and the F-Pace is a real winner.
4. Alfa Romeo Stelvio Quadrifoglio
Alfa Romeo's rejuvenation, lead by the astonishingly good Giulia Quadrifoglio, has certainly been remarkable but it's perhaps the new Stelvio Quadrifoglio SUV that is even more of an astonishing achievement. Alfa has sport saloon form after all, but to bring its first SUV to market as virtually the class leader is a major coup.
It packs the same muscular (503bhp) 2.9-litre twin-turbo V6 as its namesake and is capable of a sub-four second 0-62mph time as well as being the fastest SUV around the Nürburgring. The V6 is mated to the familiar eight-speed auto, but the 'box has been recalibrated for its SUV application and teamed with Alfa's Q4 driveline.
> Alfa Romeo Giulia Quadrifoglio
Left in its automatic mode it's well-mannered and very rapid above 3000rpm but you'll need to engage Dynamic or Race mode to feel the full force of the V6 as in these modes the throttle response is sharper and the ZF's shift times are reduced. 
The Stelvio QV also has an entertaining chassis with the same quick-witted feel to the steering that you get in the Giulia and combined with strong brakes and decent body control it's surprisingly engaging to punt along very rapidly. The standard tyres do let go a little earlier than expected though which can lead to more understeer than you might expect. As an all-rounder though it's a great first effort at a sporting SUV from a resurgent Alfa Romeo.
5. Jaguar I-Pace
Tesla might have had the electric premium SUV market to itself up until now but the arrival of Jaguar's I-Pace is sure to shake things up a bit. But can an electric SUV really have the ingredients to be considered an evo type machine?
There's nothing wrong with its vital statistics – 395bhp and 513lb ft of torque endow the I-Pace with impressive pace – accelerating from 0 to 62mph in just 4.5sec on its way to a top speed of 124mph. Power is delivered via an electric motor situated on each axle with 90kWh batteries weighing almost 600kg providing the motive force.
It feels impressively rapid on the road and thanks to the batteries being sited low down in the chassis it's very rewarding to drive with a nimbleness that you wouldn't necessarily expect from a high-riding SUV, especially in high-speed direction changes.
It'll accept an 80 per cent charge in just 40 minutes with a 100kW charger, but given there aren't currently any in the UK you'll have to wait 85 minutes for the same amount of power from a 50kW charger. However, a 7kW wallbox will need 12 hours to deliver a complete recharge. Other downsides are overly sensitive brakes but that's just about the only fly in the ointment. As a first attempt at a fully-electric machine Jaguar's I-Pace is hugely impressive and a better choice than the Tesla Model X
6. Porsche Cayenne Turbo
The sporty SUV that started it all? When Porsche first announced it was putting its iconic badge onto something that wasn't a low-slung sports car, there was outrage. Porscheophiles were out for blood, incensed that such an abomination should be allowed to occur.
Then the first-generation Cayenne arrived, and once the outrage over the dilution of the brand (and the heinously ugly looks) died down, it became evident that Porsche's chassis engineers had worked some magic on the Cayenne. It became a sales hit, and can be credited with the rise in premium SUVs in general – let alone the sporty sub-section of the market. 
> Porsche Cayenne Turbo review - bonkers and brilliant
The current model Cayenne is still great to drive, especially in Turbo form, which is our pick of the range. More powerful but less thirsty than the outgoing model, it's powered by a 4.8-litre V8 producing 513bhp and 533lb ft of torque. That gives it performance stats that could bend time and space – 0-62mph in 4.5 seconds anyone?
It corners at ridiculous speeds, with real involvement and finesse, while remaining practical and well-built – if expensive. When we reviewed it in 2014, we described it as 'the ultimate all-rounder'. What more is there to say?
7. BMW X5/X6 M
We decided to lump these two cars together, as mechanically they're virtually identical. To choose between them is simply a case of picking your bodystyle – would sir like his uber-SUV as a practical boxy 4x4, or a slightly sleeker 'coupe'?
No matter which you choose, you get the same engine under the bonnet – a twin-turbocharged V8 lump which has 567bhp on offer along with 500lb ft of torque which BMW claims is available from just 1500rpm. 
> BMW X6M review - the rapid X6 is deeply impressive 
All that grunt means both SUVs can reach 62mph from rest in under 5 seconds, and if you choose the M Driver's package the top speed sits at 171mph (from its usual limited 155mph). It's fair to say then, that these 2000kg+ SUVs are blisteringly quick.
The X5M and X6M offer up what we described as 'an uncanny level of agility' given its weight – with genuine balance and adjustability at the limit.
However, it's impossible to forget you're at the helm of a massive SUV, especially given the sky-high driving position. The weight impacts the ride as well, and the stiffness required to support that massive body means that the X5M and X6M struggle over broken and rutted surfaces.
8. Range Rover Sport SVR
The original Range Rover Sport was a bit of a strange beast. Based on the same platform as the Land Rover Discovery 4, it lived up to the Range Rover name – but couldn't do truly 'sporty' if its life depended on it, due to a monstrous kerb weight.
The current model is built largely of aluminium and is therefore much improved, making it the ideal platform for Land Rover's SVR division to work its magic and produce one of the ultimate performance SUVs out there.
SVR produces cars with power and performance wrapped up in a civilised shell – think Porsche 911 Turbo rather than the GT3 RS – not stripped out track day models. 
> Range Rover Sport SVR review - dynamic ability and off-road prowess
Rocking the same 567bhp supercharged V8 engine as the Jaguar XJR575, the Sport belies its 2335kg bulk. This massive car is good for a 4.3-second 0-62mph time and will carry on to a mad 162mph top speed.
Another number of note is 8min, 14sec. That's the time the SVR managed to set on the Nuburgring, which makes it one of the fastest SUVs of all time – albeit only when shod in Continental ultra high performance tyres. 
What sets the SVR apart from other performance SUVs is its ability on the rough stuff. Put simply, it's near enough unstoppable, and will easily shake off terrain that a BMW X5 M would cower at. It's a brilliant party trick.
9. Audi SQ7
The Audi SQ7 is a total heaven for geeks. The 4.0-litre V8 diesel is twin-turbocharged, but the impressive stuff is the electric compressor which spools up the turbos at low revs to aid response. It's all mated to a high-tech 48V electrical system, which powers not only the usual electrical gubbins but the active suspension and anti-roll bars needed to keep such an enormous car in check.
Amazingly, it works. The SQ7 doesn't feel like a seven-seat SUV – it feels like a rocketship. 664lb ft of torque from just 1000rpm endows the two-tonne-plus SQ7 with a 0-62mph sprint of under 5 seconds. It's remarkably agile too, cornering flat and composed, with mighty grip from the quattro all-wheel drive.
Add this all to a gorgeous and spacious interior and the SQ7 might be the ultimate family hack. If you can stomach its £70k+ price point, that is.
10. Bentley Bentayga
What is there to say about Bentley's SUV that hasn't been said already? Biblically fast (186mph), massively heavy (2500kg-ish) and insanely priced (over £160,000 for the W12 model).
The Bentayga is a triumph of engineering. A 6.0-litre W12 engine lies behind the handcrafted chrome grille, giving the Bentayga a ridiculous turn of speed thanks to 600bhp and 663 lb ft of torque – 4.0 seconds to 62mph is impressive for a sports car, let alone an SUV weighing as much as a planet and carrying several sideboards-worth of wood veneer.
> Bentley Bentayga - is this the ultimate luxury SUV?
Alternatively, you can have the diesel model, which can't match the W12's pace but will at least go for about twice the distance without requiring a fuel stop. Not that the money will be a problem for most owners – Bentayga orders can run into the £200k's without much difficulty – but fuel stops really are dirty, grubby things for aristocratic hands to be doing.
Admittedly the Bentayga isn't exactly handsome, even by SUV standards, and some will be put off by the odd hint of Audi Q7 about the switchgear. Despite this, there's no denying the Bentayga is a monster of an SUV, and one that's bound to find favour with many millionaires all over the world.
Click on the list below to read our in-depth reviews of each car, or click on to the next page to read the list in order...