As a motorsport fan, you may be asking what in the name of Nelson Piquet Jr is going on with your sport. Manufacturers are jumping ships and joining bandwagons quicker than NPJ could react to a radio message during a night race. And once-headline motorsport series are now staring at vast empty spaces in the paddock where the corporate hospitality units of the world's biggest car makers previously stood.
Formula E would appear, on the face of it, to be the biggest benefactor of this shake-up. Recently Audi, BMW, Mercedes and Porsche all confirmed their switch to the all-electric single-seater series with full works teams, and within days of each other. Merc ditched Germany's DTM touring car series to fund the switch, while Porsche will end its World Endurance Championship programme two years early to focus on its first single- seater campaign since its disastrous Footwork tie-up in F1 back in 1991.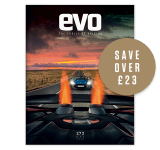 Subscribe to evo magazine
Subscribe today to have every issue of evo delivered straight to you. You'll SAVE 39% on the shop price, and get evo for its original cover price for a whole year!
With Audi looking for somewhere to spend its euros after withdrawing from WEC last year and BMW having danced around the periphery of top-line motorsport with a presence in DTM and also IMSA GT racing in the USA in recent years, both will now field factory teams in Formula E. BMW is also returning to the FIA World Endurance Championship – in the GTE class, with its new M8, from 2018.
Manufacturers have always been key to motorsport and its success – although not always for the right reasons. And now some of the series and their promoters – who scoffed at the manufacturer top tables – find themselves at a lunch buffet with nothing more than a few overcooked parsnips and limp cabbage to shove around their plates. 
Formula 1 knows this scenario only too well: it has courted boardroom millions more than any other series, only to lose it all again. In fact, every headline motorsport category does this, but it feels – and looks – like more are suffering than ever before and going through a period of huge transition. It's leaving the spectators lost as to what they are meant to be watching, who they should support and which sport they should invest their time and money in.
> 2018 Aston Martin Vantage GTE in detail
We feel the same in the evo office. What's happened to the motorsport we know and love? Is it a case of our rose-tinted glasses getting darker with each new race we watch? Are our memories playing tricks on us, making us think it was all better back in the day? Or should we accept that change is happening, whether we like it or not, and embrace what we have? It's a tricky one, because motorsport to many of us means so much more than what happens on track for a couple of laps or hours on a Sunday afternoon.
It's the cars motorsport inspires that excite just as much, from iconic single-seaters such as a Gordon Murray-designed McLaren to the legends of endurance racing, from Jaguar's XJR behemoths to Porsche's all-conquering 956/962s. And the Group A, B and even N vehicles that created rivalries that were as fierce in the car parks as they were on track or on the rally stage. And, of course, the venues. Motorsport was about the ultimate test, but is it still so? Has appealing to a wider audience that has less appetite to diligently follow a sport than it has a desire to be able to say 'I've been there, done that and here's the selfie to prove it' done more harm than good?
What's the answer? Is there a solution? In a bid to find one, or at least come up with a number of suggestions, evo is sitting around a table – and will again in the future – cracking open the biscuits and discussing the future motorsport over a cup of tea.
The key categories up for discussion over the coming months will be Formula 1, the World Endurance Championship, the World Rally Championship, touring cars (including BTCC, DTM, TCR and Australian Supercars), FormulaE and Rallycross. The 'experts' are evo's deputy editor Adam Towler, road test editor James Disdale, contributing editors Richard Meaden, John Barker and Colin Goodwin, and staff writer Antony Ingram. This month we're looking at the World Endurance Championship – and oh how the mighty have fallen in this particular series. One minute it's the envy of many a race-series promoter around the globe, then it's left with a headline category (LMP1) that's buried itself so deep in the gravel trap that there's no plant machinery strong enough to extract it. The World Endurance Championship has seemingly been black-flagged just as it was heading for certain victory.
Audi's departure last year and Porsche's this have decimated the LMP1 category, and while we all enjoyed the ferocious pace of the Audi R18 e-tron and 919 Hybrid and their jet-fighter- style approach to weaving through traffic in the dead of night, secretly we all knew it wasn't sustainable and sooner or later sportscar racing would eat itself. Again. 'Sadly, sportscar racing has gone down one of its periodic blind alleys,' says Towler. 'It's a cyclical thing – not a reason to panic, just to have a rethink. The LMP1 cars are too complex, too expensive, too fast and not identifiable as genuine sports cars.'
It's a sentiment shared by all of us. 'The recent decade of LMP1 racing has been absolutely fascinating and has turned out some of the most advanced cars ever made,' adds Ingram. 'But the rapidly escalating expense and increasing irrelevance for road cars was always going to lead to it burning out. There's also a disconnect here between how great people say this series is and their desire to actually watch it.'
> Maserati MC12 Versione Corse review
In the past, sportscar racing appealed to the enthusiast, the die-hard and a collective who would think nothing about catching a flight to Sebring in the USA to watch a packed grid race around an old bomber base. It still does today, but is that the audience the manufacturers in LMP1 are looking to appeal to? Unlikely.
So what's the fix? WEC is in the fortunate position of offering multiple classes, and while the top category has run its batteries dry, there are three more to pick up the pieces. 'I love the GTE cars,' says Meaden. 'The competition is especially fierce at the moment. It feels like WEC needs a prototype class, but the GTE cars are the ones that resonate most with fans.'
Towler – actually, all of us – are in agreement with Dickie when it comes to the GTE category, but evo's deputy editor would go a step further. 'The prototype classes need to go,' explains Towler. 'The WEC should be GT1, GT2, GT3 and GT4. The return to GT1 would cover cars such as Aston Martin Valkyrie and Mercedes-AMG Project One. 
'The existing GTE class would become the new GT2, with perhaps a little more power allowed – say 600 to 650bhp. The current GT3 cars racing in the likes of the Blancpain GT Series and Germany's VLN Endurance Championship would be allowed in, opening up the series to vastly more manufacturers, teams and drivers. And GT4 should be the entry point, because races such as Le Mans should have minnows in them – Porsche Caymans and Lotus Exiges battling at the foot of the field.'
Colin Goodwin is in agreement but fears for the sport at a national level: 'I flew over Silverstone recently and thought there was a trackday taking place on a Sunday. It was only when I got home that I discovered it was a round of the British GT Championship. No one is attending the races that were once regarded as must-visit events and that's a big problem.' But is the issue only the cars? There is also the argument that too many people are trying to have the same sized slice from the same diminishing pie and all they are left with is a handful of crumbs. WEC, ELMS, Blancpain, IMSA and VLN are all chasing the same teams and budgets to race similar cars. And then there are the venues. WEC, with its manufacturer millions, has been pushed to far-flung locations where there is no audience, interest or relevance for endurance racing. A marketing presence in Shanghai may help shift Q7s or Cayennes, but that region's audience would undoubtedly be better served by throwing a few thousand quid at a local social-media star than spending a couple of million euros at a race the locals have no appetite for. Motorsport's obsession with conquering new territories around the world is its downfall.
As mentioned, sportscar racing has had a cyclical habit for generations, and most of the dead-ends it has found itself racing into have come about when the manufacturers have become more interested in competing in a costly technology battle rather than a motor race. The sport has also been at its best – and one of its biggest appeals has always been – when privateer and independent teams have been able to compete at the front of the grid and for overall victory with a car they have bought from, and is supported by, the manufacturers (as in the lower GT categories). Some of the most memorable sportscar victories have been at the hands of the privateers and independent teams, and perhaps now is a good time to hand back control to allow the World Endurance Championship to shine again at the hands of those who have made memories in the past. Manufacturers have much to gain from supporting a series such as WEC, but we believe this support is best provided when they act as a supplier rather than factory teams.